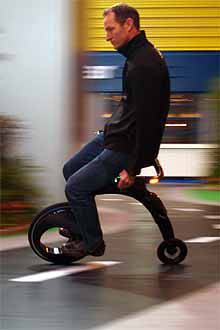 The Segway was supposed to be the future of personal transport but its exorbitant price and a passenger/driver's fear of toppling over one while steering it doomed its future. Thankfully, a more affordable, equally environmentally-friendly alternative has appeared in the YikeBike.
According to HuffingtonPost.com, the YikeBike got its name because, according to its creator Grant Ryan, people often react to the bike by exclaiming, "Yikes!"
The report added that Ryan was supposedly inspired by the Segway, but although it is faster and cheaper than it, the YikeBike's $3,600 (P155,772 at $1:P43.27) price tag is still too much for most people.
Continue reading below ↓
Recommended Videos
The YikeBike is an electric, foldable bike whose shape closely resembles the earlier Penny-farthing or high wheeler bike of the late 1800s, and according to Time Magazine, it is one of its top inventions for 2009.
Photo from YikeBike