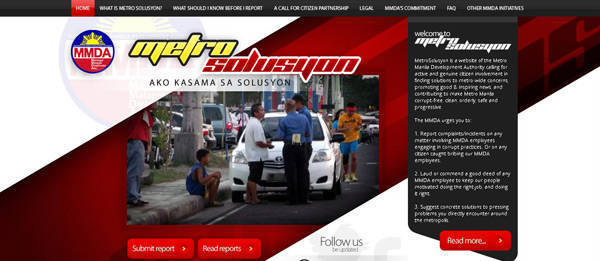 The Metropolitan Manila Development Authority (MMDA) is making it easier for the public to report the illegal practices of the agency's unscrupulous personnel by launching a new website it calls MetroSolusyon, which can be found online at www.metrosolusyon.mmda.gov.ph.
According to the MMDA, its goal for MetroSolusyon is for the people's active and genuine involvement "in finding solutions to metro-wide concerns, promoting good and inspiring news, and contributing to make Metro Manila corruption-free, clean, orderly, safe and progressive."
"As responsible and concerned citizens, people should stop hiding behind text messages and reports sent anonymously to authorities to express their gripes against illegal activities in the metropolis," said MMDA chairman Francis Tolentino. "My appeal to people who complain and call our agency's attention, is to give us accurate and complete reports and assist us through the process, so that we can act upon them with more concrete solutions, swiftly."
To file a report, the user must first register with the site. Once that has been accomplished, the user can start filing a report online. The MMDA, however, would need the following information in the report: the full name of the person being complained about; the act allegedly committed; a narration of the incident; and a photo or video to go with it. After a report has been submitted, the system will generate a reference number that the complainant can use to pull the report up online.
Continue reading below ↓
Recommended Videos
Once a complaint has been filed and the MMDA has verified it, it will then be posted on the site's "Read Reports" page.
MetroSolusyon is more than just a platform for submitting complaints as its reporting system can also be used to laud or commend MMDA personnel who are performing exemplarily at their jobs, or to submit suggestions regarding "pressing problems you directly encounter around the metropolis."
"The MMDA's ability to serve the public relies largely on our people," Tolentino added. "To promote good practices and to bring out the best in our men and women, we also need your help to regularly commend our people for jobs well done. Many of our people are faced with the everyday hazards of work under extreme physical conditions, and we truly appreciate your help in boosting the morale of our agency."