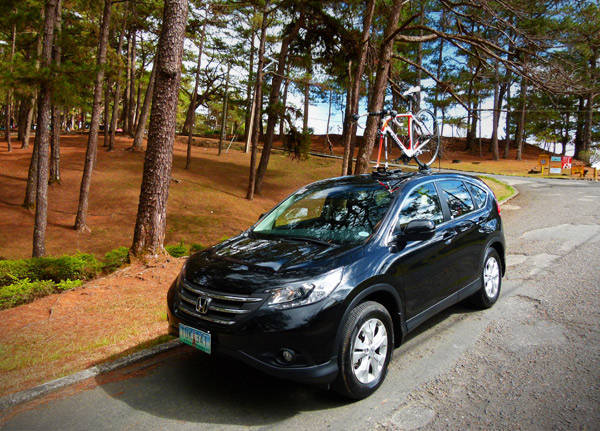 There are more SUVs in the Honda CR-V's price range than you have fingers to count with. There are other faster, sexier, cheaper (or pricier) and ritzier (or simpler) SUVs, yet I have to admit there's always a place in my heart for a CR-V. Like the Toyota RAV4, the CR-V wrote the book on the cute-ute formula years and years ago, back when the traditional SUV meant a ladder-frame chassis and part-time four-wheel drive.
Based off a unibody car platform (Civic) and using a small four-cylinder engine and an automatic, on-demand system that was more like a fancy front-wheel drive with occasional rear-wheel power transfer than a true-blue 4WD system, the CR-V was a hit. Generation 1 was so good you can still see a lot of it running around in good condition. Generation 2 was a little bigger and a little boxier for more room, and Generation 3 brought Accord-like refinement to the interior along with a "gaping catfish mouth" grille.
ADVERTISEMENT - CONTINUE READING BELOW ↓
Personally, I liked Generation 3 a lot. My father-in-law has a Gen 2 CR-V, and my mother-in-law has a Gen 3; you couldn't pry them away from their CR-Vs if you tried. One time, a good friend had both a Gen 1 and a Gen 2. He sold the former and got a Forester just to try something different, but kept the 2005 CR-V. It has 110,000 on the odometer and still runs smoothly.
This brings us to the latest CR-V, which, in the traditional Honda way, is evolutionary rather than revolutionary. It has the styling chops of Clark Kent, but under the sheet metal is still Clark Kent.
And that's a good thing--at least for a family-oriented SUV. Say what you will about Honda lacking some soul, but they make very good small cars (I consider the CR-V more car than bona fide SUV).
"CR-V" is officially shorthand for "Comfortable Runabout Vehicle," which is very polite and inoffensive in the Japanese way that the "C" could also mean conservative, calm and possibly cybernetic.
When you test-drive cars on a regular basis and need a high-octane ride to get you excited, it's easy to snooze off at the prospect of a weekend with this Honda. But there were mitigating factors to tilt the CR-V onto my good side. These included the following:
* A long drive to Baguio (uh-oh);
* At the height of the Panagbenga flower festival (yikes!);
* And with the family (holy crap!)
There were 1.2 million tourists last weekend at the summer capital of the Philippines, and it's anyone's guess how many thousands of cars, buses and vans we had to share the road with. Can you spell STRESS?
With a lot of external factors to deal with, I wanted the most drama-free weekend I could get. If you're wondering why I would subject myself to such an odyssey, blame "good son/dad guilt." Our toddler had been pining for a Baguio trip since December, and my mother--as nearly all mothers do--had this thing for lots and lots of flowers. And she had promised our son that Baguio trip, so it was up to me to make things happen. That was probably my penance for the season of Lent right there.
ADVERTISEMENT - CONTINUE READING BELOW ↓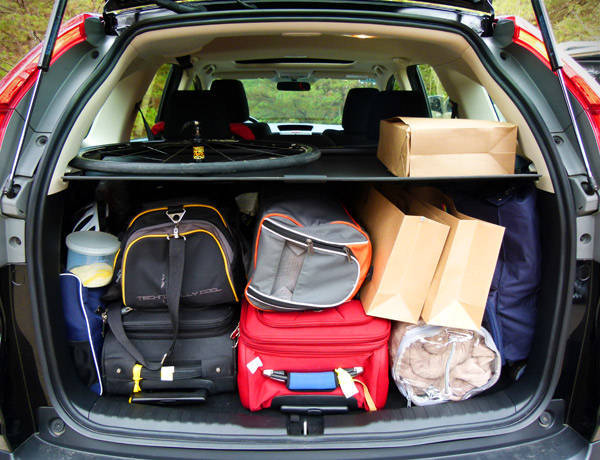 Anyway, we loaded up the CR-V according to a variation on Parkinson's Law, which in the Honda's case is defined as "luggage expands to fill the space allotted for it." I can pack for a weekend with just one gym bag and my mobile office backpack. But last weekend, we brought enough stuff to last a month--bags and bags of food, clothes, pillows, kiddie toys, and other paraphernalia. Amazingly, everything fit in the cargo area without having to use the folding seats, although I did cheat a bit with my bike by mounting it on the roof. By the time we went home, yet more items filled up the back and there was still room for more. The only thing that stopped me from bringing my dog was the thought of dog breath infecting the sterile cabin.
ADVERTISEMENT - CONTINUE READING BELOW ↓
We averaged seven hours of leisurely driving one-way, and the CR-V's calm, unexciting demeanor was just what the doctor would have ordered for what could have been a weekend-long headache. The 2.4-liter engine had enough oomph to tackle the steep parts of Marcos Highway, even letting us zip past the strugglers on the 10-14% gradients. The five-speed automatic had a decent ratio spread for low-speed acceleration and highway cruising, loafing along at 2,000rpm at 100kph with our full load. I averaged 10km/L, mostly in the CR-V's fuel-sipping "Econ" mode.
I also liked the predictable handling dynamics of the Honda. The almost plush ride smoothens out the badly rutted roads of Tarlac. It's always stable and never floaty, with good rebound control that seems to get better modestly loaded than with just a driver onboard. Steering feel is on the lighter side, no thanks to the electric system, but path accuracy is still precise like any Honda, something that Kia and Hyundai still need to work on.
ADVERTISEMENT - CONTINUE READING BELOW ↓
The CR-V's bag of techno toys may pale a little in comparison with the competition--with just the staples like Bluetooth phone system and power moonroof--but I loved the elegance of presentation. The cockpit has the bare minimum of buttons and dials to work everything, and this is how it should be. You sit down, strap in and get going. No need to waste time figuring out how to operate the stereo or set the climate control. Everything falls easily to hand and is clearly labeled so you can focus on the driving. Just like with all Hondas, the view out is nearly perfect with an expansive windshield, big side windows and rear backlight. The only significant blind spot is with those thick D-pillars, so you'll have to set the rear-view mirror at an angle.
Probably the biggest, most significant improvement with the CR-V is how roomy and comfortable it has become. There is so much legroom in front and at the back that only the six-footers will complain. Otherwise, this is an all-day touring machine with arguably the best seats in the class, firmly padded and sized properly in all the right places (especially the lumbar and thigh areas). You don't appreciate how good the seats are until hours into a drive, when you realize you're not aching in the usual places, or how it lulls all your passengers to sleep.
ADVERTISEMENT - CONTINUE READING BELOW ↓
If the first CR-V was about turning a small station wagon into a more fashionable SUV-style vehicle, the second generation was about making it into a bigger box, and the third one was about making it feel more like an Accord, the latest model is about making all the good things even better. Yes, it does go about its business with all the charm of a robot, but that's okay. Oftentimes, stress-free efficiency and predictability are all you really need when the itinerary may test even the patience of Job.
Photos by Andy Leuterio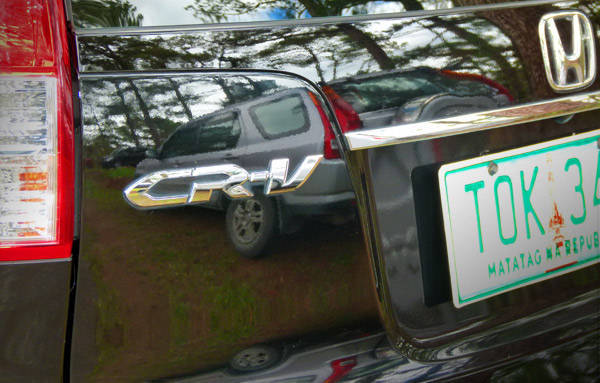 ADVERTISEMENT - CONTINUE READING BELOW ↓