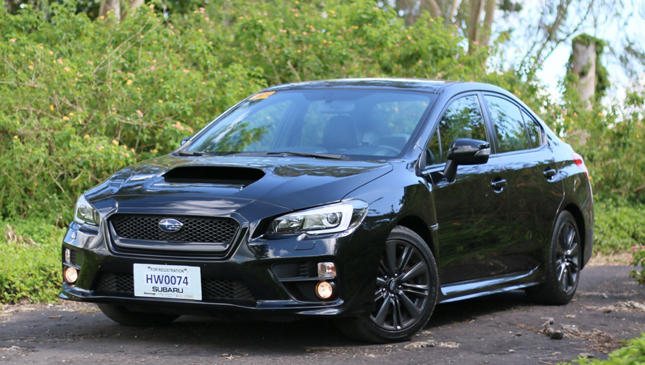 There are two ways to give an otherwise ordinary sedan the pocket-rocket treatment. The first is to go à la carte, adding mods as one sees fit: engine, suspension, brakes and everything else that thousands of Honda Civic tuners have known for years. The second is to just hand over a check for a little under or over P2 million, and bring home a car that has already been upgraded with as much go-fast hardware as possible for the price.
Either option has its pros and cons. The former affords you a relatively low cost of entry, and your upgrades will really depend on your taste and budget. The latter will cost you more at the outset, but you are assured that everything will work (nearly) perfectly for what you spent. Unless you are the type who will still modify the damn car, there isn't much left to spend for it other than maintenance--and these things aren't cheap to service, either.
So, until Ford makes up its mind on whether to bring in the Fiesta RS or the Focus ST here, and with the pending discontinuation of the Mitsubishi Lancer Evolution X this year, the Subaru WRX and STI are where you will go to if you have a hankering for an all-wheel-drive, turbocharged pocket rocket.
Continue reading below ↓
Recommended Videos
It used to be that the WRX and the STI had a big brother/kid brother relationship. You bought the WRX if you just wanted a faster Impreza, but got the STI if you really wanted the full-blown track demon experience. With the 2015 WRX, things became more complicated, but in its favor.
The STI rolls on with the same 296hp boosted 2.5-liter flat-four it has relied on for years. Mind you, it's a great engine that feels like it could do hot laps for hours, but the WRX's own flat-four is no slouch. The WRX uses a twin-scroll turbo version of the newer direct injection 2.0-liter, the same block that resides in the Subaru BRZ/Toyota 86 and the Forester XT (albeit with slightly different internals).
Thus equipped, the WRX punches out a healthy 268hp, or some 30 more horses than it used to in generations past. Compared to the STI, the WRX lacks the customizable differentials (settling for a fixed 44/55 setting), the faster hydraulic steering, the sexy Brembos, and a few other bits and pieces. You still get that brake torque vectoring, that outrageous hood scoop, and those bitchin' quad tailpipes. No wing, thank goodness.
The manual-equipped WRX (P1,818,000) also saves you at least P680,000 over the stick-shift STI (P2,498,000). That's a lot of gas and maintenance money there, folks. Normally, my gut would tell erstwhile buyers to get as much bang-for-the-buck as they can afford. In this case it tells me that the WRX is the one to get. Unless your reason for buying is to have a car to tear up the track every month or so, the WRX has enough performance under the skin to satisfy most buyers. And yes, that's even when it's equipped with the Continuously Variable Transmission, an option you can't have in an STI anyway.
Getting in and firing the car up is an immediately satisfying experience. The sport bucket seats have excellent lumbar, thigh and torso support; the large windows let you easily see out; and the three-spoke steering wheel is such a viscerally sensual piece of art that I'll stop here before it gets too kinky. The WRX also gives you fun toys like a multi-info LCD display that includes a boost gauge, auto climate control, and fuel efficiency numbers. Unfortunately, Subaru still put a sucky sound system in its car. Of course, the only music you really need to hear comes from the powertrain.
Press the engine start button and it awakens with a throaty grumble. There are three drive modes: S#, S and I. That's Sport Sharp (not Sport Hashtag), Sport and Intelligent. For daily driving, "I" works best as it uses relaxed throttle response and smoother ratio shifts to get you moving. When you're in a hurry, "S" hastens throttle response and gives you a more aggressive shift program. When you're in a real damn hurry, S# does its best impression of a rally car--perfect when you're hammering up your favorite hill climb, and forgiving of jumpy throttle and neck-snapping shifts and jerks from the drivetrain.
I mentioned "shifts," and that wasn't a typo. Subaru has done a great job of making the pulley-drive CVT do its best imitation of a conventional torque converter system by having no less than eight preset ratios. Whenever you override the CVT by tugging on the paddle shifters or setting it to "S#," it will run through the eight ratios as if it were a conventional gearbox. In "I," it works in normal CVT mode for better fuel economy at the cost of languid responses.
The whole setup would almost seem like a match made in heaven, especially for those who foresee driving the car in traffic frequently, but here the beastliness of the WRX works against it. In "S" or "I" mode, which are the two you'll most frequently use on a daily basis, turbo lag rears its ugly head below 2,500rpm. Once the boost comes on, though, the car practically jumps forward, needle racing up the tach in a most immodest way.
This is fun the first few times, but it quickly gets annoying when all you want is a little dose of speed to get you past that dawdler on that provincial two-lane road. Between getting caught at low revs in traffic and having to deal with too much excitement when the boost finally comes on, the whole experience feels just a wee bit discombobulated.
It takes a while to tame this Jekyll and Hyde nature, but when all is said and done, the traditional six-speed manual is the better option. With a stick shift, you not only save a small fortune, but can also control the boost by keeping it in the gear that you want all the time. Plus, you get the added bonus of being truly connected with the machinery.
Manual or automatic, this is a lot of fun to drive. On my favorite, not-so-secret hill climb course (multiple switchbacks, gradients of 15-20%), the car will let you do your best Pikes Peak impression with effortless acceleration, quick steering, flat cornering, and the added traction of AWD. Power on the straights, smoothly brake, point the nose where you want, and get on the gas early. You can drive the car textbook race car-style, and it will reward you with smooth exits. Or--and this is the fun part--you can practically throw the car into a hairpin, flick the wheel a bit to unload the tail, countersteer, then get back on the throttle early to power out.
If you know what you're doing (and don't even think about it if you've never even gone to a high-performance driving school), the car is an obedient little monster. Throughout such an exercise, the drivetrain gives no hint of complaint, revving quickly up and down the tach, emitting a throaty, gravelly bark punctuated by the delicious sigh and whine of the turbocharger. The electric power steering is a sweetheart, too, giving me hope for this setup.
It's quite a heady experience, and after a few minutes of this, I had to willfully slow down before the red mist took over and I ended up stuffing the car into a tree. This is the kind of driving where a car like this makes up for all the discomfort associated with high-performance cars: harsh ride, tire noise, high maintenance costs, and lackluster fuel consumption (I got 7-8km/L in mostly highway driving).
I have no doubt that the STI will be even more of a performer, but without even having had the chance to drive that car, I can already say that the WRX may be all the excitement you'll really need. That's not something I could have said for its predecessor.
Plus, it still has four doors, seats five, and has a full-size spare tire. If your wife won't let you splurge on the STI, you now have all the reasons to steer yourself to this more "practical" WRX.
Photos by Andy Leuterio