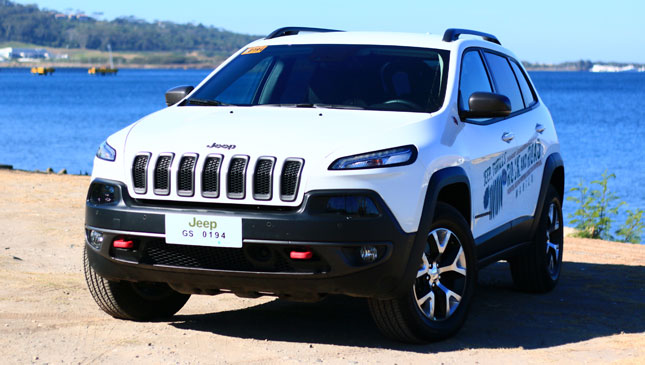 If you're into off-roading and want one of the best vehicles extant you could take to the trail sans modifications, Jeep has the burly Wrangler for you. Just don't mind its on-road manners. While the latest generation is much more comfortable than Wranglers past, it's still very much a hardcore experience best reserved off the beaten track.
Which is why CATS Motors, the Philippine distributor of Jeep, is offering the Cherokee Trailhawk, an SUV that treads in crossover territory with its ethereal ride, while maintaining quite a respectable level of off-road ability.
Its "Trail Rated" badges and designation indicate a roster of 4WD hardware and upgrades over the basic Cherokee. The suspension is an inch higher than the standard Cherokee; the 4WD Selec-Terrain system can be optimized for various surface conditions with a lockable rear differential; there are coolers for the transmission and engine oil; skid plates are fitted to the transmission, underbody, and front suspension; and it sports rather stylish plain-black lower body cladding you won't be afraid to scratch while hacking through the boonies.
You also get snazzy red tow hooks, two up front and one at the back, jutting out from unique front and rear fascia. Its approach, departure, and break-over angles are 29.9, 32.2 and 22.9 degrees, respectively. All told, a Trailhawk would acquit itself nicely at the annual Easter Jeep Safari held in Moab, at least in the relatively milder sections.
Continue reading below ↓
Recommended Videos
Yet that is not the only thing going for the Cherokee, because aside from its appetite for getting dirty, it's also pretty damn civilized. Our Philippine-spec test unit had everything but the kitchen sink inside, ranging from power-adjustable front seats, nine-speaker stereo with subwoofer, auto climate with front and rear controls, and GPS. Some other nifty features included a humidity sensor, a wireless charging pad, no less than three 12V power outlets, and eight cargo tie-down loops.
So, how was it to drive? Memories of the noisy, jittery Wrangler I tested a few years ago were quickly expunged after just a few minutes acclimating to the Cherokee along busy EDSA. The fully independent suspension is exceptionally well damped; cushy without being floaty as some raised suspensions usually feel. Steering response and feel are better than expected considering this Cherokee wears knobby Firestone Destination A/Ts--light and highly boosted at low speeds, but firming up nicely at speed.
While the Trailhawk can be had with a V6 in the US, the PH model has the 2.4-liter "Tigershark" four-cylinder. It's rated at 184hp at 6,250rpm, and 232Nm at 4,800rpm, but the Trailhawk also weighs a hefty 1,800kg and change, so acceleration is tepid off the line. That said, pairing it with a nine-speed (yes, nine) automatic transmission helps the Trailhawk make the most of the power, quickly and smoothly changing gears while also helping to maximize fuel efficiency. You can forget about hypermiling in the Trailhawk, though, as the best I ever got was 10km/L driving to and from Subic on NLEX and SCTEX.
Personally, I would prefer the V6. Displacing 3.2L and rated at 271hp and 316Nm, it would be just the thing to make the Cherokee come alive when you stomp on the throttle. As it is, the Tigershark lacks teeth, although I have to admit that it would be the better choice for daily urban commuting. But then, what would be the point of having a Trail Rated vehicle anyway?
The nine-speed transmission is a gem, but will probably give non-certified mechanics a headache. Gears sixth through ninth are overdrive gears, and in most driving the highest you will ever use is eighth. You will probably need a strong tailwind on a downhill to induce a shift to ninth, but as with cycling, you just can't have too many gears. While we're on the topic, the nine-speed has come under flak in the US for loopy behavior, but the Philippine test unit gave me no trouble at all.
Trail-ready or not, I most enjoyed the Cherokee just cruising along on the highway, enjoying the creature comforts, and trusting the safety tech. It has all the comforts expected of a luxury vehicle, but the utility features also make me want to set up camp.
As for the electronic nannies, the Trailhawk is equipped with parallel and perpendicular park assist, which should be a boon for parking-challenged drivers.
The adaptive cruise control estimates the distance to the vehicle in front of you, accordingly braking and accelerating to maintain a safe distance. It took me a while to trust the system, but after I'd gotten used to it, I found it a very useful feature. At the very least, it saves you the trouble of constantly braking and resetting the cruise control every time you need to slow down. At best, when combined with forward collision warning, it could save your life if you're coming up fast behind an unlit vehicle that your eyes didn't pick up. The system can also do a quick dab of the brakes if it senses you're not reacting fast enough, and will even add more brake pressure if needed.
Another useful feature is the lane departure warning. Cameras monitor your position in the lane, and the steering will "nudge" you back inside if it senses you drifting into the next lane. Finally, blind spot monitoring and cross-path detection should help stop you from bumping pedestrians while backing up (doesn't it annoy you how they always have to cross behind just when you're moving?).
Now, P2,950,000 is a lot of money for a five-seater SUV, but it is what it is, and CATS Motors no doubt has priced it just right to make it a worthwhile enterprise for everybody. It's a very comfortable and well-equipped SUV for affluent buyers, yet has the goods to get dirty should the need arise.
Photos by Andy Leuterio