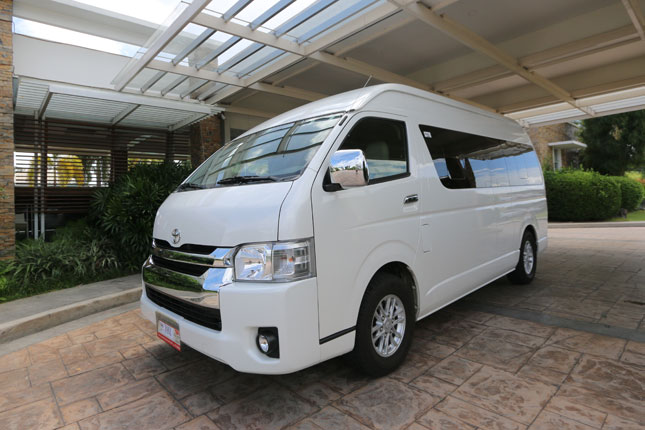 A few months ago, I wrote raved about the Toyota Alphard, a not-so-minivan for millionaires who like to live large while retaining some sense of discretion. I particularly gushed over those captain's seats, wrapped in plush leather, decked out with power adjustments and allowing you to ride like a king.
But then reality hits everyone hard. Not all millionaires are alike. Some can afford an Alphard and its upkeep. Others quail at the thought of feeding its thirsty petrol V6.
Toyota has a proposal for this particular set of stingy millionaires, and it is the Hiace Super Grandia LXV. It has most of the Alphard's luxe features in principle, but also saves its owner nearly a million bucks compared to the Alphard. It still costs a hefty P2.42 million, so paupers need not apply.
It appeals to my utilitarian side because I've ridden the Grandia many times and appreciated its versatility. Travel to Puerto Princesa or Bohol, and you'll find that it's a favorite among tour operators due to its economical drivetrain, simple maintenance, and ability to pack more than 10 people in a pinch and still fly along provincial roads at a good clip.
Convert a Grandia into a mini limo-bus and certain sacrifices must be made. First, the captain's chairs (with ottoman) are there but they're manually adjusted. Simple and effective, but one level down from the pampered Alphard rider. The level of sound and vibration insulation is also nowhere near as magical as the Alphard's. The constant drone of the diesel engine is there, not helped by the fact that the driver is practically sitting on top of it instead of behind a firewall.
Continue reading below ↓
Recommended Videos
And whereas driving the Alphard is a treat in itself (sort of like how Lexus might make a van), the Super Grandia makes no attempt to hide its humble roots. The drivetrain is your basic (but proven) 2.5-liter CRDi oil-burner and four-speed automatic transmission shared with the Innova. The steering wheel is as large as a pizza and nearly horizontal like a bus's. The gated shifter rests on the dash, and the upright driving position is what you get when you're basically sitting over the engine.
Honestly, driving the Super Grandia is no big deal if you've been exposed to these vans since childhood like I have. The steering is light, the brakes feel robust, and the handling is weird like all other vans of this configuration. The front end feels unnaturally light even though it understeers a lot, and so long as you keep in mind that you've got a long tail behind you, maneuvering is remarkably easy for something that's wider, longer and taller than the average SUV or van.
Indeed, the raised roof allows petite riders to stand upright, while taller passengers won't have to stoop low as they shuffle to the back row. That high ceiling is just ripe for a couple of overhead video monitors. It has some major drawbacks, though. The high roof creates a big sail effect, so at highway speeds a strong crosswind can push the vehicle laterally. Not enough to make you lose control, but enough to spook you if you're not careful. Here, the stock 15-inch and 70-series wheel-and-tire combo could be a tad larger; a bigger footprint might help the vehicle feel more stable. This Toyota van also won't clear some low-hanging parking area ceilings, which means your chauffeur must prowl the neighborhood for an open parking lot. But then that's his problem, not yours.
Some other minor niggles: The audio system is just your ordinary unit--albeit equipped with a touchscreen--with mediocre speakers. If you like your music loud and clear, an aftermarket setup will be the first thing on your to-do list. And there's hard plastic everywhere. It makes the interior easy to clean, but an absence of soft-touch materials other than the seats and coarse carpeting makes the LXV feel downmarket even for something that costs as much as a Camry or an Altis.
Then again, few other vehicles can double as a minibus and cargo hauler like this one. During my test-drive period, I made a point of getting some snooze time while the family driver dealt with hours of bladder control in gridlock. I also had no problem hauling stacks of wood in the back for my ongoing construction project (thanks, Toyota). The rearmost seats fold up against the walls to accommodate long and tall cargo. I easily fit two road bikes in the back without having to remove the wheels.
The Hiace Super Grandia LXV has some rough edges about it, and it's not something you'd want to personally drive unless it's your livelihood, but it gives you the luxury of space, utility and comfort with a healthy dose of discretion.
Photos by Andy Leuterio