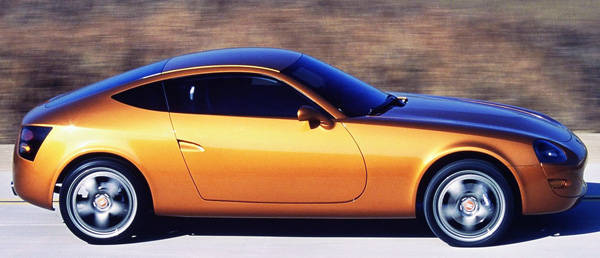 Somewhere at Nissan headquarters, a bunch of executives must be kicking themselves. In 1999, they unveiled a 240Z concept that was a homage to the original Z-car--two-doors, lightweight and flowing with sensuality. Except somebody thought that a four-cylinder sports car wouldn't work, so instead they came up with the 350/370Z, which is a heckuva nice sports car but also quite expensive and more complicated than the purist's idea of an affordable sports car. They also came up with the GT-R, which is even more spectacular, but also much more expensive.
And then a little more than a decade later, Toyota goes out on a limb with Subaru to come up with the 86/BRZ. Talk about a home run. It's compact, it's light, it's got a four-cylinder engine, and practically everybody wants to have one. The kicker, of course, is the price. Not stratospherically expensive, but not dirt cheap. Just right to make it aspirational for everyday Juans, but well within reach for a fair number of people.
ADVERTISEMENT - CONTINUE READING BELOW ↓
Meanwhile, Nissan's most exciting, locally available car is the Almera. It is exciting mainly because it is new. It is quite practical, comfortable and economical, but not a halo car. I wish them all the best in getting the Almera into people's garages, as it is worthy of consideration for anyone looking to buy a subcompact.
But damn it, they need another sports car. They probably need it more than Honda needs the NSX. Nissan is falling into the realm of "appliance" cars, what with a line of good but aging products and nothing but the 370Z and the GT-R to tell everybody that they still have some mojo. Except, of course, the 370Z and the GT-R are beyond the reach of most buyers. A simpler, more affordable sports car in the original spirit of the 240Z would be just what they need to get Nissan back in people's garages. More precisely, back in people's minds, and then they'll think about putting a Nissan in their garage. Because let's face it, at least in this country, the Sentra 200 is a dud, the Grand Livina is too small and getting on in years, and the otherwise capable X-Trail has plenty of competition.
ADVERTISEMENT - CONTINUE READING BELOW ↓
Recommended Videos
In the summer of 1995, a family friend lent us his old 280ZX. It had signs of rust on its body, it had pawis steering, and the 2.8-liter straight-six was a rather tired match for the cranky automatic. But I absolutely loved it. I loved running my hands over its flanks. I learned how to get the choke just right. And I built up my biceps parking that beauty. I washed it myself every day. We couldn't go really far or fast as it had a tendency to overheat, but I didn't really care. All I cared about at the time was that, at least for that summer, we had a sports car in the house. It made me proud of the fact that our old family car was a Sentra. It was the box type with a poky 1.3-liter carbureted engine, but just the thought that it shared a lineage with a "Fairlady" made me feel good about it.
ADVERTISEMENT - CONTINUE READING BELOW ↓
I felt sorry to see her go. I know I should refer to the car as "it," but that's how it goes when you fall in love. The car becomes a "she," most especially for my teenage years when that 280 was my very first girlfriend. I fall head over heels any time I see a rare 240 in mint condition. It is just so achingly beautiful. I can't really say I feel the same about the technologically advanced, futuristically styled 370. Sure it's effin' fast, but it doesn't have any soul for me.
I pray that Carlos Ghosn gives (or has already given) the green light to some team deep inside Nissan to start working on an all-new Z-car. Search the Internet and rumor has it that an 80th Anniversary Z will be coming soon. Maybe, maybe not. I hope it's for real. I hope it will be fast, light, sexy as hell, and fun to drive at speeds that don't have to be nosebleed fast. If the success of the 86/BRZ is any indication, it's time for an affordable sports car from Nissan.
ADVERTISEMENT - CONTINUE READING BELOW ↓