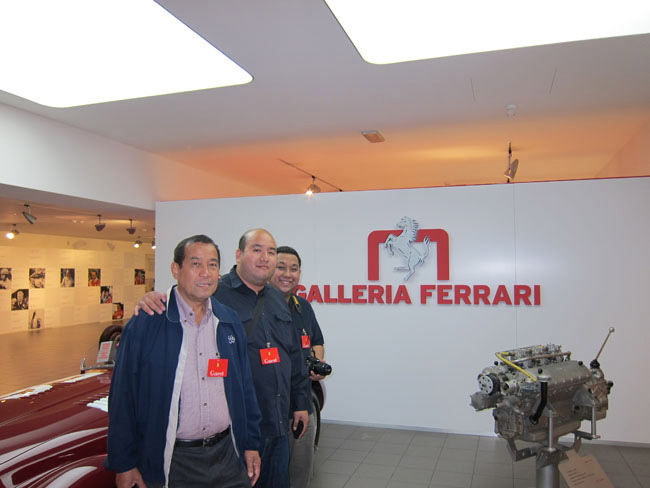 Like a lot of guys, I presume, my father taught me how to drive. On balmy afternoons in the summer of 1995, whenever my dad would go home early from work, we would drive to an empty parking lot near our house and he would try to teach me how to "mix" the clutch and the gas pedal. Like all men my generation, I learned how to drive using a manual transmission.
But my education in driving wasn't limited to that summer. It had begun months before that, when I would watch my dad behind the wheel to learn how to behave on the road. And it would continue for a few more years after 1995, when he would still point out errors I made when I was the one driving.
Needless to say, I owe a big chunk of my driving knowledge to my father. I want to share six motoring lessons I learned from my dad.
1. Drive smoothly. When I first learned how to properly operate an automobile, I was ecstatic simply moving forward. In the beginning, my driving was jerky and unsteady. Then I remembered how my dad drove when I was growing up. In time, this reminder came from my father himself, when I was driving for him. No one likes abrupt starts and sudden stops; proper driving should be smooth.
Continue reading below ↓
Recommended Videos
2. Keep the car clean. My dad didn't like seeing toll receipts, parking stubs and other junk that tended to accumulate over time inside the vehicle. He also believed that how your car looked on the outside was a reflection of how you carried yourself personally. This meant he always kept our family car as clean as possible. I admit there are days when the car he passed on to me is begging for a wash, but I head for the nearest car wash as soon as I have the chance. The satisfaction from driving a presentable car is something I learned from him.
3. Be patient. When I didn't know how to drive yet, I sometimes urged my dad to go faster when I saw an opening in traffic. But he always paused and assessed his surroundings first. He knew how dangerous our city streets could be, with one example being taxi drivers who think traffic lights and warning signs are an afterthought. So he told me to never go rushing toward openings--to just give way because we'll get to where we're going eventually.
4. Stand your ground. However, papa also showed me not to give way all the time. There was one time in the late '90s when I was driving in Paco, Manila. I mistakenly entered a one-way street with a very awkwardly placed no-entry sign. An MMDA traffic enforcer magically showed up and gave me a ticket. When I told my dad, he went to the street in question, and saw that the sign was positioned in a deceiving manner. So the next day, he put on a polo barong (like I said, appearances are important to him), accompanied me to the MMDA head office, and waited for an appointment with who was in charge of one-way violations. He patiently pointed out the errant sign, and explained my case. My violation was reversed. It might have been easier to just pay the penalty, but it wouldn't have been the right thing to do.
5. Follow the rules. A brief backgrounder on my dad at this point: He is a former military officer who retired with the rank of major general, the third highest rank a soldier can get in our armed forces. He is a member of PMA Class '71 (google them), which produced two senators, an ambassador, and dozens of generals in the police and armed forces. It's safe to say that if my dad or any of our family were caught for a traffic violation, it would be easy to name-drop. But we always followed the rules. We stayed off the streets when our cars were banned due to number-coding, and we never ran red lights. My dad didn't instill a sense of entitlement in me or my brother.
PS: Always be honest. But perhaps the biggest lesson my dad taught me was the one he did away from the steering wheel. When he retired from active military service more than a decade ago, he readily accepted the fact that the "perks" were over. No more sergeants to drive for him, and no more fuel allowance. So every now and then, when he has to visit our small farm in the province, he would board a bus and take the long ride to Central Luzon. Many of my dad's peers have been accused of amassing ridiculous wealth from their military career. Despite the opportunity to do so, my dad didn't even set aside a little "pabaon" to buy himself a new pickup for trips to the farm. All the funds from his office, he gave to his soldiers. I know my last name can be funny--especially when you see me--but my dad kept our name clean, and I would never exchange it for a famous but tainted one.