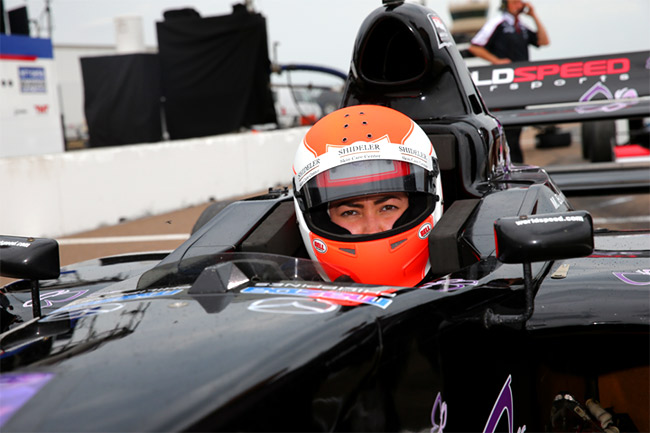 Going to St. Petersburg on race weekend was different from going to Houston or the Winterfest at New Orleans Motorsports Park and Barber Motorsports Park. This is simply because it was the opening round of the 2014 Pro Mazda Championship. It was more exciting; more was at stake as you're hoping to start the season strong and carry that momentum for the rest of the season. Coming into the race weekend, I felt more prepared than ever. I worked hard at PitFit and at RaceCraft1 on the simulator. I spent time in good talks with my engineer Larry Nash and driver coach Scott Harrington, and I felt ready to go racing.
The St. Petersburg Grand Prix is a street race just like Houston, so I was nervous. Safe to say that I let my nerves get the best of me in Houston; it was my first street race and first race in a couple of years, so the nerves were understandable. I was prepared for Houston--at least I thought I was. It turned out that it was not the case at all.
I went to St. Petersburg on race weekend with the same goals as Houston: to learn and improve every time I went out on the track and to bring the car home in one piece. But this time, I can say that I was more mentally prepared.
Continue reading below ↓
Recommended Videos
My dad arrived in Indianapolis on the Saturday before and we slowly started making our way to St. Pete the following Monday. It's about a 14-hour drive (I guess he wanted more father-daughter bonding time while driving instead of flying). We eventually made it to St. Pete on Tuesday afternoon and rested up for a busy schedule the following day.
On Wednesday, the Filipino community held an awesome reception for me and my dad. We met everyone at the Bayanihan Center in Tampa, home to the Philippine Cultural Foundation and the only one of its kind in the United States. We visited a Filipino café afterward and then attended an even bigger dinner in the evening with yummy Filipino food. Needless to say, we were stuffed! I was invited back for the 19th Annual PhilFest that started on April 4th. I was very much looking forward to attending and meeting even more of the Pinoy community. I flew back--instead of drove--to Tampa this time.
The next day was a busy track day, even though we weren't driving just yet. Instead, all the drivers attended a Mazda Road To Indy Summit. The summit included some great speakers like Mike Hull, team manager for Ganassi Racing, and then finished with the track walk.
Because I had never been to this track before, it was important to visually inspect the track and see the nuances of the surface and the barriers. I was extremely excited! It was a lot tighter and had a lot less bumps compared to Houston and I couldn't wait to drive on it.
One thing I was really looking forward to was the arrival of my sister, brother-in-law and nieces. I had not seen them since Thanksgiving of last year, and they had never seen me drive. I had told my nieces countless times that I was a race car driver, but with them being four and five years old, I don't think they realized what that exactly meant. So I was excited to show them what their tita really does for a living!
Overall, I couldn't have asked for a better weekend. This being my second official race back after a five-year hiatus, which is an eternity in motorsports, I thought I did a pretty good job. Not only did I meet my goals for the weekend, I exceeded them, certainly with the help of my team. We had a good number of cars on the grid with very talented drivers. If this weekend is an indication of how the rest of the year is going to go, it is not going to be a cakewalk, that's for sure!
I started off the weekend almost three seconds off the pace, improved each session and ended being just over a second off the quickest guys. In racing, the last seconds are hard, and the last tenths are even harder.
I came into the weekend mentally and physically prepared to work. I believe I drove the best race that I could have and finished the weekend without incident. I've got a long way to go, but one thing is for sure: I'm getting closer and closer--or the gap is getting smaller and smaller.
Stay updated with the author's Road To Indy journey via Facebook, Twitter and Instagram.