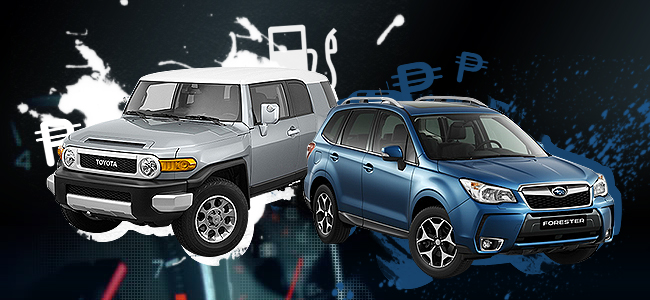 My wife will get a company car soon with a P1.8-million budget. It will be her daily driver in the city. We are choosing between the Toyota FJ Cruiser and the Subaru Forester XT. What do you recommend?
I like the FJ Cruiser, but she thinks it's too big for her. She is 5'8" tall and slim. We have not driven both cars yet, and Toyota does not have a test unit of the truck.

How is the FJ's drivability and maneuverability? Is it as big as a Mitsubishi Montero Sport? Or is it smaller? Based on information from both manufacturers, the FJ Cruiser and the Forester XT have similar consumption, at around 11.6km/L. Do you have firsthand experience on their fuel consumption? How about the resale value?
Thanks.

Ming
Hi, Ming. Thanks for your e-mail. It's funny that you ask about the two vehicles, because I myself am considering both cars as well.
I like the Toyota FJ Cruiser a lot, because, well, it looks like a toy--a caricature of a car. It's a car with a great sense of occasion all by itself and unto itself. It feels special just looking at it. Unfortunately, I've never driven one myself. The FJ is also in the autumn of its life; it's been in production for quite a long time and Toyota plans to pull the plug on its manufacture soon, with no clear replacement on the horizon.
Continue reading below ↓
Recommended Videos
I also like the Subaru Forester, because the performance is simply amazing. You would need a German SUV costing two to three times more to match its performance. Plus, the Forester is supremely practical as it has grown noticeably in all directions and has a huge interior. Moreover, Subaru engineers focused on highway high-speed refinement as well as off-road performance. The only two things I rather dislike about the Forester are the looks (too generic, too safe, too mainstream, and lacking that Subaru quirkiness) and the CVT transmission, which has in general been less reliable as compared with a traditional torque-converter-equipped automatic transmission.
Comparing both vehicles, I have a suspicion that the Forester will be both easier and faster to drive, and will also be much more fuel-efficient, thanks to its smaller but powerful 2.0-liter direct-injected turbocharged engine (240hp, 350Nm), as opposed to the FJ Cruiser's bigger, heavier 4.0-liter normally aspirated V6 engine (268hp, 380Nm). Yes, the FJ will have higher peak figures, but the Forester's engine has a wider spread of power across the rev range, and the CVT transmission.
The Forester is also built on a crossover car-based platform, whereas the FJ Cruiser is built like most real trucks--that is a cab body sitting atop a ladder-frame chassis so the FJ is going to be a tad tighter. The clamshell doors on the FJ also make it quite difficult to get in and out, unlike with the Forester's traditional doors.
Now, on to the subject of driving them normally in traffic. I feel that the FJ Cruiser's dimensions (tall ride height but very square, broad-shouldered dimensions) make it much more difficult to guesstimate its extremities (compared with the Forester) when maneuvering through tight parking spaces or weaving through traffic. It is supposedly wider-feeling than a Mitsubishi Montero Sport or a Toyota Fortuner, according to friends who own one. Another friend offered that the FJ Cruiser is like riding inside a sports car--but on stilts--so it makes judging the front, rear and sides of the FJ a bit difficult because you sit quite low for a 4x4 or SUV.
If you get the Forester, you'll be very happy with it. But you need to use 100-octane fuel to get the most power and performance out of the Forester's engine even though it will run on 95-octane fuel.
I wish I could give you more information on the FJ Cruiser, but as I said earlier, I have yet to drive one myself.
I hope this helps! Good luck with your choice!
Botchi Santos
Consumer Editor
Artwork by Lloyd de Guzman
[poll]538[poll]