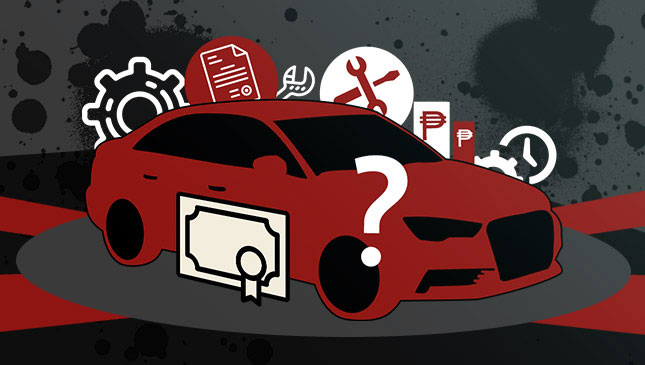 Hi, Botchi. Let me start by explaining my motoring situation. I am an OFW who comes home every two months for a 20-day vacation. Because my family owns several cars, I just borrow a car every time I'm in the Philippines.
We have plans of buying a hatchback as our first car in the Philippines, and for my wife to learn how to drive. I used to have a Honda Civic and a Toyota RAV4 abroad.
Then our luck struck. We won an Audi A3 2.0 TDI through a promo. How much is the cost of owning an A3, including its insurance, maintenance, spare parts, etc.? Can you also provide the pros and the cons, the highs and the lows, and the good and the bad of having one?
Thanks,
Rken
Hi, Rken. Thanks for your e-mail. And wow...congratulations!
First of all, you'll be happy to know that your Audi A3 won the World Car of the Year award when it was introduced back in 2014. It's an amazing car, and once you have sampled it, you will never ever want to go back to a Japanese compact car. Yes, prepare to be spoiled.
In terms of maintenance, I just spoke to PGA Cars, the official distributor of Audi vehicles in the country. According to the folks there, typical servicing for the car costs somewhere in the neighborhood of P25,000. Yes, that sounds expensive, especially since regular servicing for a Japanese compact sedan costs only about P4,000 using fully synthetic oil.
ADVERTISEMENT - CONTINUE READING BELOW ↓
However, you only need to have the Audi A3 TDI serviced once a year, thanks to advanced oil filtration and a robust design of the engine. Your warranty is two years, and while I asked for the maximum mileage covered, PGA Cars says it is very loose on the mileage accrued in terms of warranty claims. So as long as it falls within the two-year warranty period, you're good.
Parts are not a concern because Audi has a regional parts depot in Singapore. Hence, most parts that are not in stock are usually made available in three to five working days. Bear in mind that major body parts (bumpers, panels, doors, fenders, windshield, etc.) will cost more than a comparable Japanese, Korean or American model. That's because the parts come from Europe, where labor cost is higher, and we need to factor in shipping expenses. How much higher, you ask? I'd say by two to three times more expensive.
As for insurance, comprehensive insurance is standard in terms of rate. Your insurance premium will be 5% of the total market value of the vehicle. Depending on the variant, the A3 TDI costs somewhere between P2.63 million and P2.73 million, so your basic insurance would be anywhere from P131,500 to P136,500. You may haggle with your insurance provider for add-ons such as Acts of God.
Enjoy your new car. You will love it. Congratulations, and thank you once again! Be safe on the road.
Botchi Santos
Consumer Editor