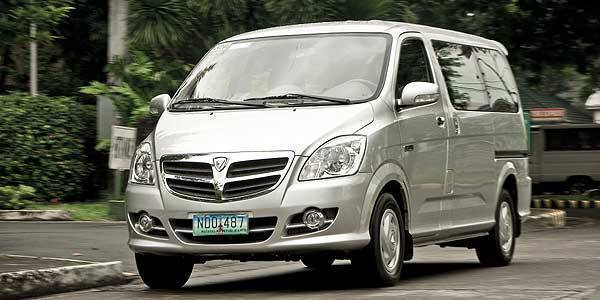 I used to think driving Chinese vehicles was like dating a Chinese guy. You never know when what you have will fall apart. After all, China¹s still getting the hang of making quality and reliable vehicles, just as Chinese boys are still learning the ropes of cross-cultural relationships.
But enough of that bitterness and on to more positive things.
I'm a puny, 90-pound singleton with a single parent. We could have camped inside the Foton MP-X for days, and mother and I wouldn't bump into each other. That may sound exaggerated, but really, if there's one thing the MP-X offers, it's space. Lots of it.
Continue reading below ↓
Recommended Videos
On the day I planned to take the MP-X on an out-of-town drive with my mom, we were swarmed by relatives and friends from Mindanao who were eager to see a part of Luzon that wasn't the cramped and busy Metro Manila.
The drive south was hell with the Skyway extension still in the works. The MP-X's diesel-fed engine was literally groaning as it pushed through slow-moving traffic. It was just as well. I dreaded shifting gears because it meant having to push half of my body weight against the Foton's stick.
The same goes with the horn. It requires more than just thumb movement. Honking takes too much effort that once, on my way home, I had second thoughts about blasting at two inconsiderate schmucks on motorcycles who were talking to each other while riding side by side and slowing down everyone else behind them.
Looking back, I could have easily just cooled off by amusing myself with the mysterious dashboard-mounted monitor. Right in the middle of it is the van's image with lines streaming constantly on its sides. The lines seem to disappear when you step on the brakes, so I'm assuming it indicates your motion--not that you should notice, especially when you're the one driving.
The monitor isn't exactly a pointless device. It also shows the temperature inside and outside of the van, as well as the distance between you and what you might end up crushing if you ignore the beeping backing-up sensor.
There are a few other kinks like the huge headrests on the second row that block the driver's rearward view; the plastic-looking badges bearing the Foton logo; and--for P1.12 million--the lack of a mirror on the sunvisor (an observation that came from a female passenger).
Still, the MP-X is one solid ride. It can get you to your destination without much hassle. That it seems incapable of going really fast is a plus, particularly when you're with your entire family on a road trip. After all, you wouldn't want your loved ones figuring in a high-speed accident. But if we're talking about an ex whom you'd rather not see again, make him ride a Chinese car and make sure he forgets to wear his seatbelt.
It may be a little too early to tell if Foton is the brand that would remove the Philippine market's biases against Chinese vehicles. But from what I've observed, it's definitely not a bad start.