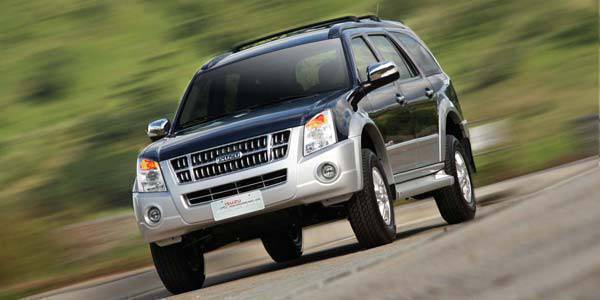 Being almost exclusively an AUV driver (having driven a Toyota Tamaraw FX and a Revo for almost all of my driving years), I always welcome the break when I get to drive a slightly bigger vehicle. That treat came recently when I had a chance to take the 2010 Isuzu Alterra for a spin.
At first glance, I thought it would take some effort to drive since it's slightly longer and wider than what I'm used to. Surprisingly, driving the new Isuzu Alterra wasn't a chore at all. Ten minutes into the trip, I forgot it's an SUV because it's quite easy to maneuver, much like a sedan.
Being on the bigger side of life, I found the Alterra's spacious legroom an added bonus. I was more relaxed during traffic jams thanks to the extra space for stretching my legs out.
The 2010 Isuzu Alterra's 3.0-liter 4JJ-TC common rail direct injection diesel engine is quite responsive to sudden acceleration and driving on an uphill terrain was a breeze. As it runs on diesel, one can also count on some degree of savings in fuel cost.
But more than the engine power, the interior of the Alterra is certainly schnazzy--starting with the comfy leather seats. It's also equipped with a mobile entertainment system and a JVC head unit that plays DVDs. The 2010 Isuzu Alterra is also iPod ready with two LCD screens and a 5.1 Dolby Digital surround sound for top-notch entertainment. It makes you feel like you're in a living room. Too bad for me--I was the designated driver on this particular trip and I had to concentrate on the road.
The new Alterra's exterior package comes with power-folding side mirrors and fog lamps. It's also equipped with a four-eye reverse sensor that made parking easier considering the SUV's size. The sensor's downside is that it's loud. It's like hearing a police siren inside your car as you're backing up.
The loud sounds don't end there. The engine still holds true to the old complaint about diesel engines. Compared to some of the recently released diesel engine vehicles I've driven, the Alterra's is still a bit loud. But the home theater-worthy sound system does help in drowning out the noise.
Overall, cash shelled out for the 2010 Isuzu Alterra is money well spent. Aside from the fact that you can sit more people in, its on-board entertainment certainly adds a different dimension. You not only have a mode of transportation, you also have a place to chill in. Since my Alterra experience, I've been wishing to graduate from my AUV to this pimped up SUV.