Less powerful, that's what. Feels cruel to kick off a review of a Japanese performance coupe by noting that it's down on power, but in order to comply with ever more stringent emissions regulations, Lexus has had to revise the RC F's 5.0-liter V8 down from 471hp when it first blasted onto the scene a few years ago, to 457hp today.
Boo, hiss etc etc. However, flip that and think of it this way—Lexus has somehow managed, in 2019, to get a 5.0-liter naturally-aspirated V8 petrol engine on sale, jumping through increasingly fire-tinged rings to keep its mini-muscle car on sale. Bravo.
So, the RC F. A powerful, mid-sized rear-drive coupe that's ostensibly a rival for cars such as the BMW M4 and Mercedes-AMG C63 (perhaps even four-door stuff like the Alfa Giulia Quadrifoglio), each an incredibly tough nut to crack; one is practically the benchmark, the other is the most charming hooligan you'll ever meet. The last one's practically a four-door Ferrari.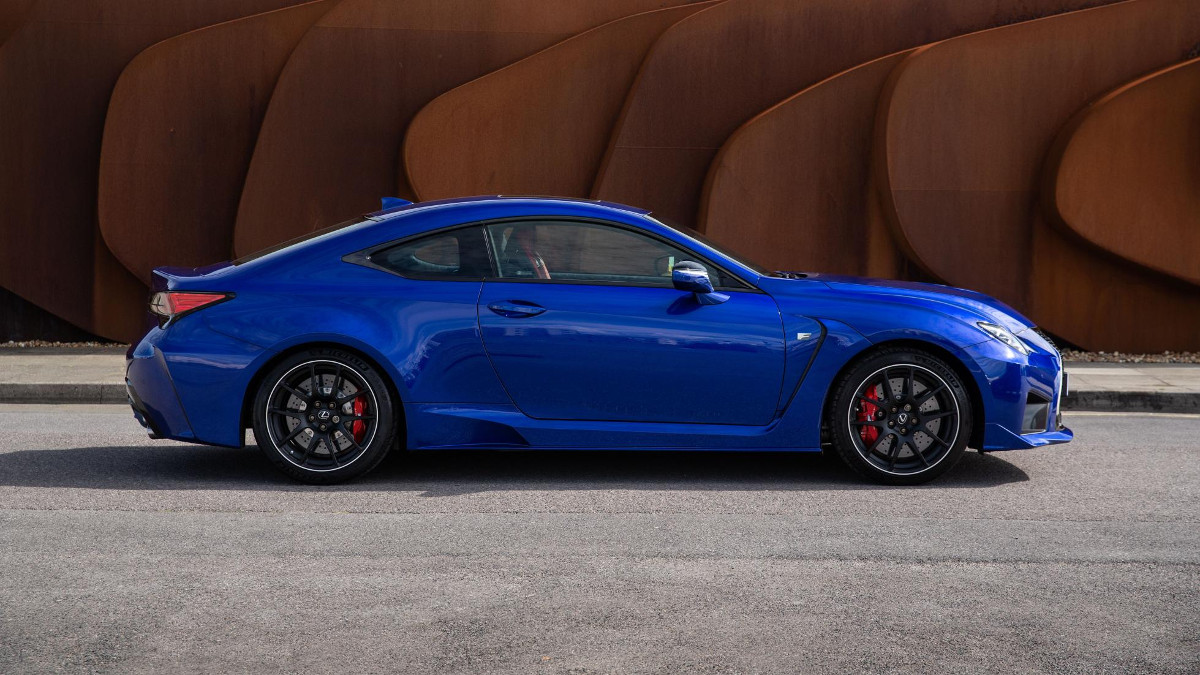 Continue reading below ↓
Recommended Videos
The RC F then, trades on its nuance: a naturally-aspirated V8 in a world of forced induction, and a proudly Japanese identity and approach to everything—from the styling to user interface—in the face of what some might call homogeneity.
There's a revised eight-speed automatic gearbox in the middle, drive to the rear (itself now under threat for cars like these), and a raft of revisions for 2019 and beyond. These include a refreshed face, the addition of launch control, a limited slip diff, and the option of carbon fiber composite body panels.
The suspension's been tweaked, too: excellently nerdy stuff like hollow half-shafts in place of solid ones, aluminium parts to save weight, stiffer suspension arm bushings and steering rack mounts, and stronger engine mounts.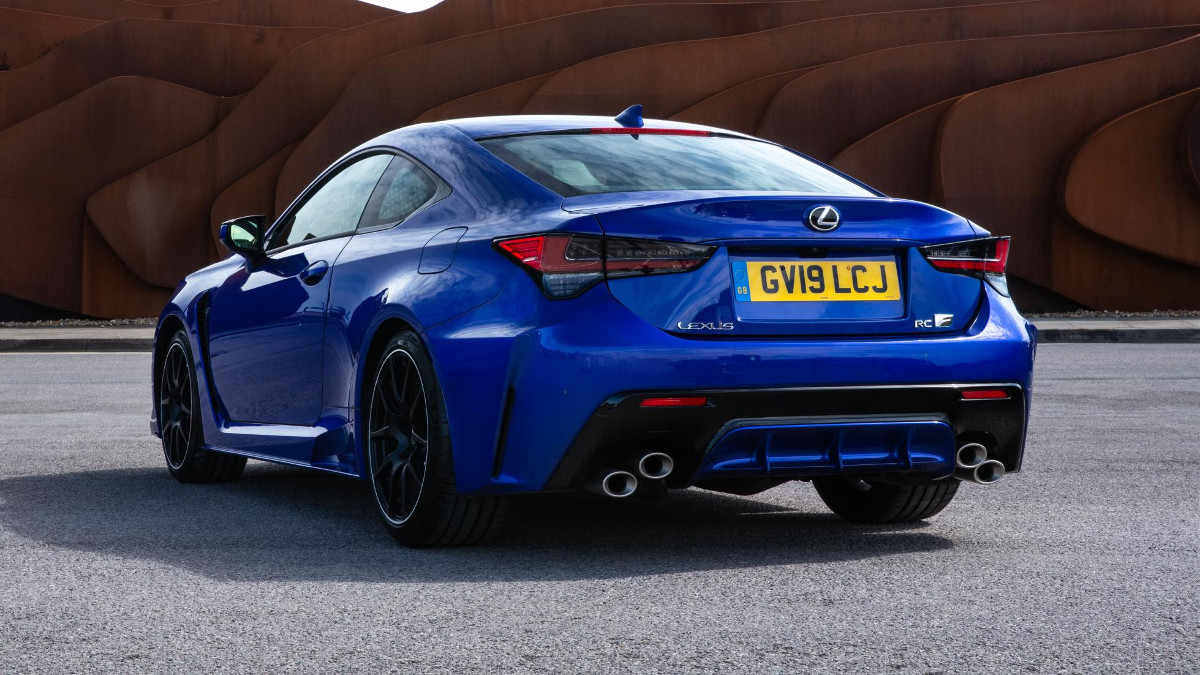 There are three versions of the RC F you can buy in the UK: the standard car, the RC F Carbon (carbon fiber roof, hood), and the RC F Track Edition (Brembo brakes, a torque vectoring diff, BBS alloys, fixed rear wing, red Alcantara and other CF parts). Prices range from a little over £60,000 (around P3.7 million), to almost £80,000 (around P5 million). More on that further on.
Lexus estimates the TE takes between 70kg and 80kg of weight from the previous generation standard RC F, using knowledge gleaned from Lexus's Super GT and IMSA race teams. The new, standard car clocks in at 1,715kg, mind you, so it's still rather heavy…
On the road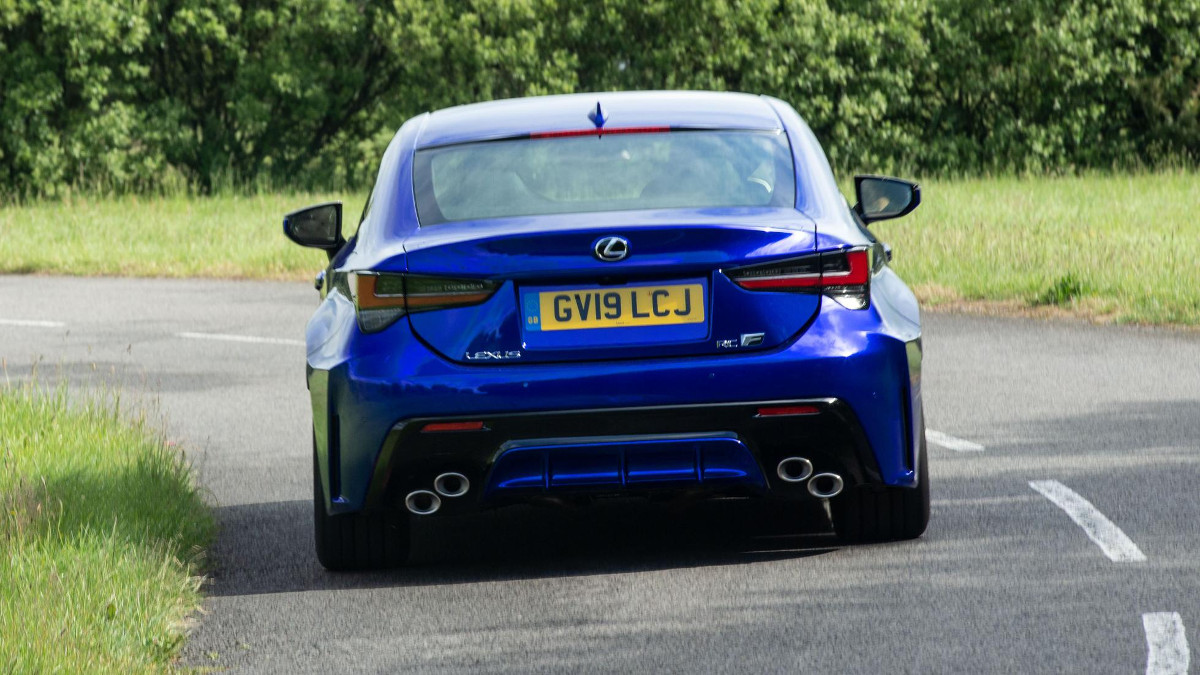 Be warned: the new RC F comes with MODES. Lots of them. There's a round knob in the middle that switches between Normal (which is, erm, normal), Eco (again, pretty self-explanatory), Sport S, Sport S+, and Snow. Sport S changes the dial readout, changes down gears during hard braking, and holds onto them for longer. Sport S+ goes further with even quicker shifts, more steering weight, and activates the Sport mode in the VDIM—Vehicle Dynamics Integrated Management—system.
Ah yes, VDIM. There are four modes for that, too—Normal, Sport, Off, and Expert—while the torque vectoring diff itself has three modes (standard, slalom, and track). Basically, you can adjust the thing to your heart's content. Though… there's no great difference between the hardest ones.
On the road—which is likely where the majority of RC F buyers will use it—it's a docile, supple, and compliant thing to drive when your hair's not on fire. The driving position is spot on, view outside good, it's well damped and doesn't bounce you all over the road. There's no indication that a 5.0-liter V8 lies in wait up front. Indeed, during sedate driving, the engine runs on a more economical cycle than when driving as though you're in a movie chase scene. You could look at it in a more cynical way—why pay so much for a V8 if you can't tell you're in a V8?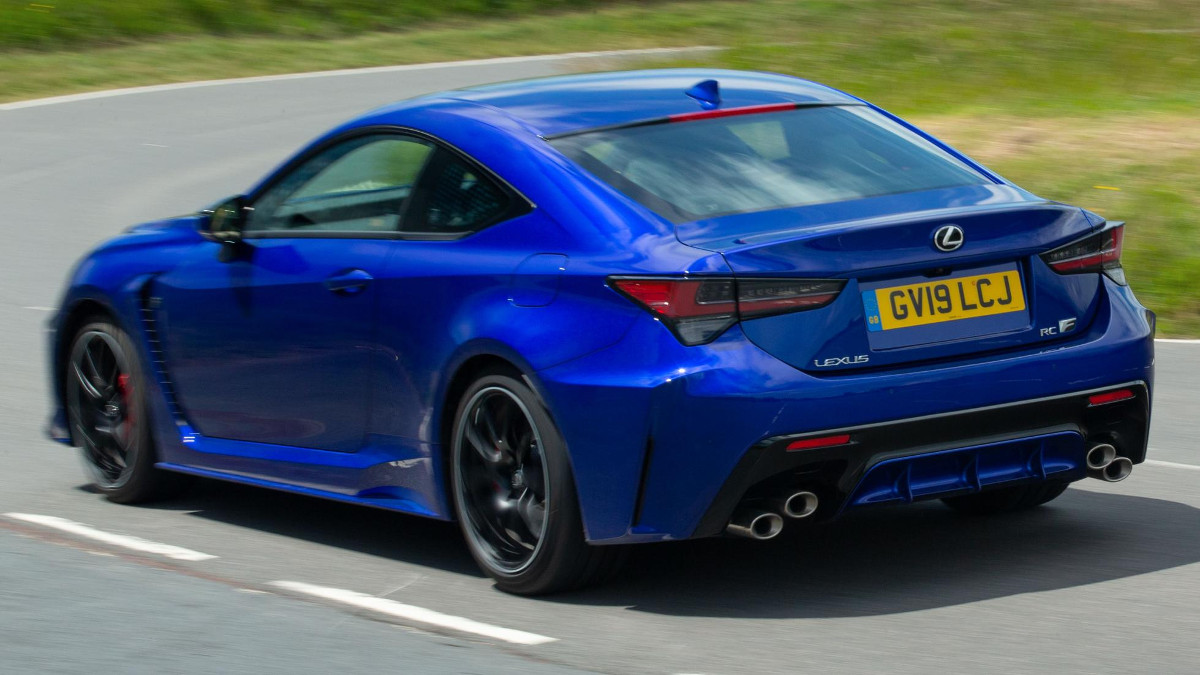 Moving on. Dial it up through the modes and—on a fast road—it's accurate, stable, and rewarding. There's no great information dump from the steering but it's sharp enough, there's a good amount of grip (less so if you loosen off the shackles, but best do that on track), and progress is swift, if not the banzai rapidness of its turbocharged rivals. Can feel its weight, too—at 1,715kg, it's on the heavier side of this class.
And that is likely to polarize your view on the RC F. Yes, there's nothing at low revs, but keep it in the right gear and that engine singing above 4,000rpm, and it accelerates cleanly, accurately, and to a delightful soundtrack. There's fun to be had in repeatedly redlining the RC F, because it sounds so old-school. It's a high-pitched, more frenzied note than, say, the old nat-asp 6.2-liter V8 AMG used to put in previous C63s.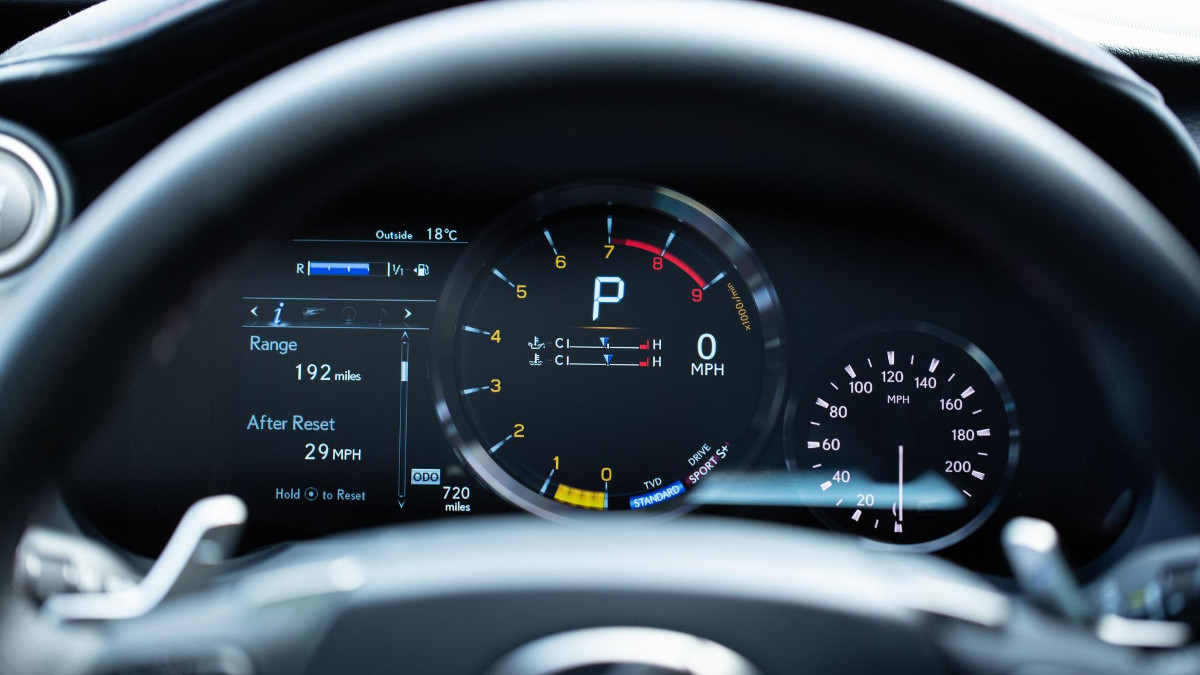 To the polarizing bit, then—the M4 and C63 are both rabid dogs in comparison. 0-100kph—even with launch control—takes 4.3s in the RC F, which is the same as the BMW M4, but three tenths down on the non-S C63. In gear however, the German duo's turbocharged plants would sprint cleanly off into the distance; their power more deployable, more of the time.
The gearbox isn't up to scratch with the very best this very talented class has to offer either, slurring a little too much for something so powerful and pointy. Everything feels a little… last generation. Think of it more along the lines of a Japanese muscle car—something you choose because you want a Japanese muscle car, and not a point-and-squirt coupe, and it makes some sense. Got a lot of charm, this thing.
On the inside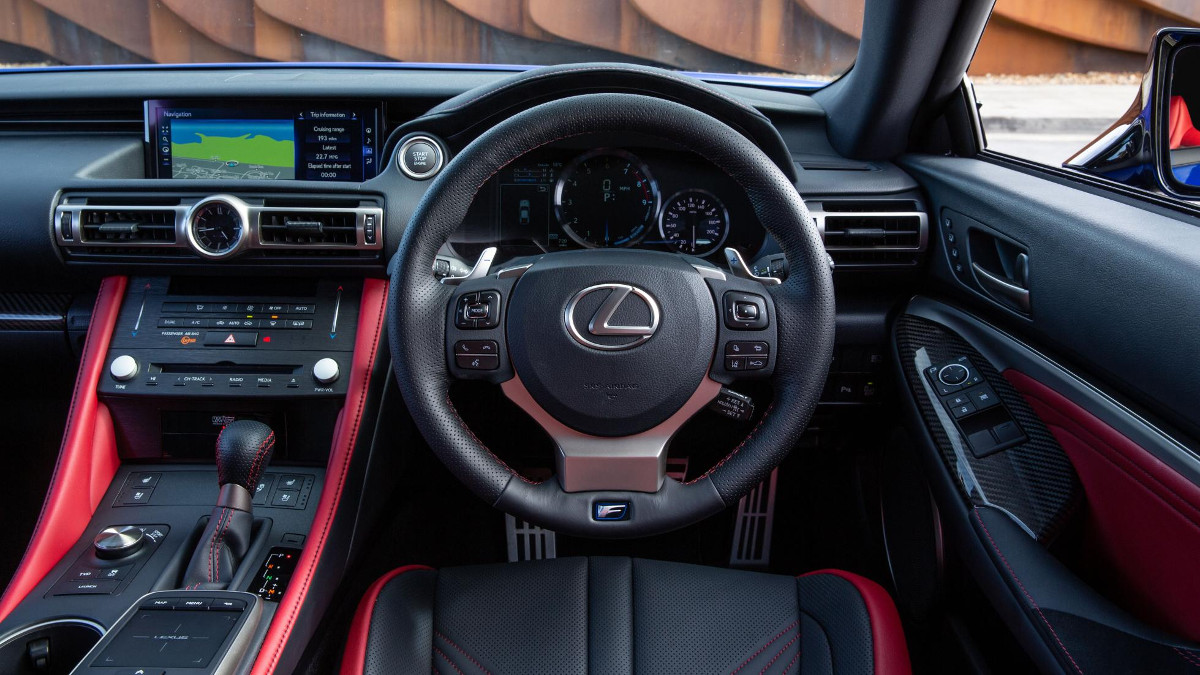 Lots going on here. The central view is dominated by the massive rev counter, flanked on the right by a smaller speedo and on the left by a display showing whatever you want it to. Whisper it—there are shades of the LFA in the readouts.
Then up on the left, atop the dash sits another screen, below that a vent that protrudes out, and beneath that an angled console filled with buttons. The touchpad that sits by your elbow isn't the most intuitive nor helpful.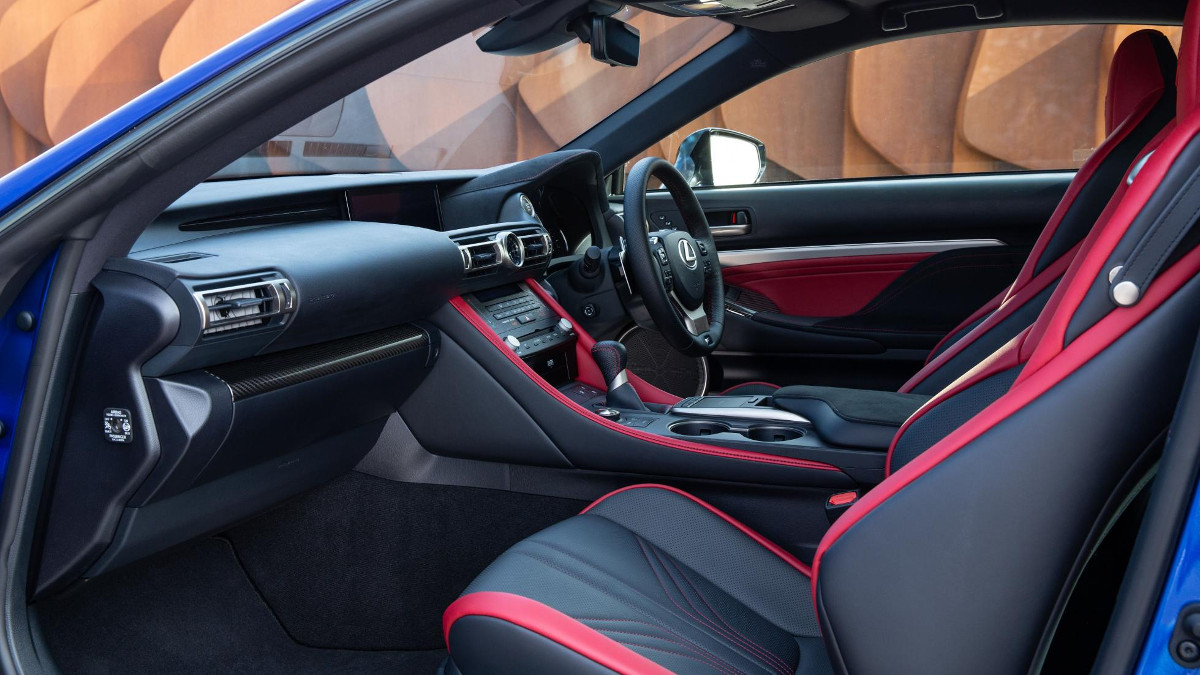 The whole thing isn't exactly cohesive—a feeling that different teams designed individual areas—with bits jutting out here, recesses there. It's easy to get distracted. Best to concentrate on that engine note, perhaps.
Seats? Great. Very comfortable and infinitely adjustable. The driving position is spot on, view outside good too. The rear seats are useless, capable only of storing a few bags or some tic tacs, but the boot's a decent size.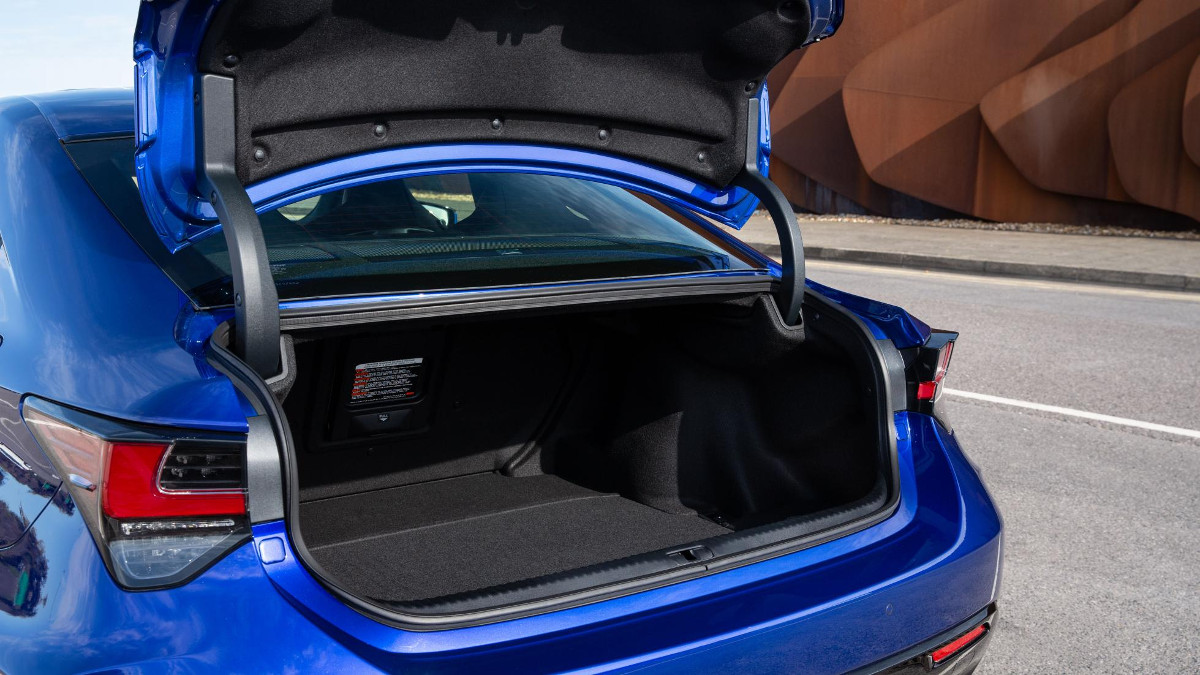 And everything in here does feel extremely sturdy and built to last a long, long time. It's just—there's that phrase again—a little last gen.
Final thoughts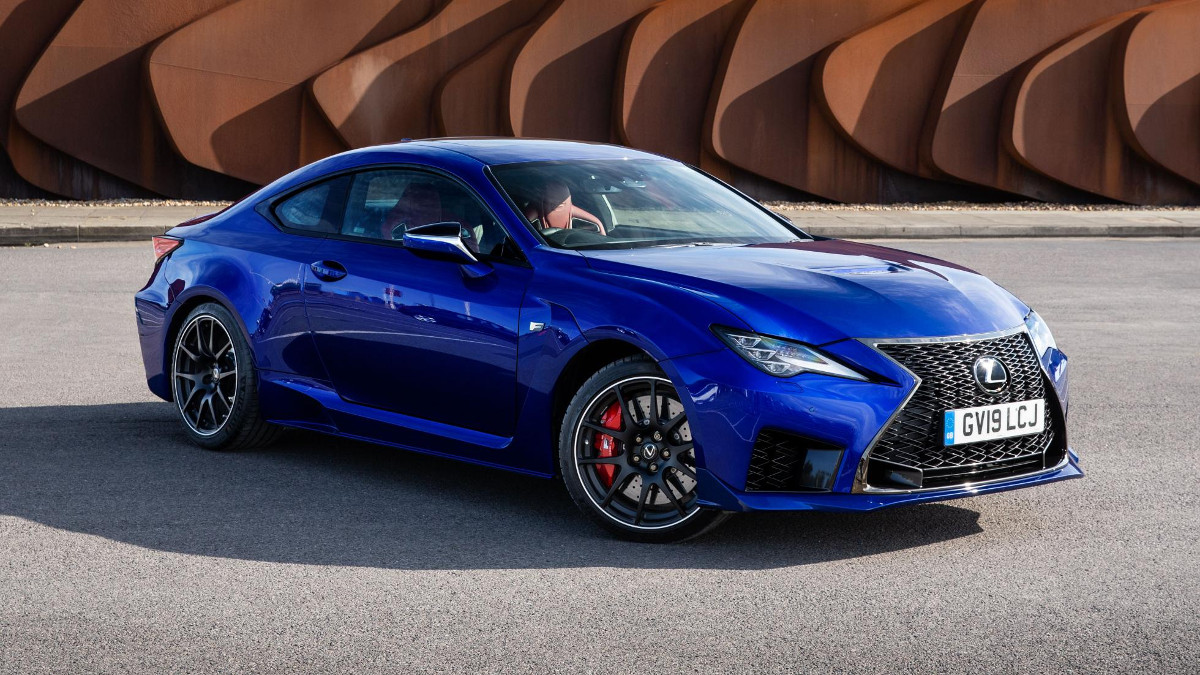 In isolation, the RC F is a good car. It steers, rides, and handles with assuredness—if not the fizz others manage—offers decent bang for your buck, and represents a very particular way of thinking about the whole rear-drive-powerful-coupe thing.
But stuff like the M4 and C63 have moved the game on in leaps and bounds, and have continued to set new benchmarks. For this kind of money, you can't discount them, and in that company the Lexus struggles to compete.
It's got heart, the RC F, it's just not the championship contender it wants to be. Top notch Japanese muscle car, though, and there's a lot to be said for that.
NOTE: This article first appeared on TopGear.com. Minor edits have been made.