An artillery division made of fireworks, aimed at your senses. The Pagani Huayra Roadster would still drop jaws and stop traffic if it had the engine from a VW Polo, but thanks to a 6.0-liter twin-turbo V12 from AMG serving up 753hp (23hp more than the standard Huayra coupe, and a few more horses than even the extreme Huayra BC), it will liquefy your brain with mind-pulverizing acceleration.
Do not make the mistake of thinking this just an opulent Fabergé egg with the top missing. It's a properly developed and terrifyingly capable hypercar. One of the fastest roofless cars on earth.
The Huayra, to refresh your memory, is Pagani's Difficult Second Album. It's the successor to the iconic Zonda, and it's all about 'more': more power, more torque, more opulence. And more money.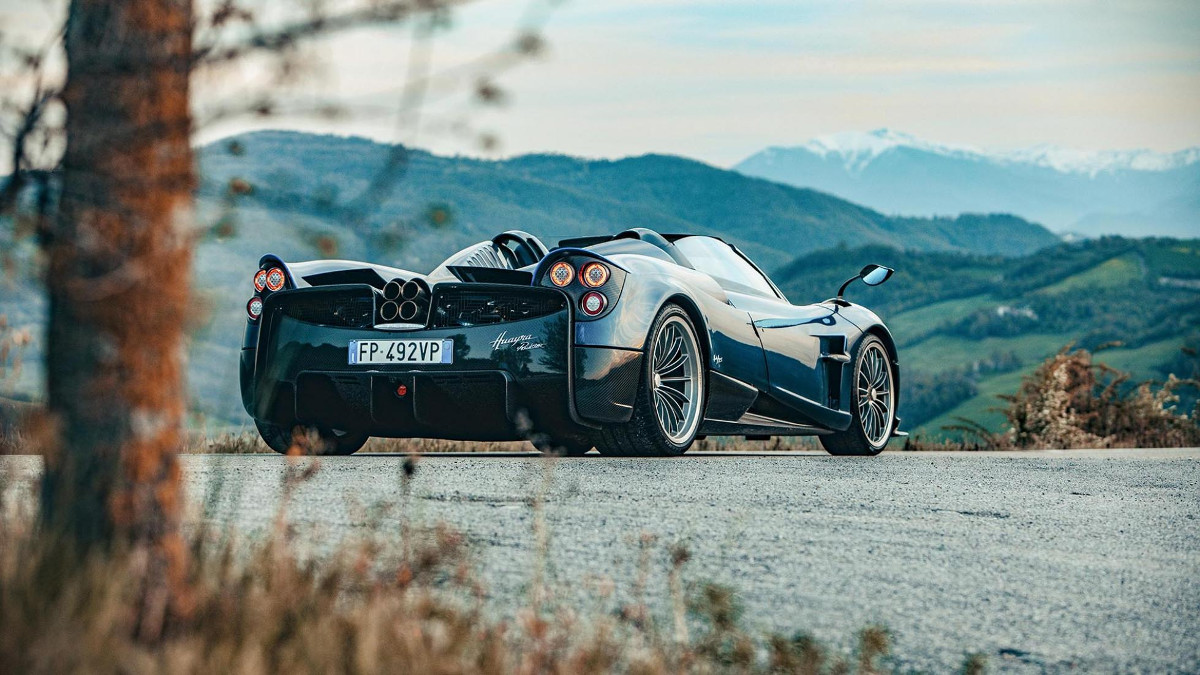 Continue reading below ↓
Recommended Videos
The engine is smaller and twin-turbocharged, for greater torque. The gearbox tasked with coping is an auto this time—but an old-school automated manual, which prioritizes lightness over shift speeds.
The tub is made of carbo-titanium, which splices carbon weave with strands of titanium for greater stiffness and strength with a negligible weight penalty. And there are four pop-up aero flaps on the bodywork that leap into the airstream as you brake and turn to help push the car's all-carbon form into the road. Formula 1 car designers dream of gadgets like that.
You'd think the Huayra Roadster is simply 2012's Huayra with the roof cut off, and the gullwing doors binned. But this being Pagani, there are way more detail changes afoot than simply taking a set of secateurs to the top bit.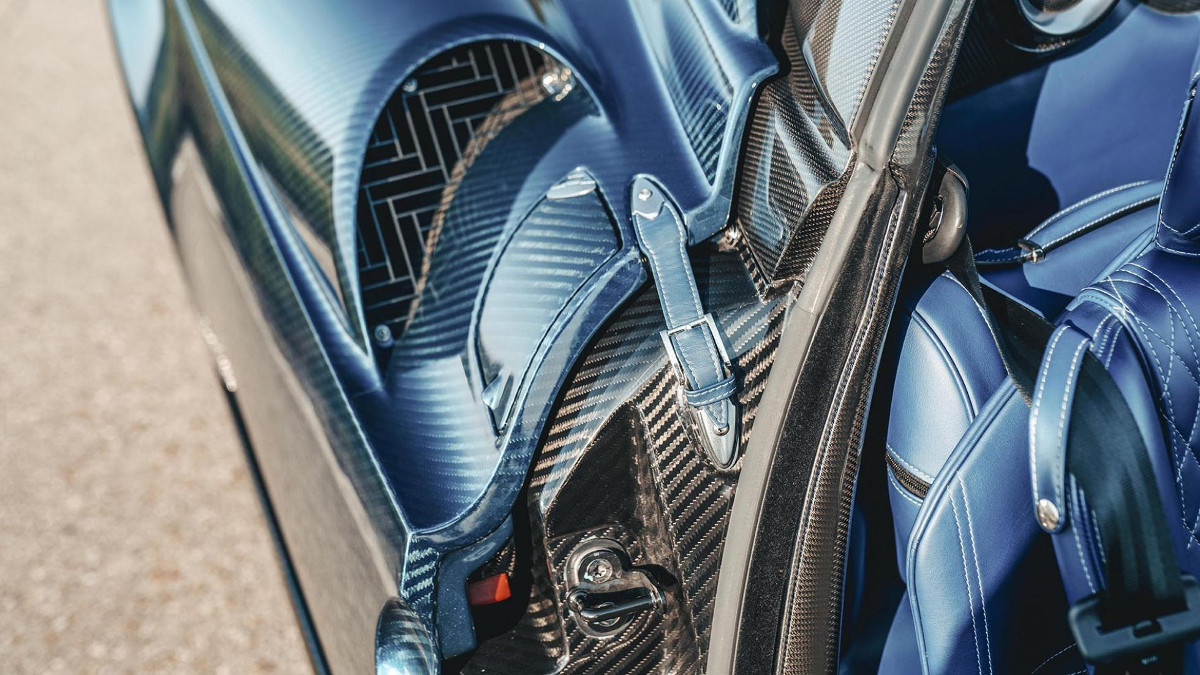 For a kick-off, the engineers have reinvented their reinvented carbon fiber. The carbo-titanium weave is stronger now, so the tub is stiffer and lighter than the coupe's. Normally, a cabrio has to get heavier than the coupe, either due to extra strengthening beams, and any roof bits.
Because the Roadster's titanium-infused tub is stronger than the material Pagani has employed previously, and because the roof is a manually extractable slither of carbon and glass, the car weighs just 1,280kg dry. Compared to the claimed dry weight of the hardtop Huayra—1,350kg—that's a massive saving of 70kg. Gullwing doors are notoriously heavy.
Because it's lighter, the inboard race-car-like suspension has been retuned. The rear bodywork is all-new and more curvaceous now. More outrageously art-deco. The front bumper looks angrier. There are new lightweight forged wheels. It's a proper reworking this, as you'd hope—this thing costs £2.3 million (around P155.7 million), after all.
On the road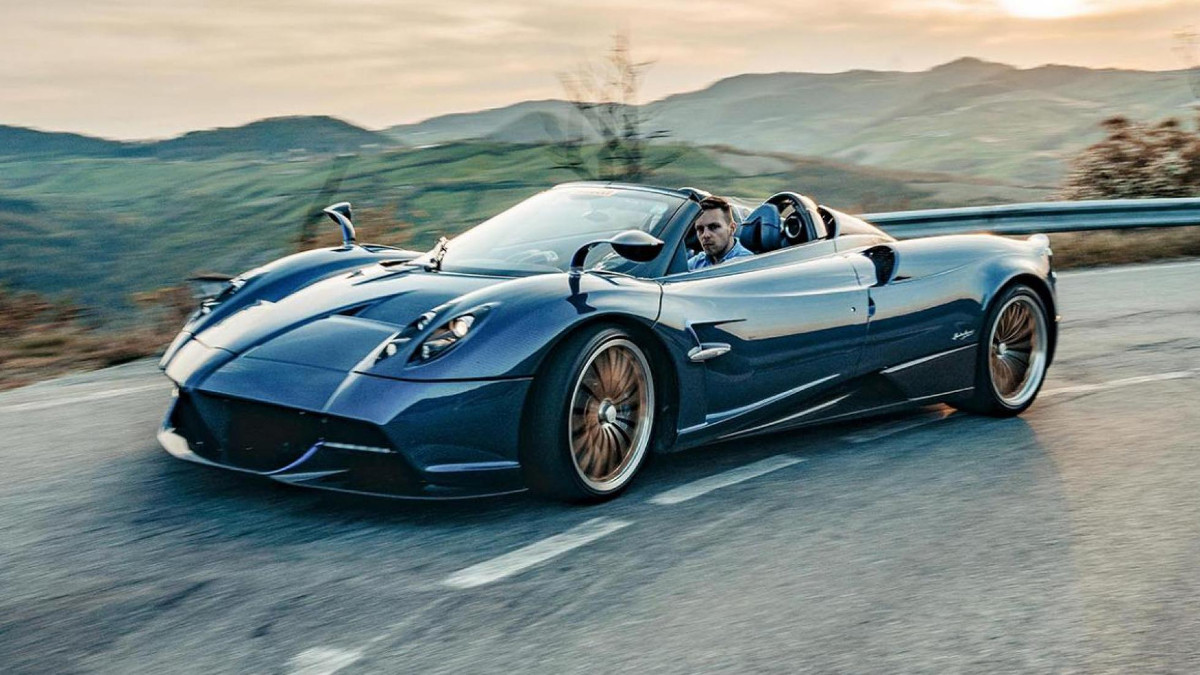 Traditionally, you'd say the open-top version of any sports car is a tad watered down from the hardtop. Forget that generalization here—the Huayra Roadster is stronger, lighter, and more powerful than the coupe. It's actually got more poke than the hardcore Huayra BC coupe, which makes it, to date, the most powerful road-going Pagani ever. With 753hp and 1,000Nm of torque, it's got a similar power-to-weight ratio to a McLaren P1. And that means it's searingly, shockingly fast.
The raw numbers aren't overwhelmingly impressive in our spoiled world of launch control and foolproof gearboxes. The Pagani's systems are a little old-hat, so it delivers 0-100kph in 3.1sec (no, not two-point-something) and goes on to a top speed of 338kph. A humble McLaren 570S will, on paper, easily keep that in check.
But if, feeling pretty chuffed with how your life was going up until that point, you rocked up behind a Huyara Roadster on the highway in your McLaren, you'd do very well just to leave it be. Because in-gear, rolling into the throttle, the Huayra is spectacularly, brutally fast. Hypercar fast. It gets from 100kph to 250kph with such disdainful ease that you have to recalibrate your braking points, refocus your eyes, and raise your game to have the reflexes of a martial arts master.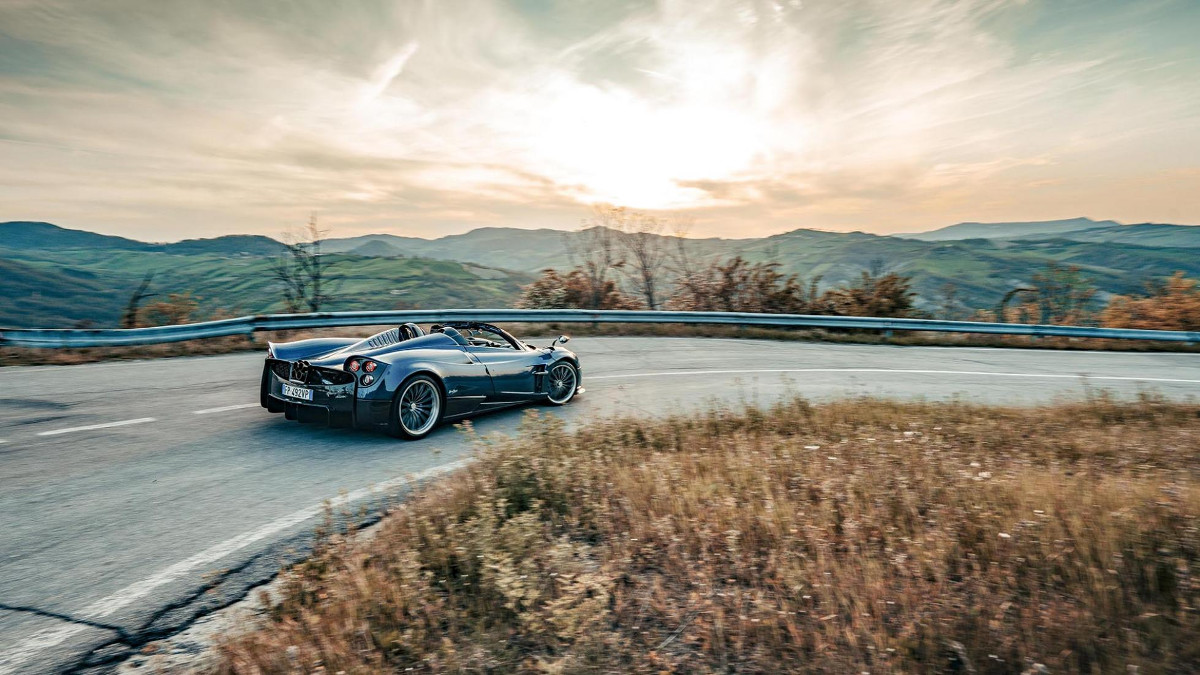 In fact, the yawning pauses that pepper your onward trajectory as the single-clutch gearbox swaps ratios are something of a welcome relief in the madness. This car is fast. Not funny-fast, not scary-fast—it's 'how did mere humans build something this brutal' fast. Like an SR-71 Blackbird, or the Saturn V rocket.
It doesn't sound fast, mind you. The Huayra's 6.0-liter twin-turbo V12—a bespoke unit made for the Italians by AMG, with its own M158 engine code—is a very different aural experience from the shrieking, howling V12 Zondas of Pagani's infancy, trading a razor-sharp tune for bellows, hissing, and rumble. It's an interesting, intimidating noise that's curiously captivating to listen to on part-throttle as the engine bullies huge quantities of air about. But even with the roof detached, there's little to revel in as the revs climb. In fact, the jet-like woosh is quickly lost in your wake as the speed skyrockets.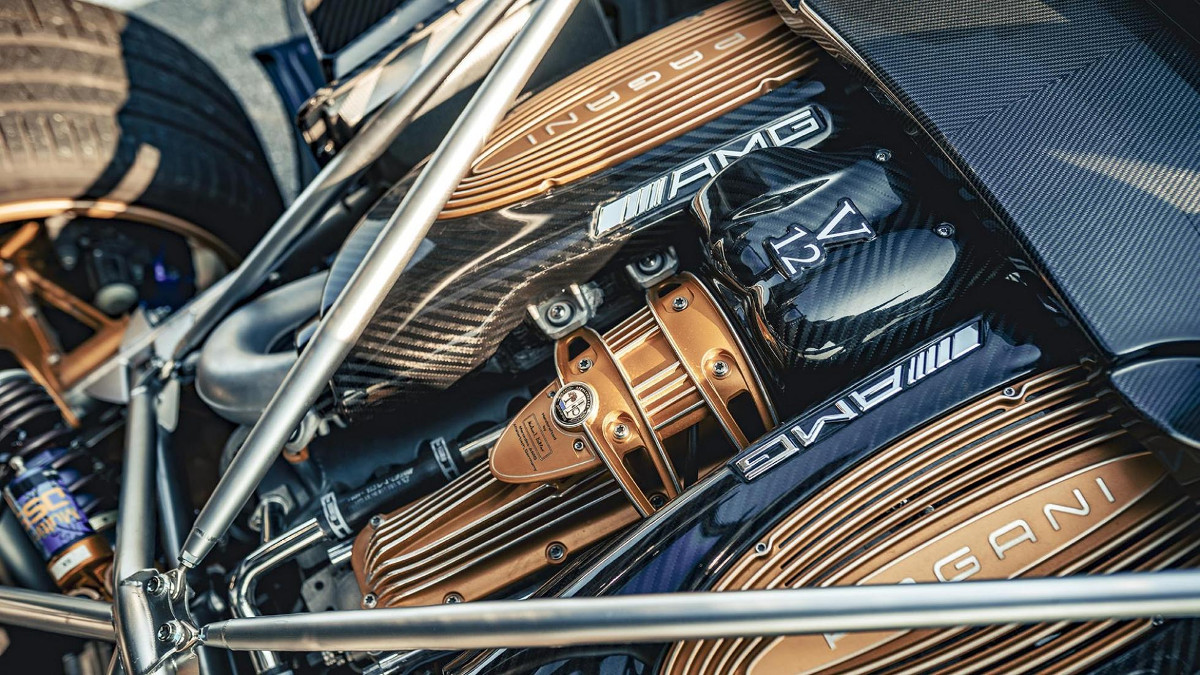 Acclimatizing to the sheer volume of warp-factor punch under your right foot takes time and bravery. Happily, the rest of the Huayra Roadster isn't as intimidating. The massive carbon-ceramic brakes are up to the job required of them, even if the long-legged push they require to really clamp down your momentum seems alarming at first. Actually, it's the Huayra's way—it's a car of crazy performance, delivered in a rather relaxed manner. Take the throttle response—it's soft. The turbos do nothing at all below 2,000rpm. They start to wake up by 2,300rpm, and at 3,000rpm, you're into hyperspace.
The steering, too, totally bucks the Ferrari trend for insta-reacting sensitivity, so you can pour the car through corners with one fluid twirl of the exquisite carbon wheel. It doesn't drip with feel, but there's decent accuracy there for what's a fairly big car. And though the suspension is, unusually for a modern supercar, a one-setting-fits-all job, the compromise is a very fairly judged one. Only when a wheel drops into a jagged pothole does the shudder jolt the super-stiff carbon chassis. The rest of the time, it's just a lesson in sublime body control.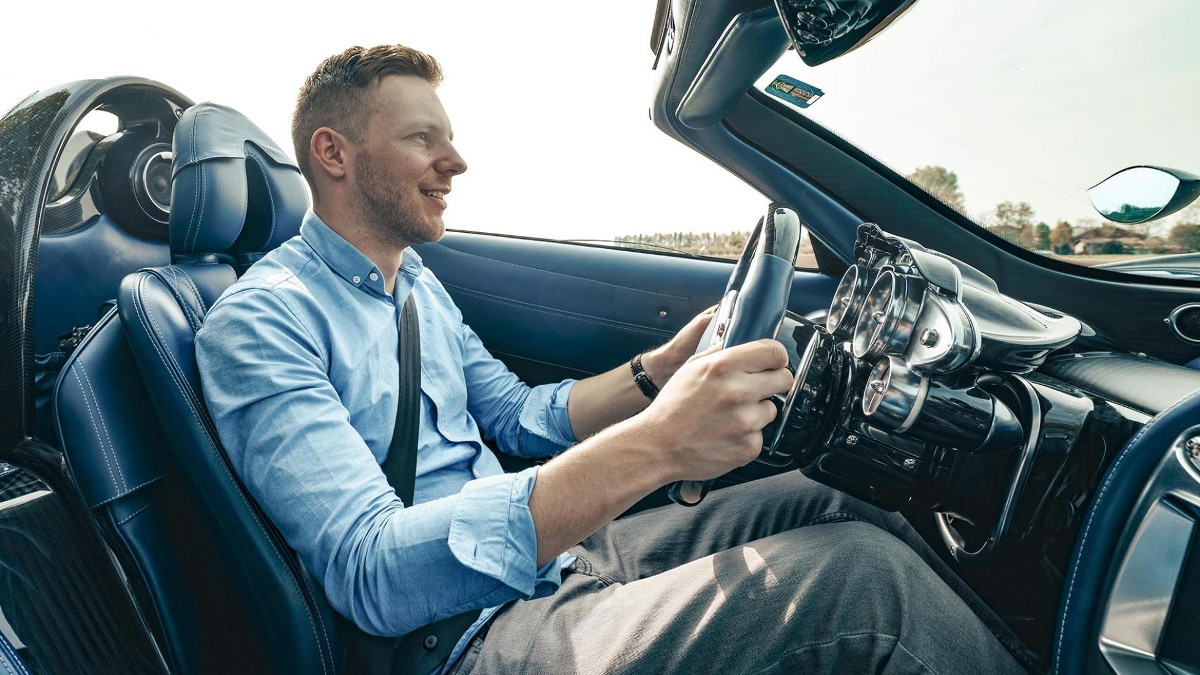 Here's what I'm getting at: After running the car through the gears a few times, you can relax in a Huayra Roadster. Seems mad, but you can just lope along in it and the car doesn't mind. It doesn't cajole and wriggle and prod the driver, begging to be unleashed, ready to star in the world's messiest YouTube crash compilation.
The Huayra Roadster can run along like a well-behaved little droptop. The birds sing. The trees ripple in the breeze. The car wooshes and crackles, but controls its impulses impeccably as it's guided along. The aero flaps perform a merry dance through the corners, and you marvel at how manageable this rear-wheel-drive Bugatti rival is.
Apart from two things. One is the gearbox. Pagani admits the Xtrac automated manual is the most frequently vexing feature of the car for owners. Upchanges take eons regardless of choice between shifting on the ornate manual lever or the metal paddles, and don't even think about leaving it in Auto. Unless you're planning to stick L-plates to the pop-up aero devices.
On the inside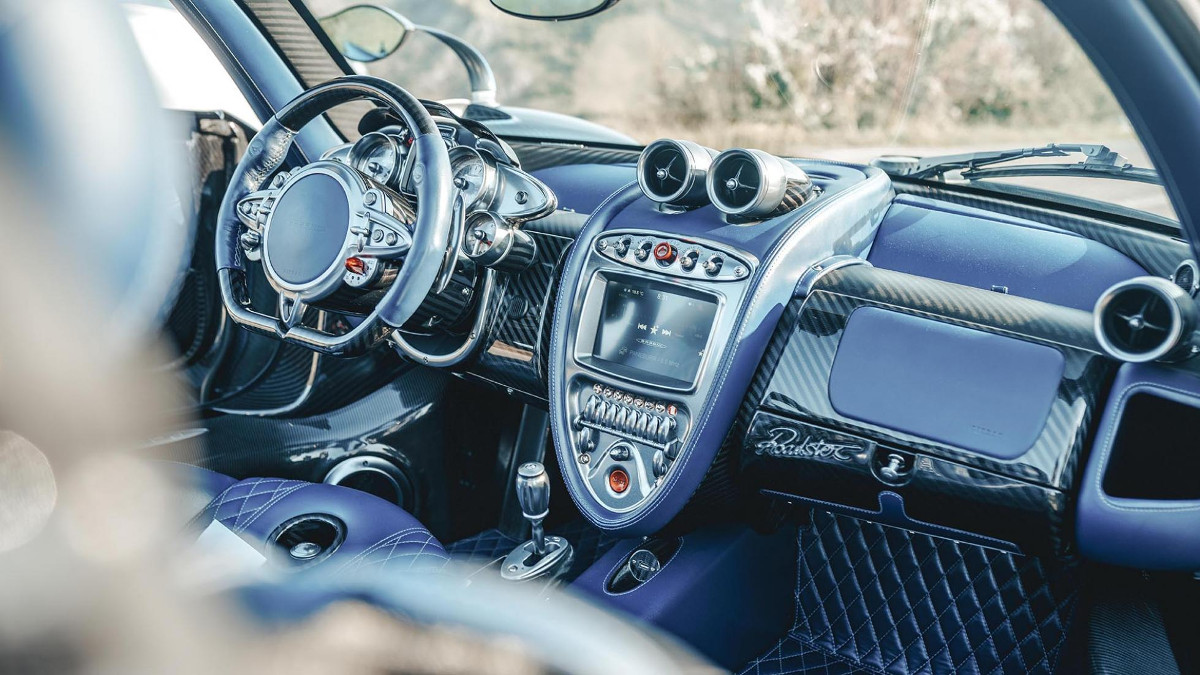 A convertible-roofed car should have an interior you're proud to show off. Mission well and truly accomplished, here. This is very possibly the most spectacular car cabin of all time.
The doors, now conventionally opened with front-mounted hinges, swing wide open with uncanny lightness, and you stride over a chunky carbon sill, dropping low down into the snug, centralized cockpit. There's very little space between the two slim seats—just enough for a couple of carbon-lidded stowage cubbies with a USB socket and just enough space to swallow a smartphone.
Crowding the seats together gives a race-car-like feel—more McLaren 720S or Ford GT than, say, Lamborghini Aventador or Porsche 918. The footwells are shallow, the seats supportive and surprisingly comfy considering they're barely-there slithers of carbon and leather. That odd lemon-juicer centerpiece between your legs is the height adjustment knob. There's not much headroom with the lightweight roof panel in place, so best to leave the chair low.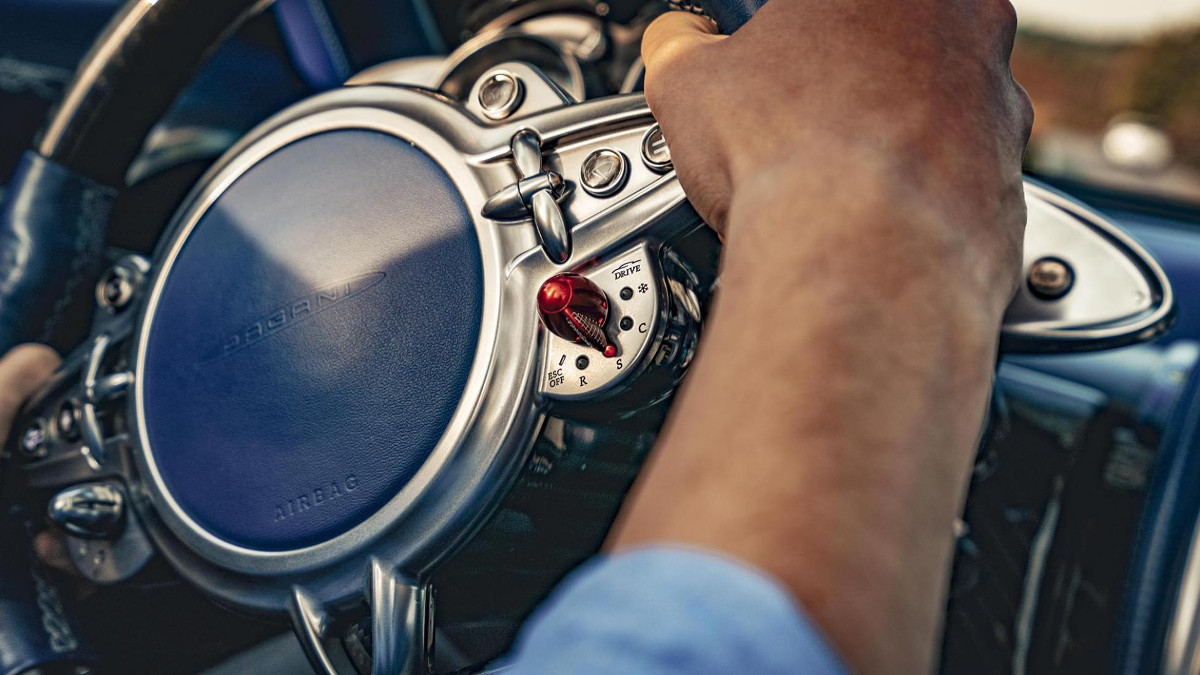 All the main furniture is familiar from the hardtop Huayra, but no less stunning in 2019 than it was when we first clapped eyes on it seven years ago. The milled instruments are just as unreadable (you'll depend heavily on the digital speedo between the clocks), the 67-piece gear selector stick remains the most tactile delight in any car, and the climate-control switchgear and the steering-wheel buttons are as beautiful to ogle as they are fussy to operate. The clickety dials on the wheel for lights and driving modes (Wet, Comfort, Sport, Race, ESC off—gulp) are much more gratifying to twiddle.
There's no plastic whatsoever. Everything is titanium, leather, and carbon. Every switch and button has the feedback and solidity of a military-grade musical instrument. And Pagani's attention to detail isn't just material-obsessed. The touchscreen, featuring Apple CarPlay, is sharper, quicker, and simpler than oodles of mainstream in-car units.
Seriously, there are only a few hundred Huayras in the world, and yet Pagani has shelled out for a touchscreen better than what giants like Nissan, Honda, Jaguar, and Peugeot can do. The hi-fi is sensational, too. Old Paganis had notoriously crap radio reception, but the Huayra seems to have sorted that out for good.
As I've said, you can settle into a strangely untaxing cruise in this mad, mad car. Partly, that's because the driving position is spot-on, McLaren style. The pedals allow for left-foot braking, while the steering wheel glides miles out of the dash to suit your reach and brings the instrument binnacle with it so the wheel rim never blocks the readouts.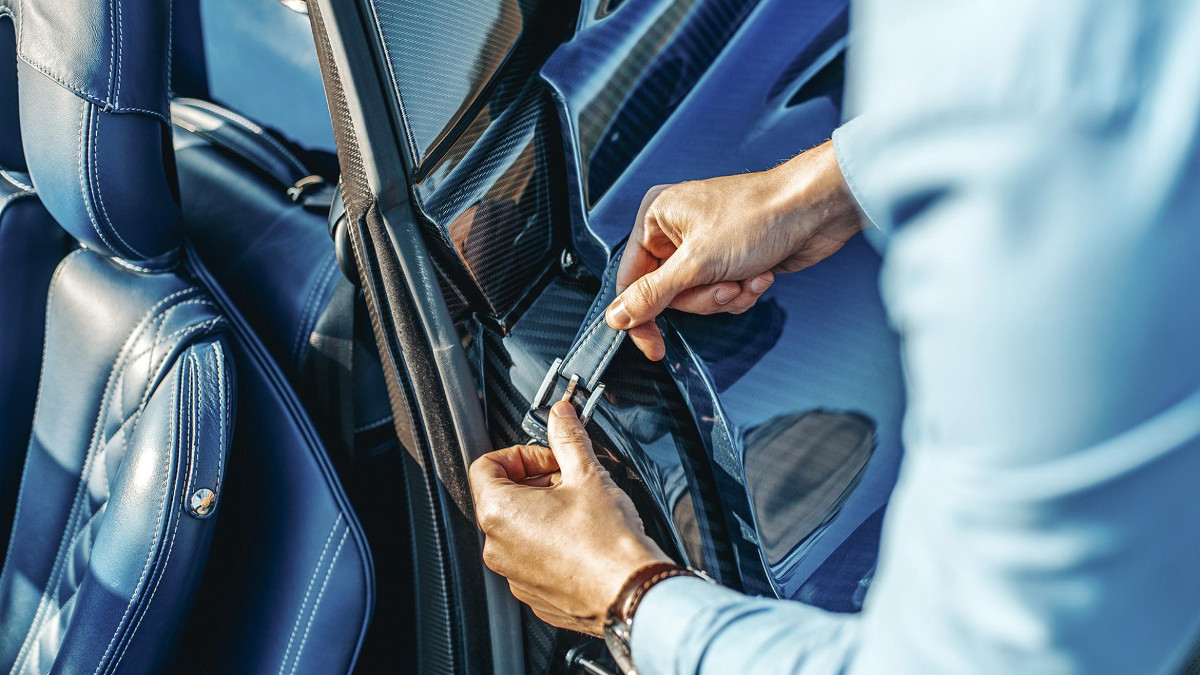 And it's a good cabrio, too. For all the sense of occasion, it'd be a spectacular own goal if the wind played havoc in the cabin every time the car topped 25kph. Happily, the aero has been cleverly tidied up, so it's possible to chat at A-road speeds—and maybe a little faster, ahem—with the sky invited in.
The roof needs two clips undoing and a tab pushing before it lifts away. It weighs nothing, but beware a gust of breeze dragging the carbon-and-glass section clean out of your butterfingers like a ship's sail in the wind. Whoops.
Your butler will have to stow it in your Rolls-Royce and follow you, by the way. There's nowhere to stow the roof in the Huayra. Supercars are impractical. Who knew?
Verdict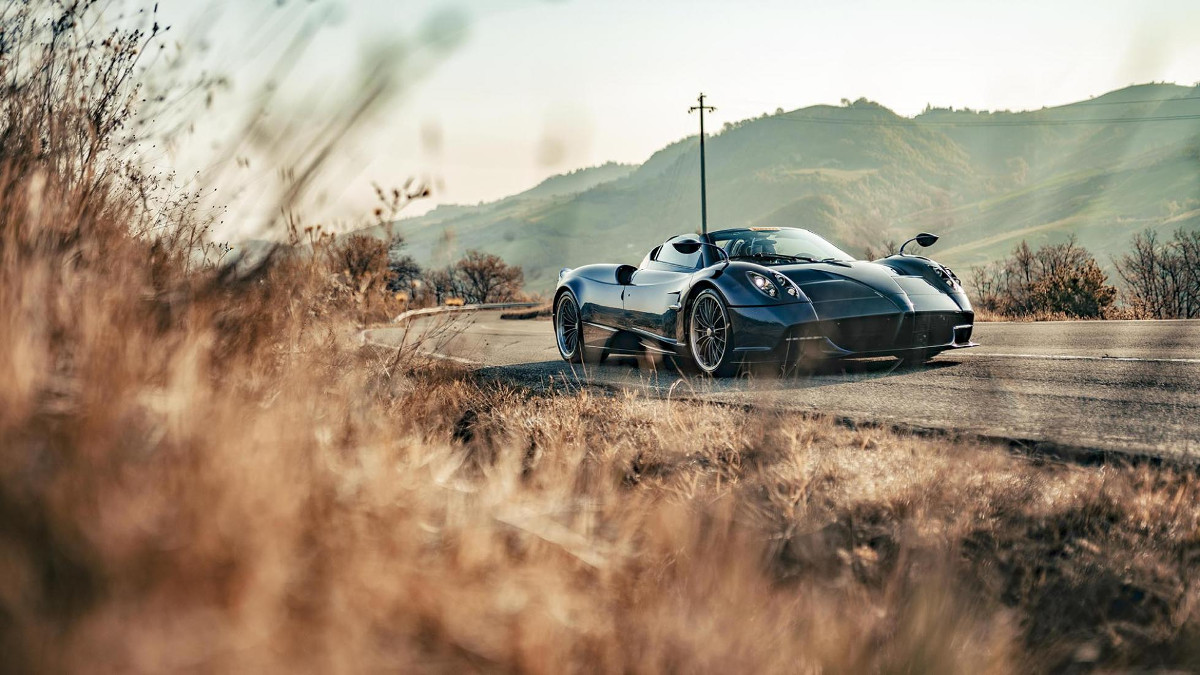 If you're reading this and you already own one of these, well done. You have good taste, fabulous wealth, and a streak of childish silliness about you. Never lose that. Now, please go and drive your car. If you don't already own one, the news isn't good, folks: All 100 Huayra Roadsters were spoken for before the car was officially revealed. You had to be pretty quick off the mark with your £2.3 million.
Of course, you might imagine Pagani will 'Do A Pagani' and now build 47 'one-off, last-of-the-last' Huayras, like it did with the Zonda. But don't be so sure. The carmaker is busy gearing up for its next supercar—the Huayra's successor—which will use a new tub and a new engine. So it's got a lot on its plate.
But if you happen to come upon a pristine secondhand unit and you have the money to burn, well, why wouldn't you have the Roadster? Unless you're a gullwing-door fetishist, the topless version loses nothing in pace or performance – in fact, it's faster still—and exposes you to more of that manic engine's hissing, seething demeanor. It's always an event to drive the Huayra—just to sit in it, even—but it's not as intimidating nor as unforgiving as a Zonda when you lean on it.
The Huayra is entering the twilight of its life, but despite its objective flaws, it remains true hypercar royalty, and a glinting example of what can be done with an absolutely zero-compromise attitude.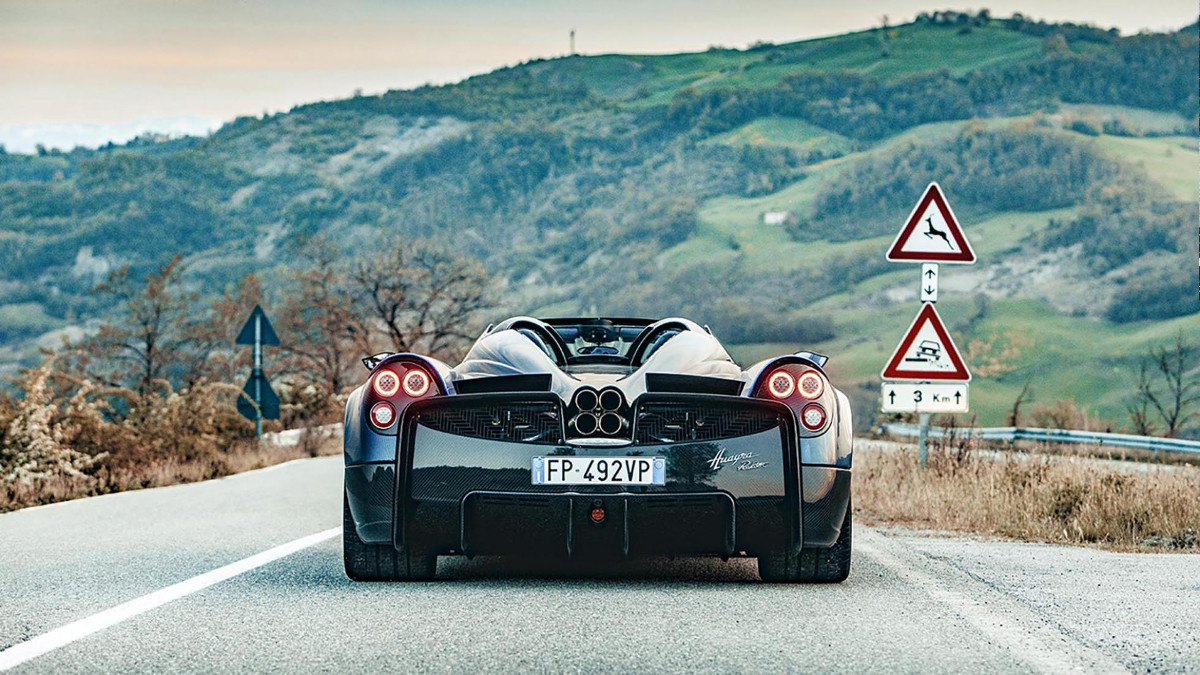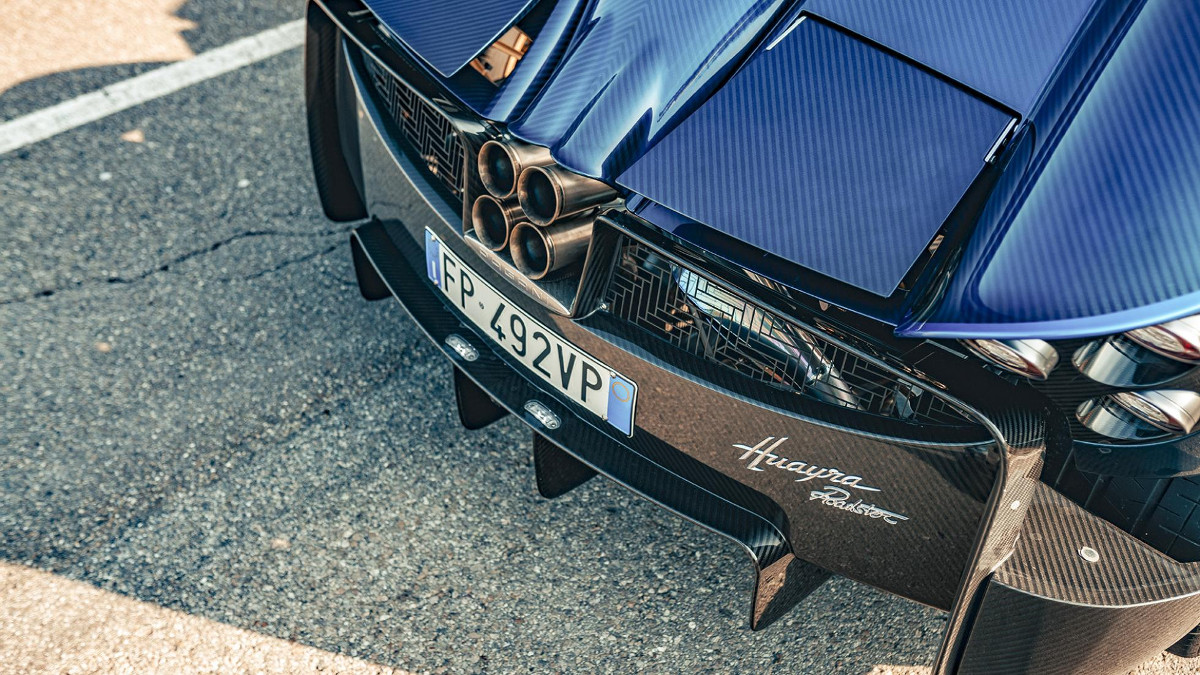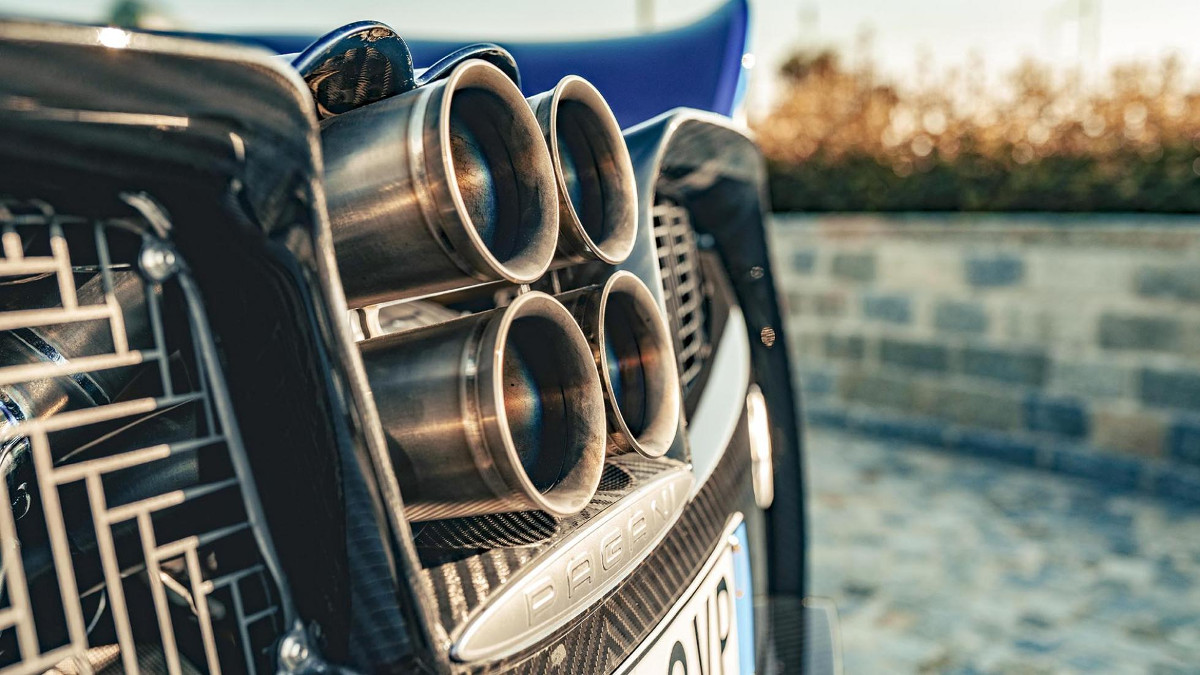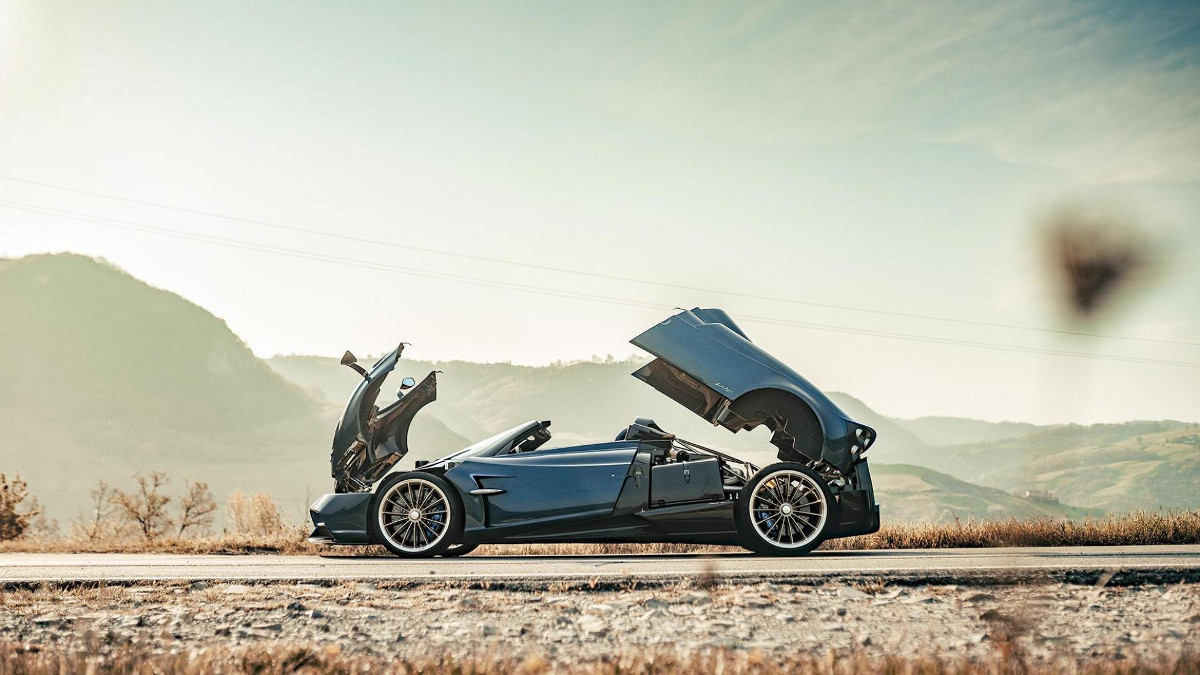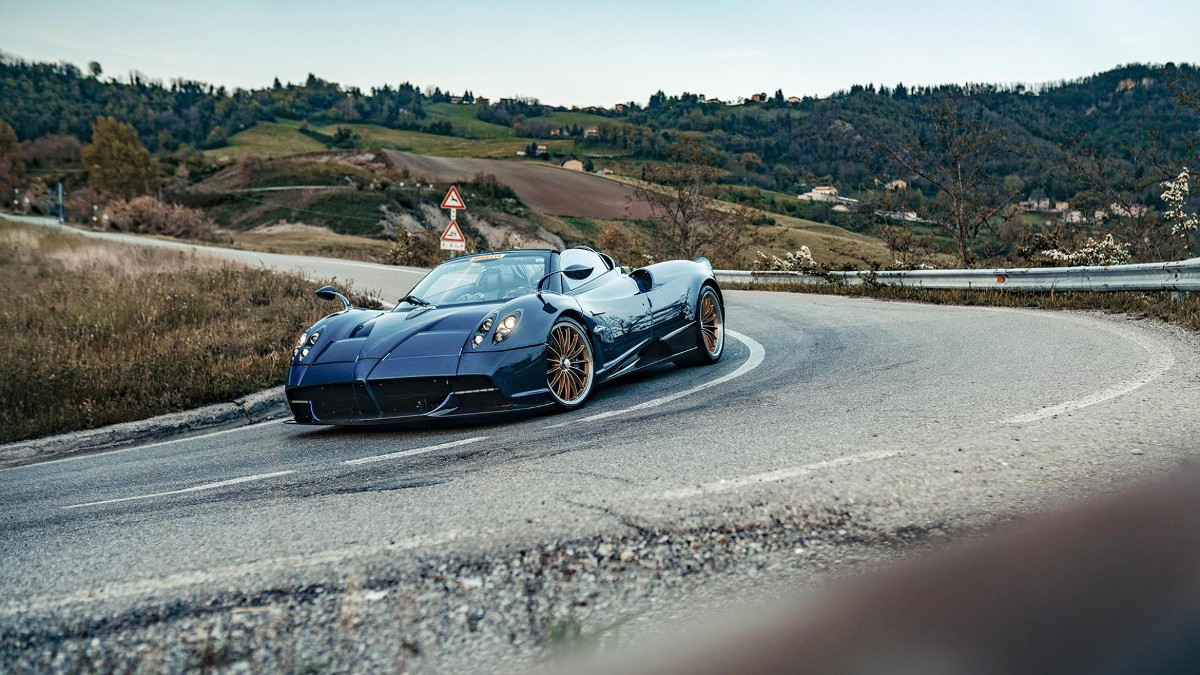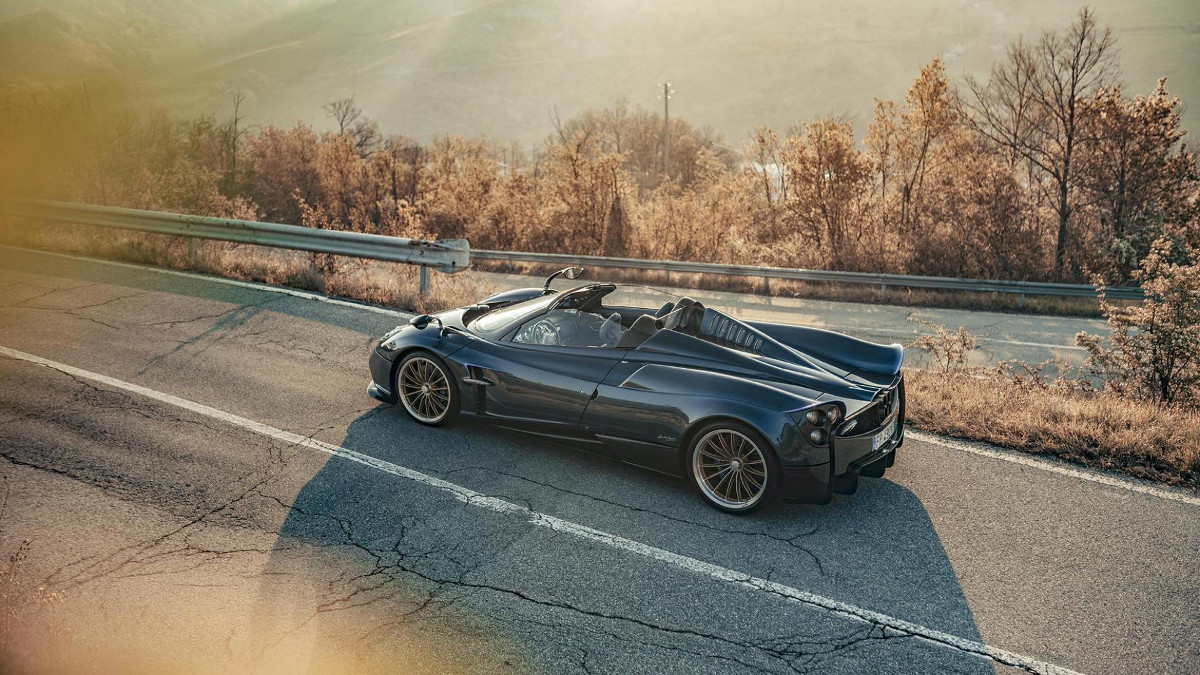 NOTE: This article first appeared on TopGear.com. Minor edits have been made.