Porsche back for another stab at the GT4, is it? Did they not think they got it right first time round?
Quite the opposite, I suspect. They got it a bit too right. The first one, launched back in 2015, was such a hit that it made the business case for this one a foregone conclusion. I suspect it'll now be a permanent fixture in the range. And besides, the Cayman needs propping up—when the 718 Cayman arrived in 2016, the flat six was swapped out for a turbo four, which hasn't exactly been well received.
Do you think Porsche is buttering us up for the return of the six-cylinder Cayman?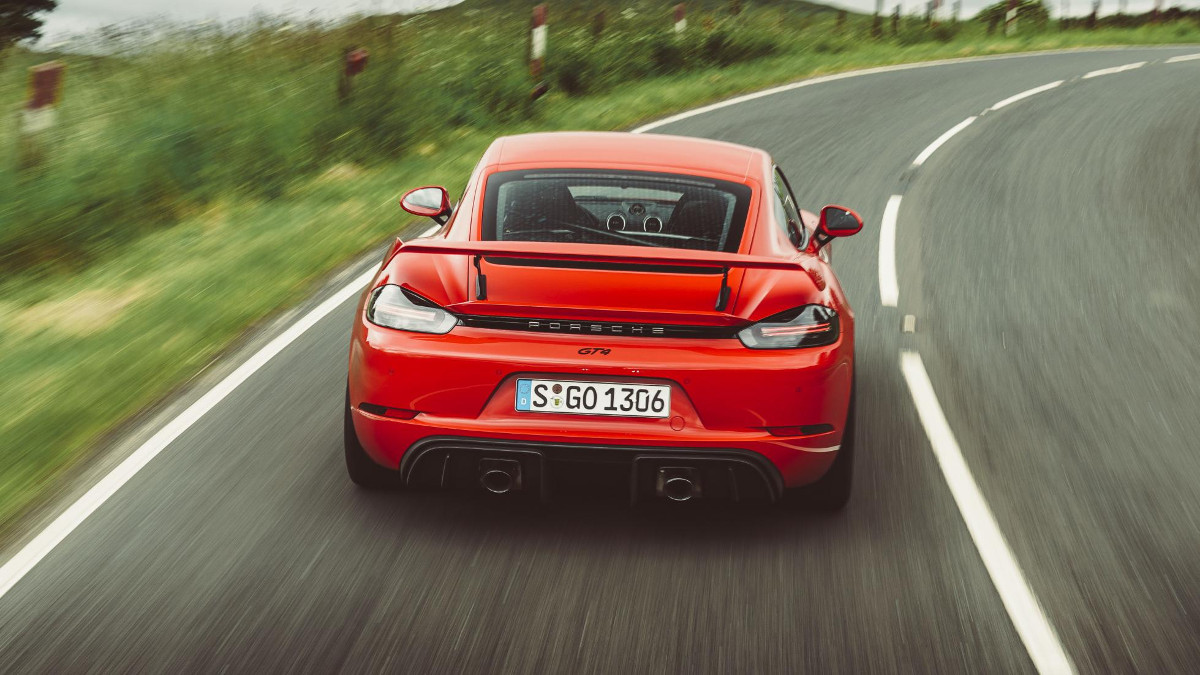 We're getting off topic here, but yes, I think that's possible. Particularly since this new GT4 uses a bored, stroked, and de-turboed version of the 911's twin-turbo six. So that engine fits.
ADVERTISEMENT - CONTINUE READING BELOW ↓
I'm not entirely familiar with the plumbing, but maybe they'll knock a turbo off, or sleeve the engine down to reduce capacity and power so the next gen Cayman doesn't tread on the toes of the 911, yet still hits emissions targets.
How different is the new GT4?
Well, here's the rub: not that different. But the price? Well that's gone up over £10,000 in the intervening four years, from £64,451 to £75,348 (around P4.8 million). But that's fine—kind of—because the last GT4 inspired a feeding frenzy which hasn't really abated. Second hand ones are still around £80k.
Anyway, on to the 'not that different.' Outwardly it's a bit chintzier: the wheels are the same dimension, but the design more 'fangy,' there's a bit more 'design' going on around the front splitter, the rear wing, and the diffuser. This is mostly in the name of downforce—up 50 per cent in total. The rear wing generates 20 per cent more than before, an additional 12kg at 201kph.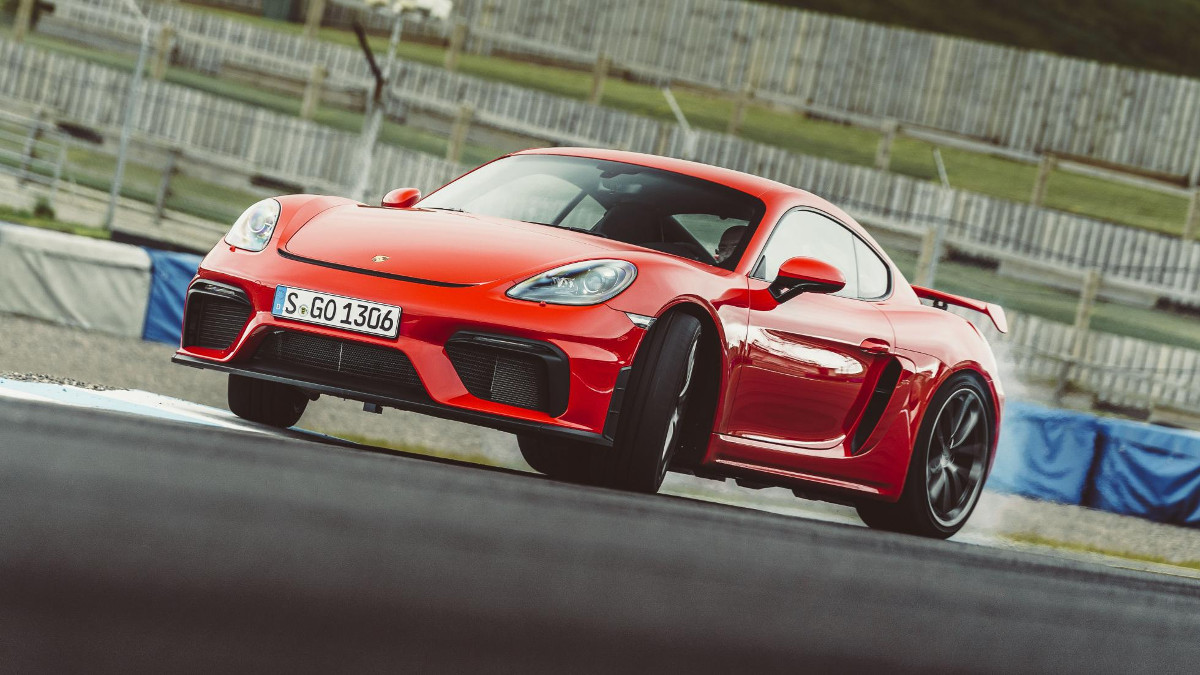 ADVERTISEMENT - CONTINUE READING BELOW ↓
Recommended Videos
But it's the downforce's 30 per cent efficiency improvement rather than the relatively modest maximum that Porsche is most proud of. The new GT4's rear wing uses the air better, discards it more cleanly. Meanwhile the diffuser is functional, accounting for 50 per cent of total rear axle downforce—122kg in total at max speed.
The suspension package is largely carried over. The front end has much in common with the 911 GT3, including the brakes (carbon ceramics are on the options list), but now more GT3 has made it into the back axle, too, including the subframe, upside-down dampers, longitudinal and transverse control arms and ball joints. It's all in the name of control and precision. As before, it's equipped solely with a six-speed manual.
What about the engine—you said that's taken from the new 911?
Correct. The old one was lifted lock, stock from the nat asp first gen 991 Carrera S, twisted through 180 degrees so the gearbox sat behind the engine rather than in front. It delivered 380hp at 7,400rpm and 420Nm from 4,750-6,000rpm. This time round the powerplant plays more tricks. It shares a block with the 3.0-liter 992 911, but Porsche has worked hard on it to give it a more motorsport flavor. It's bored and stroked out to 3.8 liters, has a forged steel crankshaft with a bigger main bearing to improve stiffness, a plastic sump (36.5 per cent lighter, apparently), hydraulic valves, start-stop, and cylinder shut-off.
ADVERTISEMENT - CONTINUE READING BELOW ↓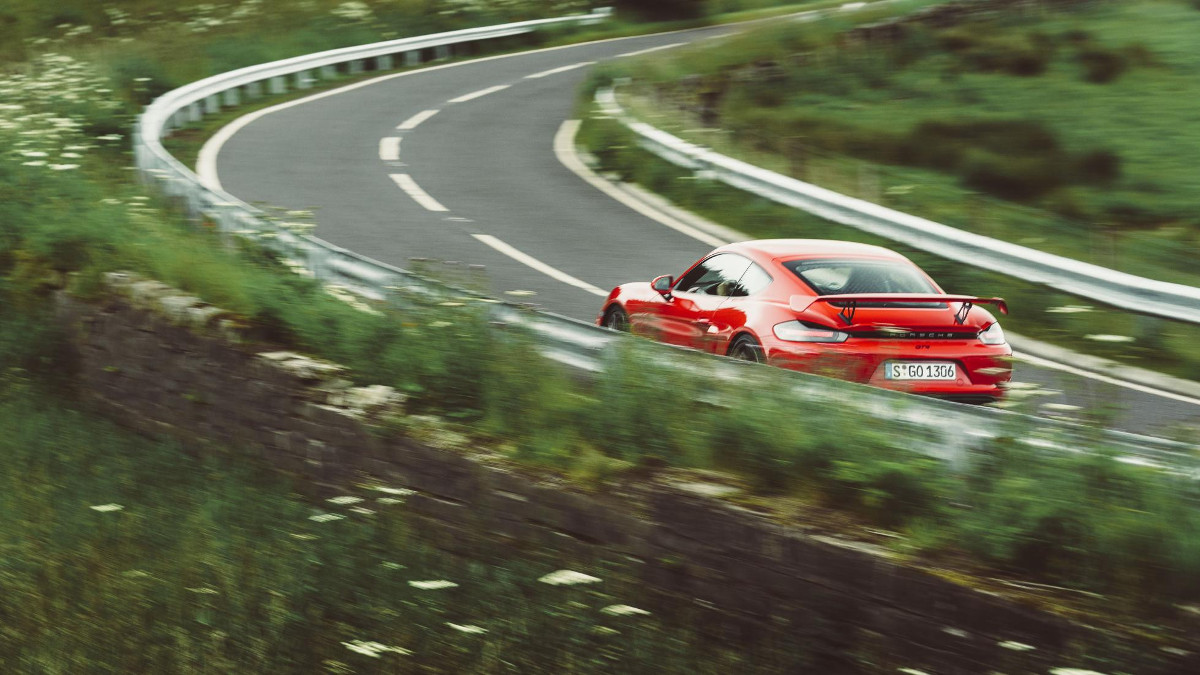 That's effective between 1,600-3,000rpm at low torque (below 100Nm), shutting off a cylinder bank. Plodding through roadworks? After 20 seconds the engine switches to the other bank to maintain temperature in each catalyst pack. Clever stuff.
Couldn't care less, how much power has it got?
414hp at 7,600 rpm and 419Nm from 5,000 to 6,800rpm.
Bit more power, torque rocks up a bit later, otherwise as you were?
I suppose so—against the clock it's no faster than before, both GT4s claiming to get to 100kph in 4.4secs. The slipperier aero of the new one has boosted top speed by 8kph to 303kph.
But why's it not faster when it's got more power?
Well… weight. This new GT4 no longer weighs 1,340kg. It's now 1,420kg.
80kg heavier? How?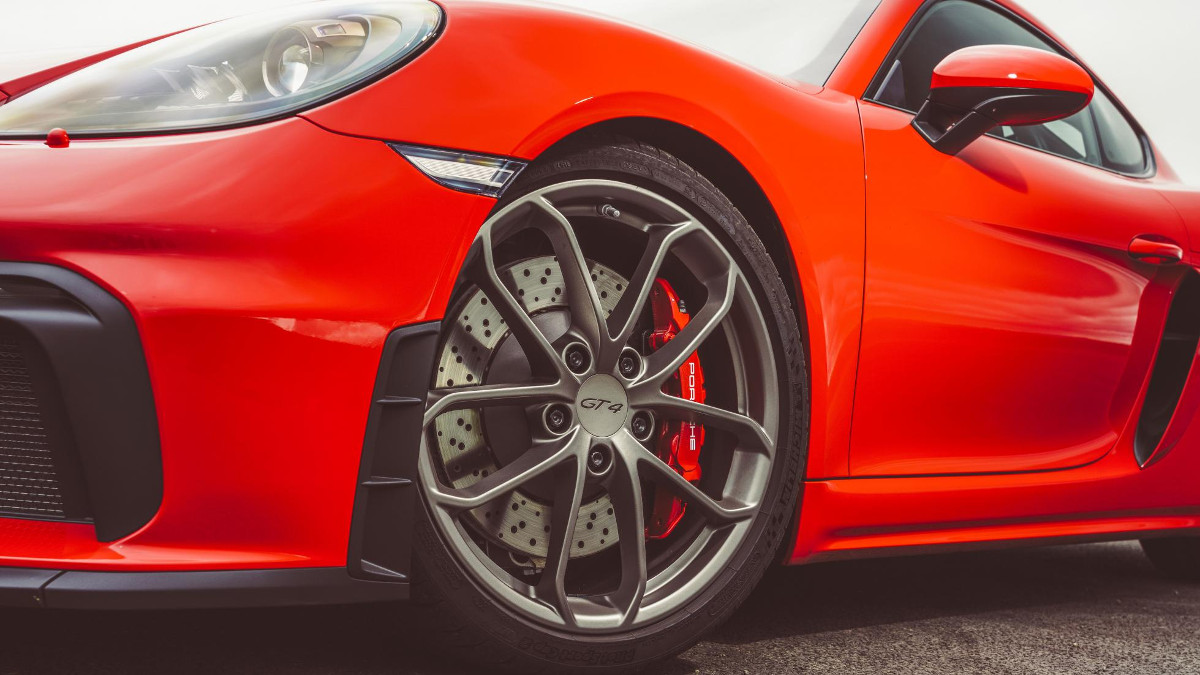 I'm afraid so. Porsche isn't saying much on this, other than this new car needs a heavier starter motor and the new rear diffuser accounts for a bit, too. I suspect the engine is weightier and that the modifications haven't been able to undo the changes necessitated for the turbo four engine. The GT4—and I'm surprised to be saying this—is actually the heaviest Cayman in the range. The luxo GTS is 45kg lighter. And faster. Provided you spec PDK, Sport Chrono, and so on.
A GT4 that's neither the lightest nor fastest car in the range? Give me strength. Next you'll be telling me Porsche hasn't done anything about the old car's long gearing.
That was the one major criticism. And no, nothing has been done to alleviate it. Instead Porsche says the new engine has better low down torque, negating the need for shorter gearing.
And…?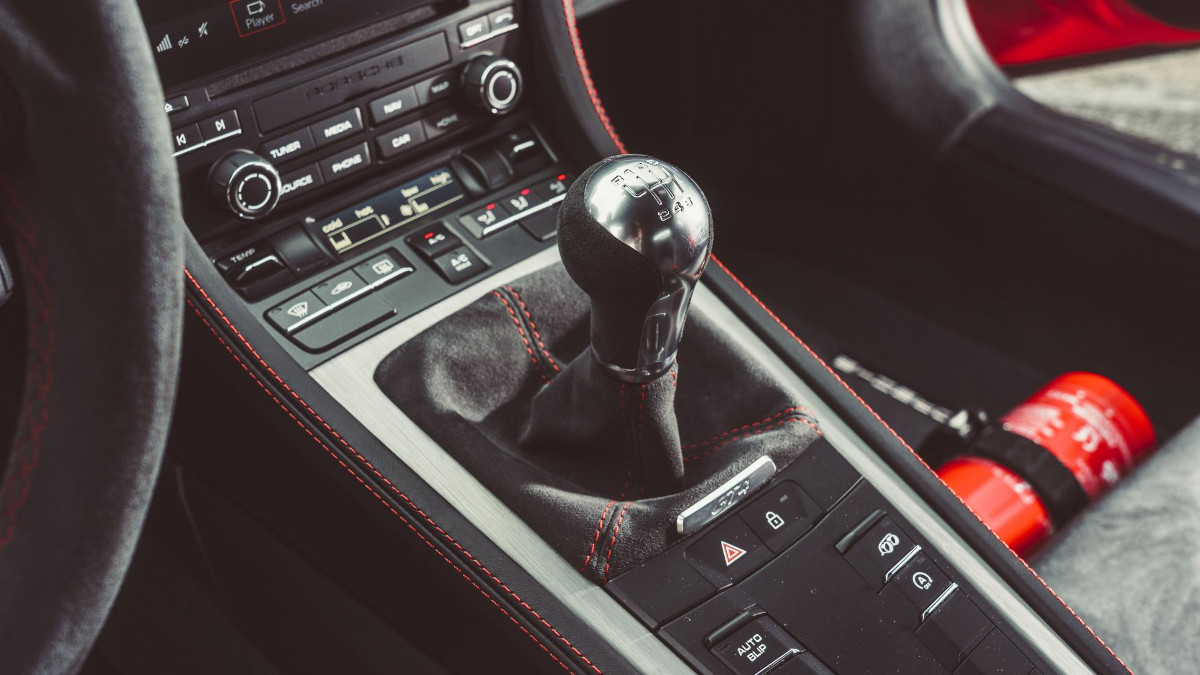 ADVERTISEMENT - CONTINUE READING BELOW ↓
It needs shorter gearing.
While the new engine does punch through each ratio a bit harder, and doesn't tie up as it nears the limiter, it would still be improved by shorter gears for second, third, and fourth. Make them road usable. As it is, you tend to leave the GT4 in third and enjoy the torque and power there, rather than rowing the lever around (second is back down an awkward dogleg, fourth too high), and that's a shame because the gearbox is slicker than ever.
Combine that with a much lighter clutch than before and you have a very quick shifting, rewarding transmission. It's great to use, but a little less mechanical than before—and this is something that's true of the whole car.
The last GT4 had the slightly raw feel of an after-hours product that had been cobbled together, then honed. The engine chuntered, the clutch was heavy, it had real charisma. This one is smoother, lighter in your hands, easier to drive, even more biddable. Not worse, just more accessible.
It's a smoother car into corners, has even better turn-in and the mid corner balance and poise is ridiculously good. It's just delicious, you flick the gearlever about with a couple of fingers, feel the weight build as you turn the steering, sense the car pivot around you, grip clearly communicated… it's just wonderful. Brilliant control, fantastic steering precision, gorgeous suspension damping—it feels expensively engineered and beautifully harmonious.
And you don't notice the extra weight. At all. The ride control, the stability, the way it tackles difficult roads, is just startling. I love the way it rides, a hint of cushioning at the top of the travel, then this rigorous control as more is asked of the suspension. Sport mode tightens the dampers, but I'm not sure you need it when there's so much raw capability in normal mode. It's at least as comfortable and usable as any other Cayman.
Nice to drive a nat asp Cayman again?
ADVERTISEMENT - CONTINUE READING BELOW ↓
Absolutely. Response and noise—the importance of both should never be underestimated. Having an engine do exactly what you want, when you want, and sound enthusiastic about it while doing it, is just brilliant. The throttle calibration is just perfect, the engine sound clean, smooth, hard. Could only be a flat six.
But it's changed. No longer as guttural and warbly as before, and although it pulls more healthily across the rev range, with fewer peaks and troughs, it's slightly less charismatic. And the noise has a synthetic edge. The switchable sports exhaust does make a big difference, pumping up the bass. Can't decide whether it's a good thing or exacerbates the sense of falseness.
Has Porsche managed to improve anything else?
I prefer the gearbox—there's something deeply satisfying about this short throw, the way each gear engages. And Autoblip (the heel-and-toe function on downshifts) is now a separate button, not automatically engaged in Sport mode. That's better too. Let's you make your own mistakes as and when you please. The cabin is predictably lovely although the only major changes between GT4s are the airvent shape and the flush fitting, wider touchscreen.
Anything you would/wouldn't have?
Most people will probably spec the Club Sport pack (£2,770 for a steel roll cage, fire extinguisher and driver's six-point seatbelt), but if you're driving the GT4 every day don't bother—you might need the parcel shelf for storage, the fire extinguisher will massage your passenger's calves and the harness will clatter if not being used. Full bucket seats are £3,788 (around P243,000). They're very good, but again, not if you're dailying. And ceramic brakes are £5,597 (around P360,000). Good for track days, and they do bite detectably harder, but I'm lukewarm on them. Good for bragging rights, mind you.
Overall then?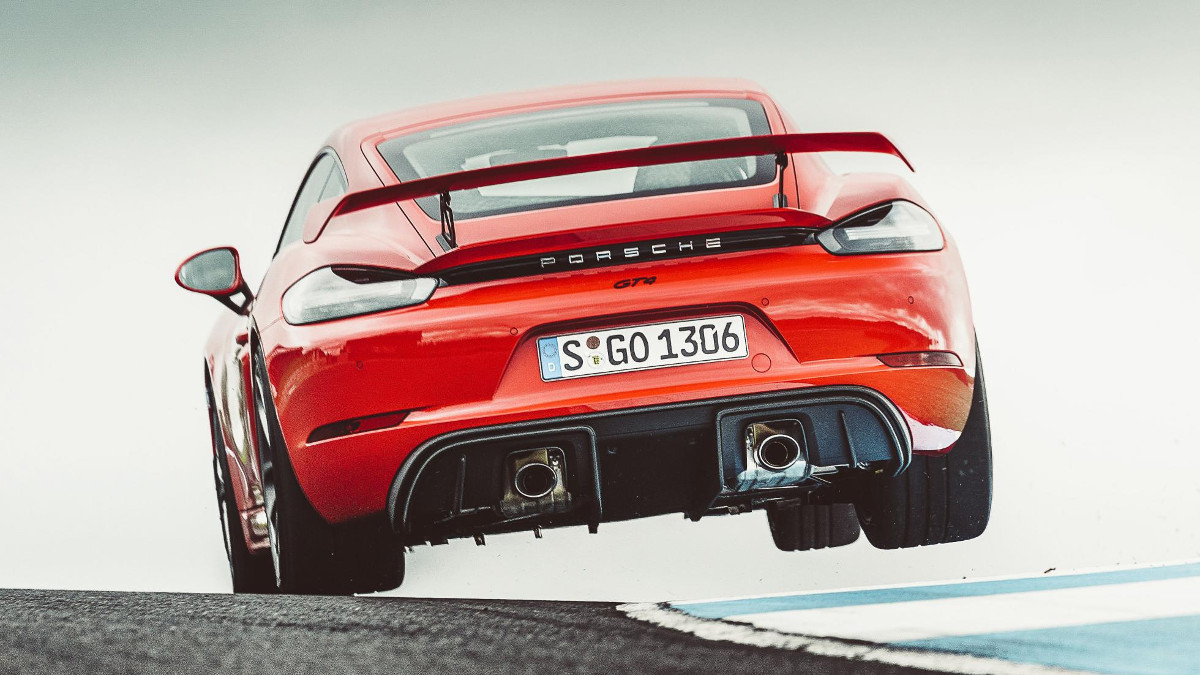 Chassis-wise the Cayman GT4 is better than ever, better than pretty much anything else you can buy at any price point. It's downright brilliant. Overall, while it's subjectively a better car—smoother torque delivery, calmer ride, more capability etc—I don't find it quite as charismatic as before. It has a marginally softer edge, more passive manners, broader appeal. Maybe it's just that you're not having to fight its foibles now, or maybe those are the unavoidable carryovers of using the current Cayman platform.
ADVERTISEMENT - CONTINUE READING BELOW ↓
Given a straight choice between them I honestly don't know which one I'd have. The old one probably, but chiefly for the bragging rights of having the original—and likely most collectible. Still, what a superb sports car.
NOTE: This article first appeared on TopGear.com. Minor edits have been made.