Have we reached peak grille yet? The X7 is BMW's biggest and most luxurious SUV, and it wants to be noticed. Even the BMW badge on the nose had to be made bigger to match this thing's outsize swagger.
It's not just about wedging in as many people as possible. BMW after all makes a cheaper seven-seater in the rather timid form of the 2-Series Gran Tourer. The car to take your gran touring in.
The X7 by contrast is about luxury. It takes themes from the face-lifted 7-Series and the 8er, to make BMW's three-flagship fleet. They want us to see this top-end trio as a separate high-end luxury series.
As a clue, they add the strapline Bayerische Motoren Werke to all the advertising. Why? Because the fashion business often uses the full name for the top-end stuff (Paul Smith, Calvin Klein) and initials for the diffusion line (PS, CK). If you find this almost comically subtle, we're right with you.
ADVERTISEMENT - CONTINUE READING BELOW ↓
But these aren't really a separate line. In design and tech, they're bigger, better, plusher BMWs. End of. If you like BMWs, that's fine; they polish up the brand. What the 8-Series and X7 don't do is provide the stand-apart specialness of an Aston Martin or Range Rover, a car the X7's project team call a rival.
Unlike the Range Rover, all X7s have three rows of seats. The middle row has the option of either a pair of plush individual thrones, or a three-seat split bench, making this a nursery-run school bus of unparalleled luxury. Which no one will use it for.
As usual BMW has thrown masses of technical wizardry at the chassis, so this truck-sized monster can perform surprising off-road feats. Which no one will use it for.
The same technologies make it track-capable. Which no one will use it for. (The M50d version, a 2,450kg diesel off-roader, equals the Nordschleife time of the V8-engined E90 M3. Yet more proof that a quick 'Ring time says nothing about what makes a driver's car.)
ADVERTISEMENT - CONTINUE READING BELOW ↓
Recommended Videos
All of which makes the X7 sound vastly pointless. But do those abilities actually foster a sense of well-being and fathomless indomitability, or do they make it cumbersome and compromised?
On the road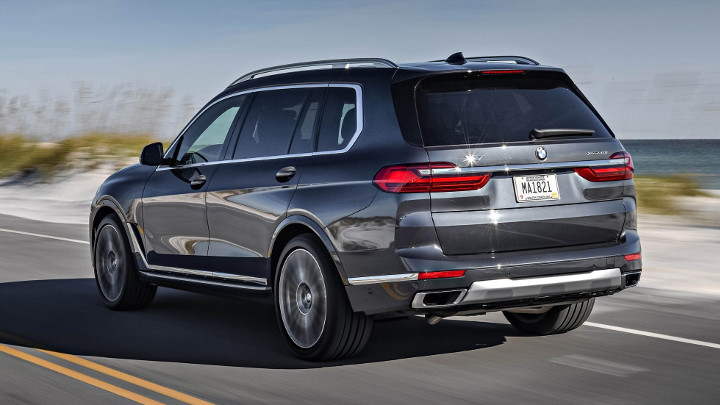 The X7 perfectly illustrates why plush SUVs have become the new luxury sedans. It swallows distance. Quietness, a plush ride, huge living space and a haughty vantage point define the experience.
ADVERTISEMENT - CONTINUE READING BELOW ↓
We tested a 40i with a straight-six, the standard adaptive air suspension, and steering at the front only. Then we tried the full-house pack of 4WS, active roll stabilization, and electronic rear LSD. That was on a 50i V8. That second set-up was just as plush in the comfy mode, but made itself tauter and more alert than the 40i when they were both in their sport modes. Even so, we didn't grieve for the missing extra complication in the 40i.
It steers with measured authority, rolling surprisingly little, and holding onto an impressive dignity as it sweeps through bends. In the softest mode the X7 can float a little, but stick the chassis into auto or sport modes and your kids won't get sick. The ride really is very good, matching a lot of sedans, and far better than either the 'sports' SUVs or the American ones based on trucks. It's supple, quiet, and doesn't bob you from side to side, and it's consistent across urban crap, lumpy rural roads, or coarse expressways.
ADVERTISEMENT - CONTINUE READING BELOW ↓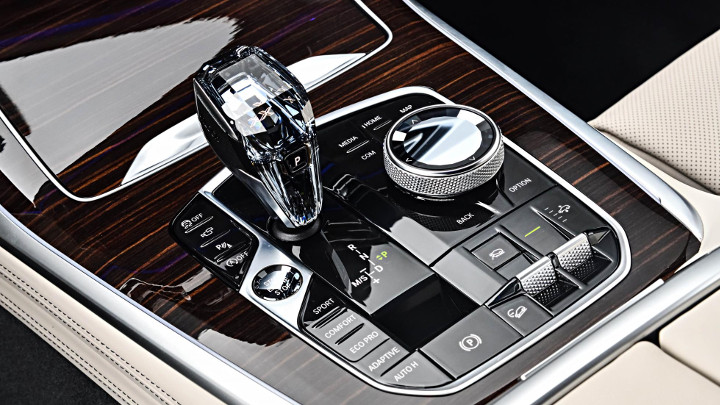 If the 2.3-ton mass is disguised in bends, it comes out in acceleration. The wonderful 40i engine makes 340hp and eager mid-rev torque and it revs like a sweetheart, but it's got its work cut out here. Snapping open the throttle calls up a sort of powerboat surge rather than an instant tweak of hard g-force. Still, the smoothness and shift pattern of the eight-speed autobox is unmatched anywhere in the business.
ADVERTISEMENT - CONTINUE READING BELOW ↓
You hardly need us to tell you the X7 is annoyingly bulky in city centers or car parks. But it does its best to help you with an umpire's-chair seating position, slabby sides, and cameras pointing in every direction. The optional four-wheel steering shrinks the turning circle.
BMW's 'reversing assistant' keeps a rolling memory of your exact steering movements for 50 meters. Drive forward into a difficult space, and it'll steer you slowly back (even the next day) along exactly the same track.
On the inside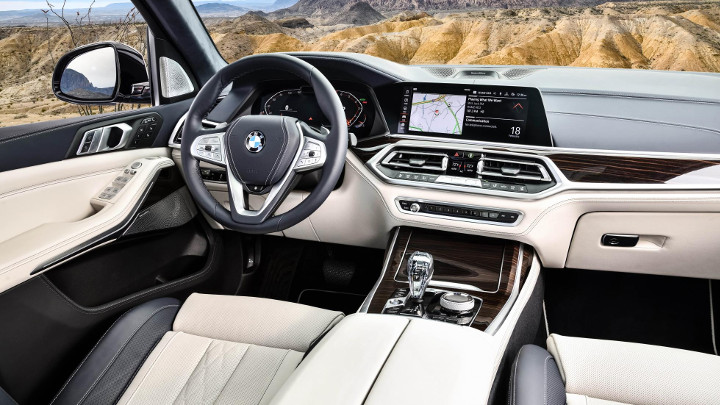 If driving it is luxury, riding in it is more so. The four-seat layout gives the rear passengers as much comfort and pretty much the same space as the front two (that includes the ride, on account of the enormous wheelbase). Even the seven-seater layout is hardly a park bench.
ADVERTISEMENT - CONTINUE READING BELOW ↓
All the seat adjustment and folding is electric. Show-off, yes, but painfully slow too.
The view out is great, with deep windows. Everyone gets vents and adjustable climate and reading lights and cupholders and power sockets. No cheap seats here…unless you get the optional heated and cooled front cupholders while the rest are—what—thermally passive?
If all three rows are up, the cargo area is a supermini-sized 326L. In the two-row setup, surely how people will use this car, it's a mammoth 750L.
The screen system is BMW's usual new-gen 'version 7.0', encompassing a big touch-screen with superb UI design, and a proper iDrive controller wheel which is still the best input device. But the driver's screen's illegible, odd-shaped instruments continue to annoy us.
Verdict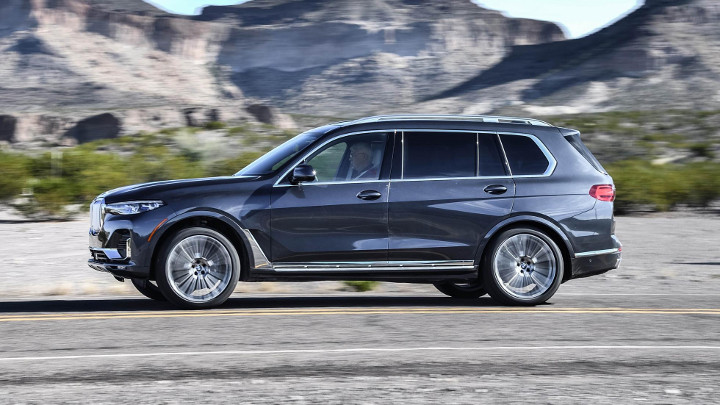 It's another superbly engineered and executed product from Munich, by way of a factory in the US. It's a fantastic mile-muncher, roomy and luxurious and refined. The ability on poor surfaces is a bonus.
ADVERTISEMENT - CONTINUE READING BELOW ↓
All it lacks is specialness of ambience, a sense that you're not just in a bigger, better-trimmed and better-equipped X1.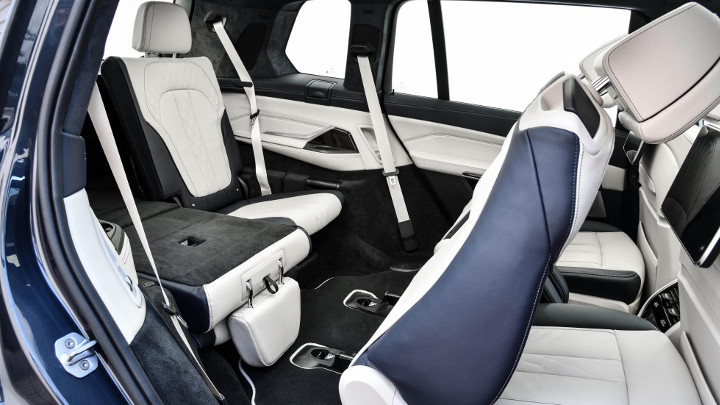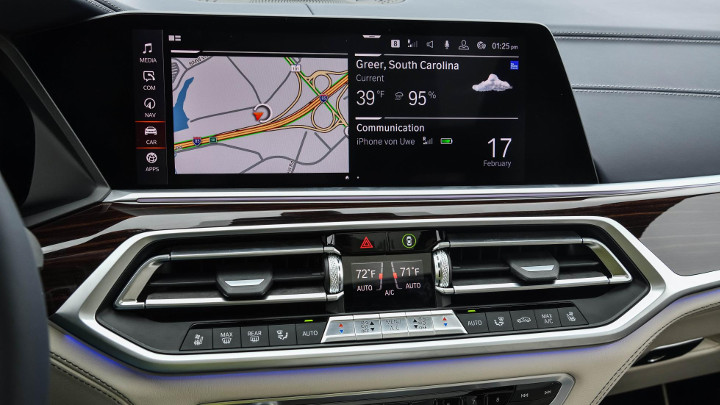 ADVERTISEMENT - CONTINUE READING BELOW ↓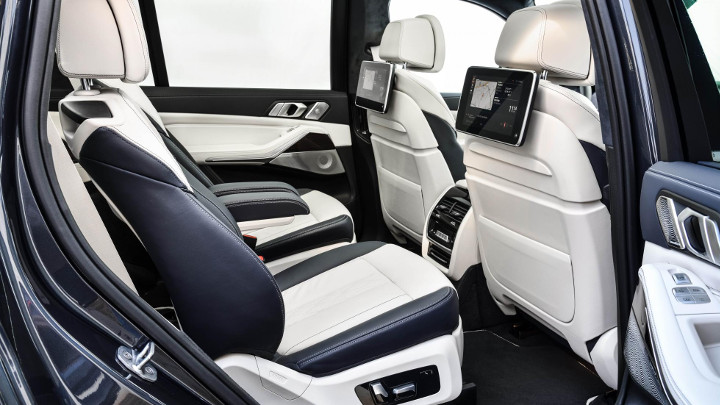 NOTE: This article first appeared on TopGear.com Minor edits have been made.