The midsize SUV segment in our country seems to have reached a state of parity. No one model seems to be head and shoulders above the rest. So whichever you buy, you'll end up with a powerful seven-seater loaded with comforts unheard of in this category a decade ago. On the flip side, it's getting more difficult to choose the best one.
If you want sheer power, the American duo of the Ford Everest and Chevrolet Trailblazer have your back. The Isuzu MU-X is the value offering. Mitsubishi and Nissan's SUVs offer both style and all-around capability. The Toyota Fortuner inherited its predecessor's macho stance, and can move sales based on its badge alone. Where, then, can a newcomer slot in? 
In the case of the SsangYong Rexton, it catapults itself near the top of the category by offering almost everything its competitors bring to the table, and then wrapping all of that in a package that feels more expensive than its SRP.
Styling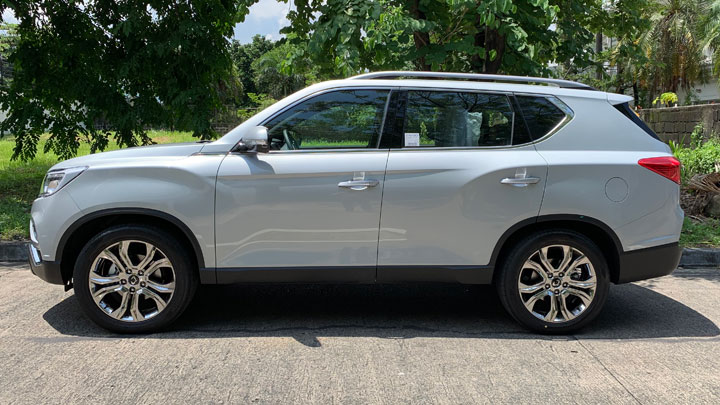 Continue reading below ↓
Recommended Videos
There was a time when you would never put an adjective that connotes beauty, and the word 'SsangYong' in one sentence. This was during the past decade when the previous-generation Musso (when the name was still attached to SsangYong's SUV model) and Rodius were on sale. The latter, in particular, became known for being an ugly duckling that never reached its transformation phase. Thank goodness, then, that SsangYong has no known design legacy to pay homage to. The 2019 Rexton is beautiful. 
It begins with this off-white color that reminds me of Mazda's ceramic paint. It's light and classy, and it doesn't show dust and dirt right away. The paint job highlights the Rexton's body shape, showing off the bold strokes the Koreans penned. Perhaps the body color presents the lines too well, because I can see that the wheel wells look a little awkward—as if they were flattened suddenly. It's a design cue shared with the SsangYong Tivoli. But this is a nitpick that exists only if I choose to nitpick. In day to day-to-day motoring you won't notice it.
The Rexton design is about tasteful restraint, shown in its clean lines and athletic proportions. It's a pleasant sight to see in your garage the first thing in the morning.
Interior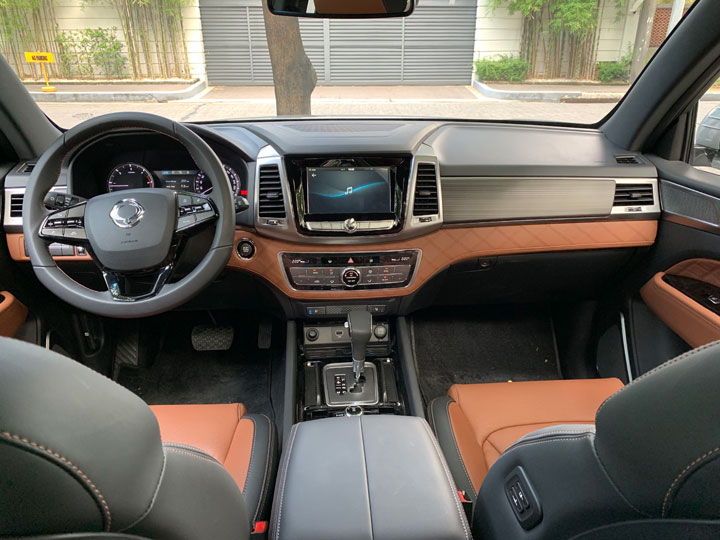 A handsome body design will get customers into the showroom, but it's the cabin that seals the deal. The Fortuner set this formula a decade ago by offering an interior that looked more expensive than its asking price. The Rexton proudly follows this playbook. It has brown quilted leather seats, the kind you normally see in flagship German models. A careless implementation would have made this look tacky, but that's not the case here. 
Some Japanese brands can take lessons from the moderation and balance shown by SsangYong in crafting this cabin. There are legible climate control buttons, a touchscreen infotainment system with Apple CarPlay/Android Auto, and a start/stop button. Everything is framed by leather, muted metal trim, and textured metallic material. It's not quite a BMW X5, but it's definitely an elevated experience compared to others in this price bracket. 
I mostly sat in the front seat during my drive, but I can confirm that second and third row space is generous for this segment. Third row occupants even get their own power socket, A/C controls, and storage area. 
I find the steering wheel a little too thin at first, because I like my big SUVs to have meaty tillers. But as the seat coolers were blowing cold air into my back, I forgot about that and this niggle was dissipated by the overall experience. With this kind of quality and design cohesion, it feels like SsangYong really stepped up with this generation. 
Engine performance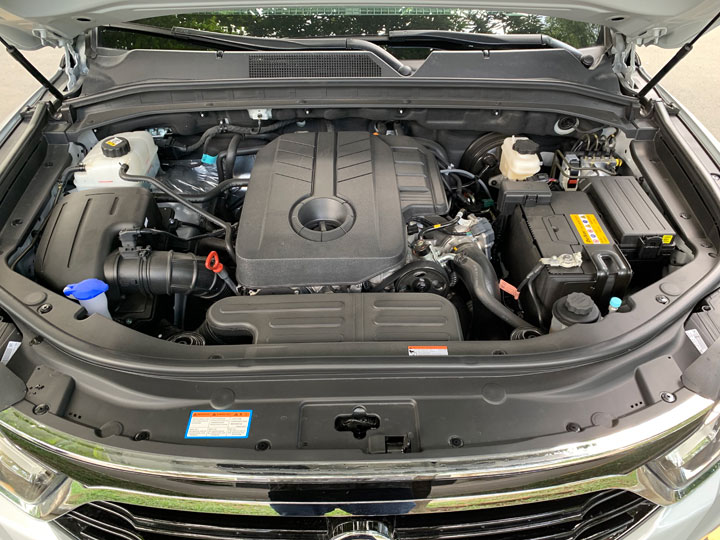 Do a spec comparison and you will see that the Rexton doesn't beat most of its midsize competitors. But it does best them in how everything comes together. Movement comes naturally to this Korean SUV, its engine and 7-speed in synch. Some of its peers have a moment of throttle hesitation in first gear, and that's fine for avoiding 'accidents'—it also makes sure passengers don't get a jerky start. But the Rexton goes off the line smoothly thanks to well-matched drivetrain. It almost feels European in terms of refinement.
The 2.2-liter turbodiesel seems to know how much power to give me when I put my foot down—no more and no less. The result is a relaxing drive whether in the city or on the expressway. We all enjoy the pressed-against-the-seat feeling a CRDi engine gives us, but everyday driving isn't just stomping on the gas, braking, and then repeat. Most of the time we either crawl in traffic or putter along—or otherwise cruise at triple-digit speeds on the highway. The Rexton excels in the kind of vehicle movement we need, and I don't recall getting this from other midsize SUVs. 
I managed to get 7.3km/L in combined city and highway driving, and that included a lot of time stuck in traffic.


Ride and handling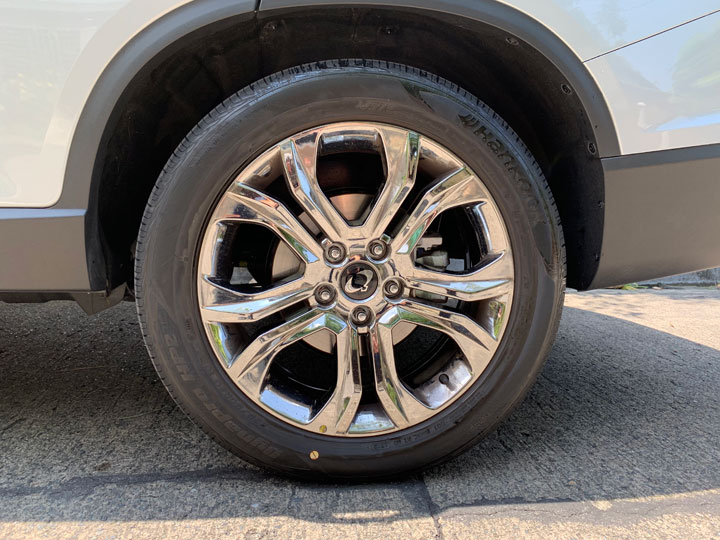 There was a time when having 20-inch wheels on an SUV meant you were a rapper or you wanted to show off. Now you can find 20s as standard equipment in dealerships, SsangYong included. I felt no notable harshness during my week-long drive, despite the low-profile rubber. I'm not a fan of the chrome rims, however, but again you get used to them. 
I was able to bring the Rexton out of town with my family, and on the way home Waze detoured us through a Bulacan town. The alternate route was flooded up to cars' door sills, and the submerged roads had large potholes. In a sedan I would have been worried, but in the Rexton I was just concerned that a weak cellular signal would disrupt my nephew's Disney playlist on Spotify. 
Extra features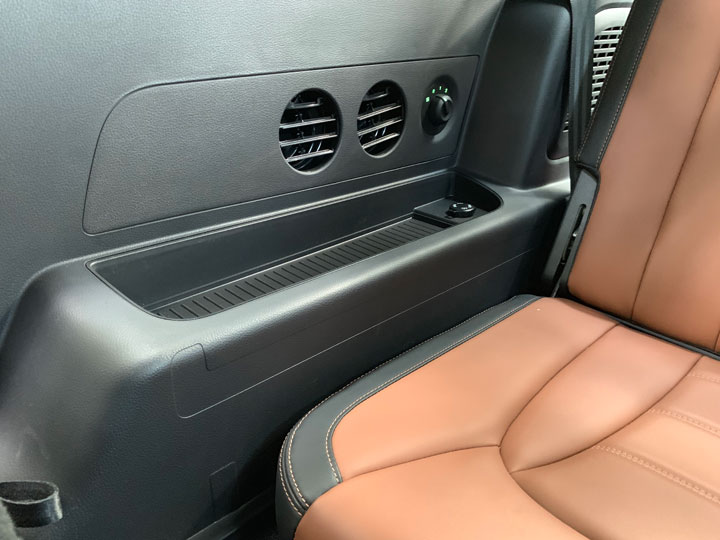 The Rexton is equipped with features that seem more apt for a model beyond its price range. The gauges are analog but there's a digital info display between them with a classy menu system. It even shows if your tires are aligned when you park. And when you open a door, an illustration of the Rexton with the door open is shown. Of course a reverse camera with guide lines are present. 
The product planners ticked all the pertinent boxes: automatic headlights, rain-sensing wipers, 8-way power seat for the driver and 6-way power seat for the passenger, heated and ventilated front row seats, tilt and telescopic steering wheel, dual-zone climate control, second row A/C vents, sunroof, and the usual safety nannies.
I particularly like the implementation of Apple CarPlay. It's seamless to operate, and the Rexton has twin smartphone holders on either side of the shift knob where you can place your phone within easy reach of the USB slot. It's a nice touch; no need for a long cable and you can take a quick glance at your device if needed. 
Verdict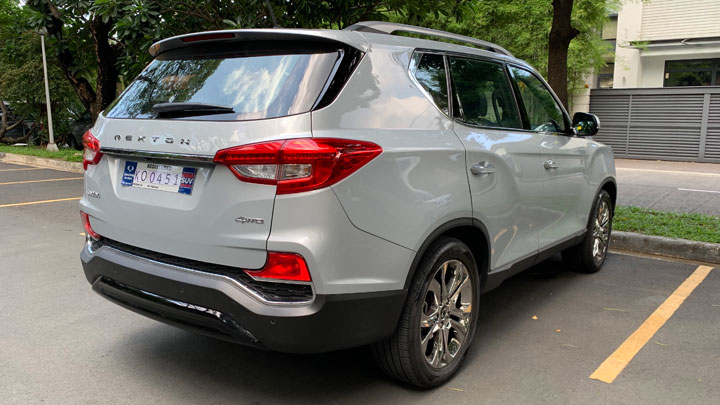 While it's great that you can line up all the midsize SUVs in the market, close your eyes, pick one, and drive off without much regret, it's still better when one sets itself apart. SsangYong didn't create the strongest, the most feature-laden, the brawniest, or even the handsomest SUV. But the Rexton has the best cabin and the smoothest powertrain in the lot (unless the new 2.0-liter biturbo Ford Everest begs to disagree). It's something you have to drive to believe. 
The Rexton doesn't quite achieve midsize-SUV perfection, but nothing does. Not yet, anyway. But its shortcomings are niggles and little observations, not deal-breakers. I think the closest thing that can best the 4x4 Rexton is its 4x2 version, which comes in P500,000 less but retains the same drivetrain, ride comfort, and wonderful CarPlay implementation. 
Welcome back, SsangYong. We barely recognize you, but that's okay.
SPECS: 2019 SsangYong Rexton 2.2L 4x4 AT
Price: P2,230,000
Engine: 2.2-liter turbodiesel I4
Power: 181hp @ 4,000rpm
Torque: 420Nm @ 1,600-2,600rpm
Transmission: 7-speed automatic
Drive layout: 4WD
Seating: 7
Score: 19/20