In 2018, Volkswagen Philippines reinvented itself by ditching brand staples like the Polo and the Jetta to zero in on market attainability. It was a bold move, but the company had a pretty worthwhile prospect leading its charge into the realm of mass affordability: the Santana.
At first glance, the Santana ticks all the right boxes. It looks German enough, has a decent equipment list, and, with prices starting at just under P700,000, is very affordable—well within striking distance of segment mainstays like the Toyota Vios, in fact.
We're here with the Santana 1.5 180 MPI AT SE Blaupunkt to see if it's as good a car as our first impressions suggest. Let's get into it.
Styling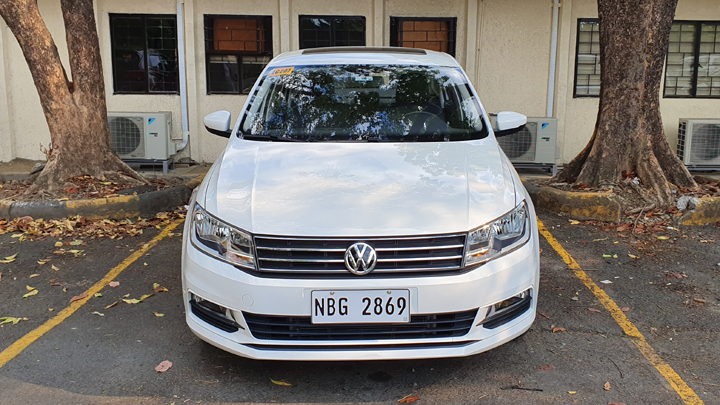 Continue reading below ↓
Recommended Videos
The area where Volkswagen's shift in strategy is least noticeable is in the Santana's appearance. Despite its place of origin (China), this sedan would look right at home in the company's all-German lineup.
Up front, the Santa flaunts very no-frills visuals highlighted by a bold chrome grille flanked by large headlights and bearing a sizeable VW emblem in the center. Down low, you'll see relatively rugged foglight housings, and on the sides, you'll find clean surfaces and subtle character lines. The overall feel is distinctly Teutonic.
I particularly love the wheel design. I'd say it's the cleanest, most professional-looking stock appearance in the segment. One gripe, though: While the small sideview mirrors nicely complement the Santana's exterior, I find the view they provide way too limited.
Interior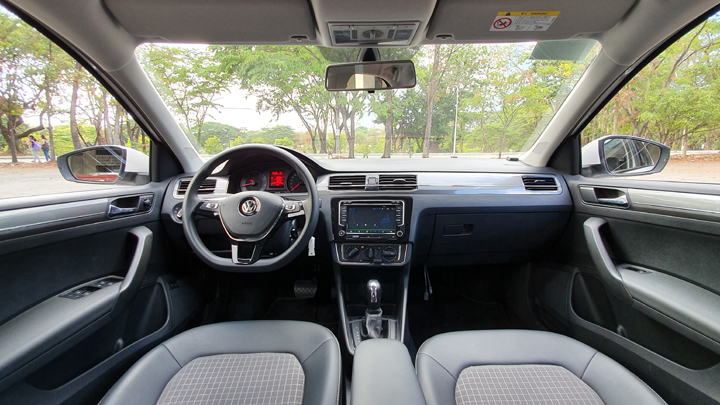 Open the Santana's door and you're greeted by a familiar heavy feel; close it and you're met with a resounding German thud. So far, so good.
Once you're sat inside, you're enveloped in an aesthetic that's just as streamlined as that of the exterior. The layout is very ergonomic, and clean lines and a simple dashboard design make getting a feel for the cabin from the driver's seat a cinch. Also commendable is the amount of interior space, as there's ample legroom in the rear even for taller passengers.
The materials used are about as good as you'd expect from a car of this price. There's plenty of hard plastic and glossy surfaces, though I'm impressed with Volkswagen's implementation of chrome strips on the trim—a quality I usually dislike in cars. I do wish that the steering wheel, with its unmistakable plastic texture, felt nicer to the touch.
There's also a central armrest with a storage compartment up front, but it kind of feels flimsy and out of place. I would've preferred a more conventional use of that space, to be honest.
Engine performance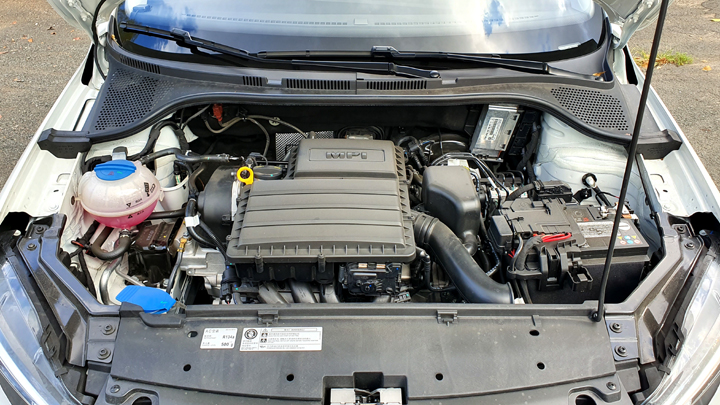 Powering this Santana is a 1.5-liter gasoline engine capable of 108hp at 6,000rpm and 150Nm of torque at 4,000rpm. The mill itself is fine; the car won't wow in terms of outright quickness, though it does get up to speed in decent time and can tackle steep ascents with little to no issue. After over a hundred kilometers in Metro Manila traffic with two to four passengers, the Santana returned a fuel-economy figure of 8.5km/L. This was with the automatic start/stop feature switched off.
The six-speed automatic transmission did leave a little to be desired. It takes its time during downshifts, and in stop-and-go traffic, there are occasional noticeable lapses before the Santana gets moving again. Nowhere close to deal-breaking jerkiness, though.
Ride and handling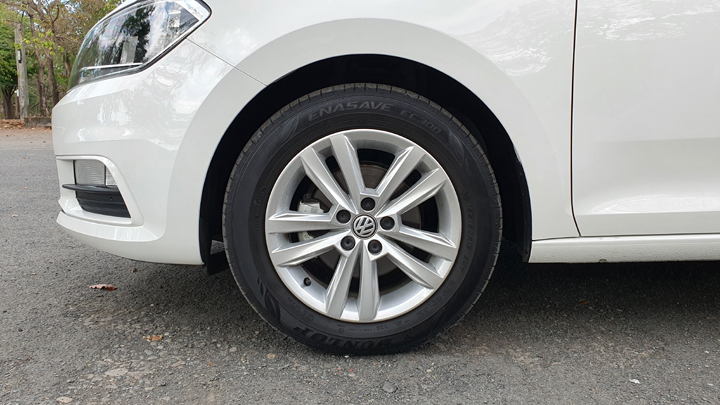 The steering wheel's feel leans a little on the heavy side, which I personally like. It might take a little getting used to for those who prefer a lighter sensation. There's a perceptible amount of body roll during some turns, and passengers in the rear did complain of a bumpy ride along parts of EDSA—though that probably owes more to the sad state of Philippine infrastructure than the Santana's suspension.
Also, major props to how quiet the Santana's interior is.
Extra features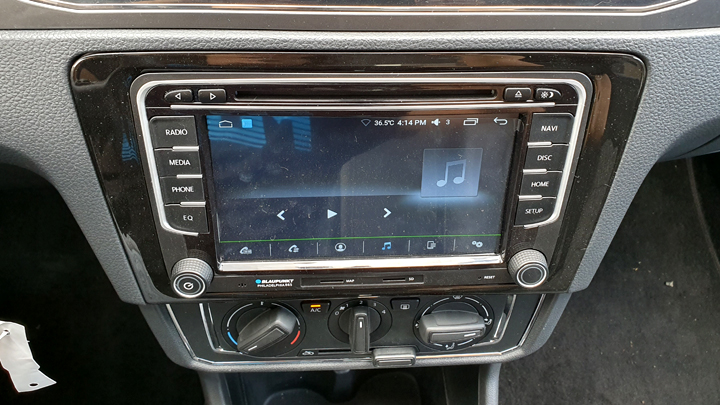 The Santa 180 MPI AT SE comes equipped with a seven-inch Blaupunkt touchscreen head unit hooked up to a six-speaker setup. Connecting your phone via Bluetooth is simple enough, and sound quality isn't too shabby either (of course, I'm hardly considered an audiophile, so this is still up for debate).
There's a sunroof, cruise control, a rear parking sensor, automatic headlights, a great albeit manual A/C system, and an easy-to-use information screen sitting in between the gauges. The only thing lacking in the equipment list? More airbags and telescopic steering adjustment.
Verdict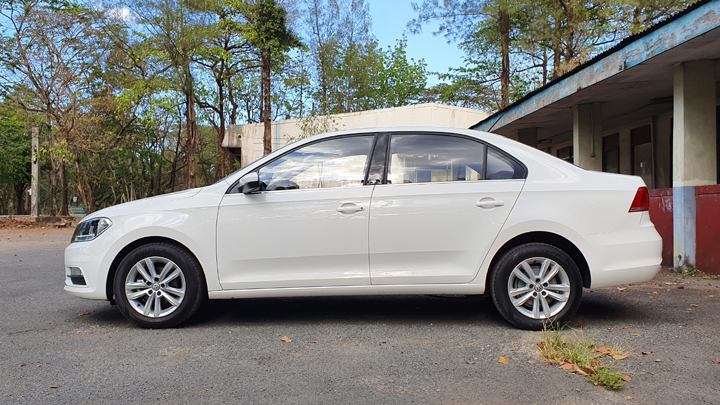 It's not perfect, but as a top-of-the-line variant sitting below the P1-million mark, the Santana 180 MPI AT SE at least deserves consideration among segment staples like the Toyota Vios and the Honda City. If you're willing to ditch the sunroof and the automatic transmission (which could be the way to go if you're looking for a more consistent drive), there's even more value for money to be had by checking out the car's lower variants.
SPECS: Volkswagen Santana 1.5 180 MPI AT SE Blaupunkt
Price: P993,000
Engine: 1.5-liter gasoline I4
Power: 108hp @ 6,000rpm
Torque: 150Nm @ 4,000rpm
Transmission: 6-speed automatic
Drive layout: FWD
Seating: 5
Score: 17/20
Volkswagen Santana 1.5 180 MPI AT SE Blaupunkt