Diesel compact SUVs are becoming a trend among carmakers, but they're not always popular choices. The most obvious reason is cost: Mazda's CX-5 2.2 Sport diesel has an asking price of P2,230,000. Honda put an oil burner in the CR-V for the first time locally, and while there's a base variant going for P1,688,000, the top-spec option's price was pushed all the way up to P2,125,000.
This makes the turbodiesel 2WD Hyundai Tucson a relative bargain at P1,835,000—but yes, that's not really 'affordable' anymore. Is it worth it? Let's find out.
Styling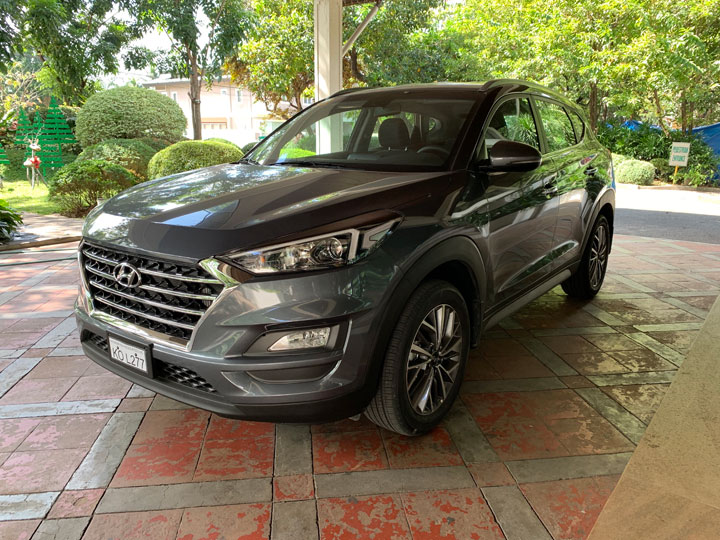 Continue reading below ↓
Recommended Videos
Handsome and a little rakish, the 2019 Tucson has that European stance permeating Hyundai's and Kia's current lineups. It has the big grille also present on its crossover siblings like the Santa Fe and the Kona—although not as exaggerated as the latter's. Even in today's generation of good-looking compact SUVs/crossovers, the Tucson fares well. I would say it's in the middle of the pack, behind the Subaru XV and the Honda CR-V.
From an exciting front end, things become a little bland when you reach the rear. Take away the badges and this could be any Korean car model. Thankfully, the wheels have a nice design, allowing the calipers and the brake discs on all four wheels to peek through.
What the Tucson may lack in flash, it makes up for in balance. I think it will age well given its clean, sharp lines. The same can't be said for its predecessors. The first- and second-generation Tucsons look out of date if you see them on the streets today.
Interior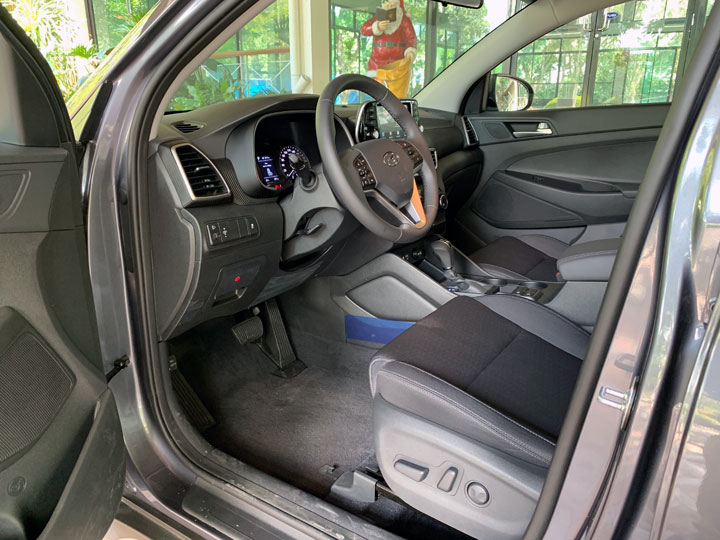 I would say the cabin leans more toward function than style, which is not necessarily a bad thing. I prefer an interior I can sit in for hours rather than stare at. But it's still very easy on the eyes—especially if you like dark hues. Primarily, the interior scheme is black, dark gray, and (faux) carbon fiber with bits of chrome trim. I like the layering of the dash, and how everything is within easy reach. I'm still not a fan of Hyundai's blue backlighting, but that's kept to a minimum here. The tiller feels good to hold and has useful thumb grips.
One thing I like about today's compact SUVs is their roominess, and the Tucson is no exception. With the front seat adjusted to my portly 5'11" frame, I could still sit in the back with ample knee room. And I can enjoy the rear A/C vents as well.
The climate control does a good job of cooling the cabin, but it's an odd omission that it doesn't do the job automatically—you have to set the Tucson's A/C fan and thermostat manually. I didn't expect that at this price range, and given the numerous convenience features like automatic headlights, proximity door unlock, and Apple CarPlay and Android Auto.
Speaking of, it's nice to see modern infotainment connections like Apple CarPlay and Android Auto. It makes navigating and listening to music a more pleasant experience.
Engine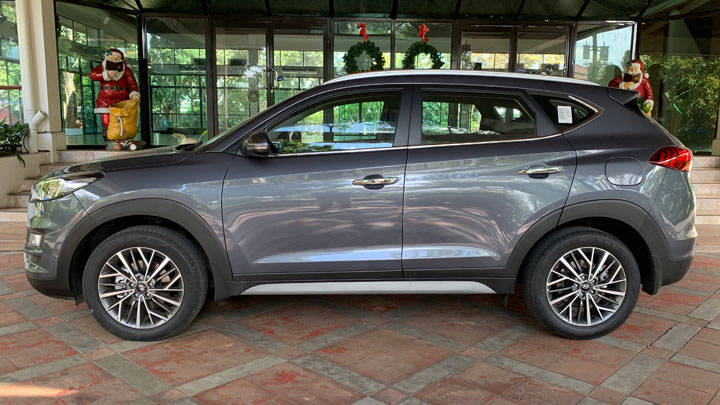 Hyundai has never had a problem extracting power from its turbodiesels—there was just the matter of taming all that torque. I remember burying the throttle in the second-generation Santa Fe about a decade ago, and it shimmied a bit trying to contain all the diesel grunt flowing to the wheels. That problem is largely gone by now, even though the Tucson's 2.0-liter turbodiesel engine has more power and torque than that Santa Fe I drove. Thanks to the eight-speed automatic gearbox, power delivery is smooth and linear, and without the clattering noise of diesels past.
There's still a lot of fire in the Tucson's belly, however, if you prod it hard enough. I felt this when I did an acceleration test, and I was pushed back against the well-bolstered seats and the horizon shot toward me. It's a good thing you have to press the throttle really hard for the Tucson to downshift and accelerate like this, and that the disc brakes can scrub the speed swiftly and without drama. Not all drivers can handle this power.
A week of city driving in holiday traffic yielded about 10km/L. Not bad.
Ride and handling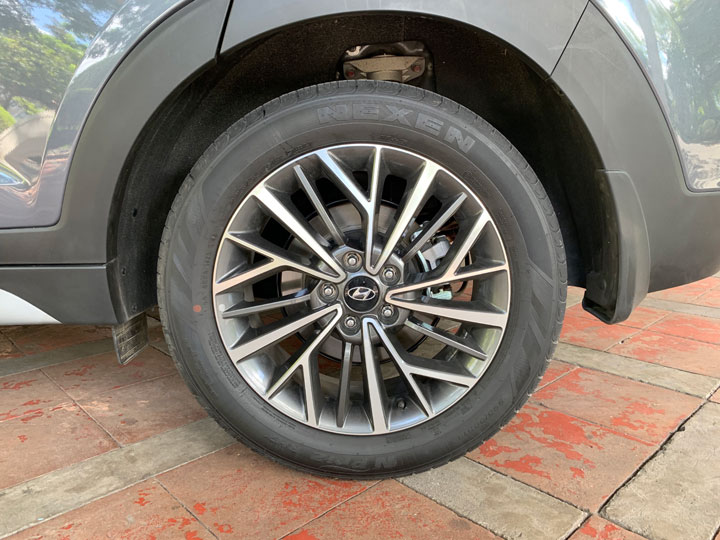 The front MacPherson/rear multilink suspension does its job and insulates occupants from most road unpleasantness. With their unibody frames, the Tucson and its compact crossover peers have good rides.
While the Tucson may have grown over the years, its agility is still there. But I wish there were more feedback from the steering wheel, to get more from the potent engine under the hood. The Tucson prefers to cruise and move smoothly, rather than turn fast. It's a good vehicle to have when you're stuck in traffic. The size is just right for maneuvering, and there's ample power and handling for those quick bursts of movement.
Extra features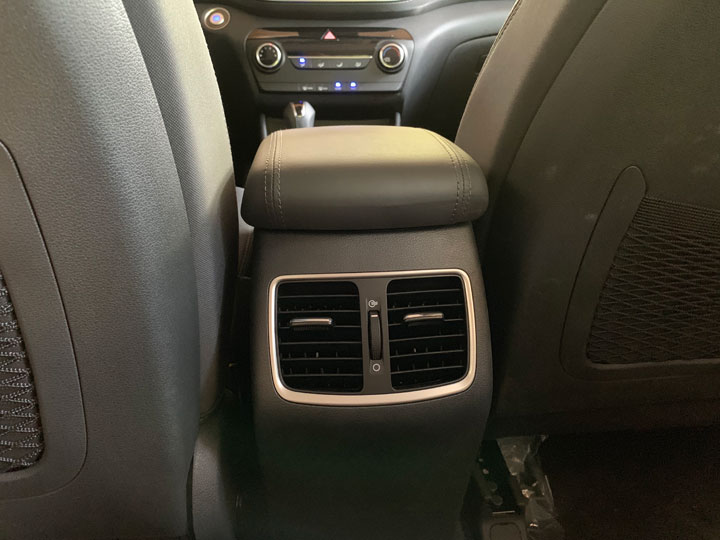 The Tucson has a lot of features that could only be previously found on expensive German marques. There are rear A/C vents, eight-way power seats, automatic on/off headlights, rear parking camera with guidelines, and CarPlay/Android Auto compatibility. But I can't get over the glaring omission of automatic climate control, especially when there are rear vents. That being said, the Tucson's A/C has ample cooling power for all occupants.
Cargo space may not be such a special feature, but it's definitely present here. I was able to load a balikbayan family's luggage in the back with no problem.
Verdict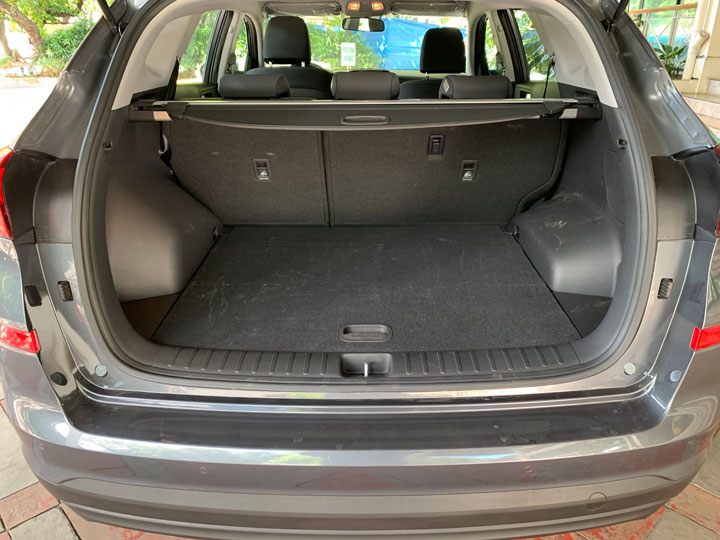 The compact-SUV/crossover segment used to be the hot category in the automotive sector. But like how interest in compact sedans has shifted toward subcompacts (and maybe even to the smaller mini-car category), the subcompact crossovers are beginning to take off. The Tucson nevertheless proves it still has a lot to offer, in a feature-packed body that's still nimble enough to navigate our cramped metropolis.
The Koreans have come a long way, and the latest facelifted Tucson is moving proof. It may be missing a feature or two that would have given it a perfect score, but it's still a compelling choice in a segment full of stylish and well-engineered options.
SPECS: Hyundai Tucson GLS 2.0 CRDi 2WD
Price: P1,835,000
Engine: 2.0-liter turbodiesel I4
Power: 182hp @ 4,000rpm
Torque: 402Nm @ 1,750 - 2,750rpm
Transmission: 8-speed automatic
Drive layout: FWD
Seating: 5
Score: 18/20