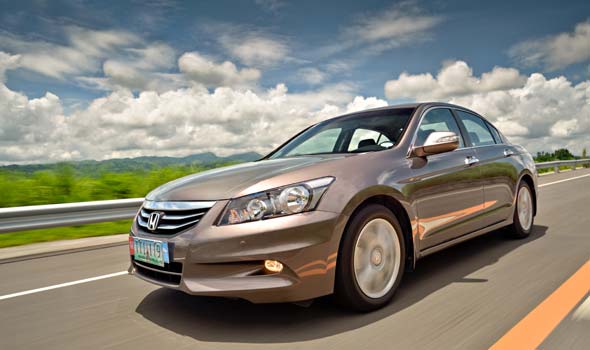 There was a time when having an executive sedan meant that you've made it as a successful professional, that you're a class above the norm, and you're a full-fledged decision-maker who's earning way above the minimum wage. Fast-forward close to 20 years later and this class of vehicles still exudes the same air of superiority. They've grown up, sure. They've gotten bigger, more powerful and more imposing. But they've also gotten more expensive.
For Honda, the Accord is its perennial halo offering. That's why the brand continues to equip its premiere sedan with an arresting yet functional design, and a load of kit that befits its intended status. Just.
I recently drove the face-lifted 2011 3.5-liter V6 Honda Accord and, much like its 2.4-liter sibling, the range-topper felt like a car that's made to last. Everything inside was just solid. Materials, although made from plastic, were of top quality. Leather, and even the scent of it, was all over the interior--just right for the finicky tastes of the kind of people who will own one.
Behind the unusually high-set (for a Honda) driver's seat, everything a street pilot would ever need to fiddle around with is just within reach. Honda continues to orient everything towards the driver. The big buttons on the center console and the steering wheel that control the radio and other car functions just lend to that ethos. Driver's visibility is also excellent as the Accord's designers were able to minimize the thickness of the all three sets of pillars giving the driver minimal problems when it came to blind spots.
Continue reading below ↓
Recommended Videos
One more thing I found impressive with the Accord as a driver was the smooth-purring 271hp V6. Turn the key to start and it hardly buzzes vibrations in the cabin. On the road, the throttle is responsive and power delivery, though not explosive, is instant and reliable. It is so unlike American V6s that wait a second or two before violently reacting to pedal input. I was, however, waiting for that distinct, bassy V6 growl, but the Accord was too refined for that. Floor it, though, and the long four-door sedan just accelerates without hesitation, effortlessly hitting the twin-century mark on an open road while having the ability to imperceptibly switch off two or three cylinders to save fuel while on a cruise. Sadly I did miss the Accord's cruise control option on those long highway stretches. And that was a feature already available in the previous generation.
As a passenger, however, I felt that the creature-comforts list could have been better padded. One reason why the Camry continues to lord this segment is because it is geared toward providing the so-called executives a host of amenities that make them feel like a king or a queen. The Accord falls short of that expectation. There are no ventilated seats unlike its nearest competitor. Even the subwoofer for the sound system hardly impresses. At least rear leg-room is very expansive, and that is something the bosses will truly appreciate.
It makes me wonder then what would make a prospective executive sedan buyer go for an Accord? Is it the masculine, truck-like styling? Its spot-on handling? Or could it be the ability to save a little bit of fuel with its variable cylinder management system? Perhaps it's the brand's undisputed resale value? Whatever reason one gets an Accord now, it goes without saying that only the more focused driver who's also a very conscientious owner will truly appreciate it.
Photos by the author
[gallery]1061[gallery]