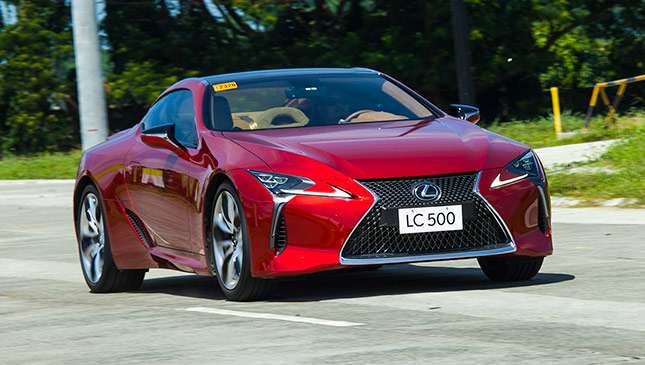 On paper, the Lexus LC500 is an exciting prospect. It is a proper gran turismo that offers bold, handsome looks that can only be Japanese, matched with a comfortable and practical interior that can only be Lexus. Huge spindle grille, smartly creased and overlapping panels in origami-like angles, carbon-fiber roof, high-strength lightweight steel and aluminum structure—all these things promise driving exhilaration.
The engine is Lexus's impressive 5.0-liter V8 that produces an astounding 478hp and 527Nm. It starts up and idles from cold with a loud, sharp bark, but settles into a quiet hum once warmed up. At cruising speed, it barely makes its presence known. Find an open road and open the taps completely, however, and the V8 unleashes its full fury with the controlled aggression of a samurai. The soundtrack is unique, focused, sharp—yet strangely enough, it's more refined versus its American (rambunctious), German (explosive), and British (feral) counterparts.
Continue reading below ↓
Recommended Videos
The interior is grand, and it goes to show that Japanese design can be timelessly unique and exquisite. The local test unit comes with the Performance Package, which adds body-hugging sports seats, swathes of camel-colored leather and suede (it slightly resembles Ferrari's famous 'mouse-hair' suede), and a fair bit of aluminum inlays and accents. There's a 13-speaker Mark Levinson audio system, but it pales in comparison to that glorious V8. The instrument cluster is a full digital display that can change viewing modes as well as color depending on your selected driving mode (Eco, Comfort, Normal, Sport, or Sport+).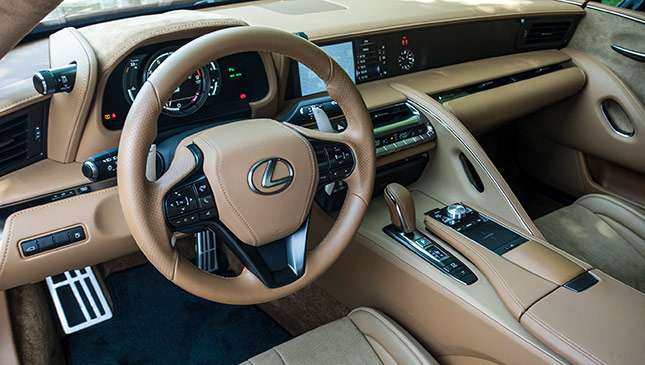 On the road, the variable steering can quicken from 13.6:1 to 9.8:1 depending on speed and driving mode. Steering weight and effort are spot-on, for the most intuitive steering feel among all Japanese cars ever produced so far. There's more similarity to, say, a Porsche 911 or a Ferrari 488 than to any other Lexus. Driving the rear wheels is a 10-speed automatic transmission, with magnesium paddle shifters adding a further element of control and excitement when you really want to give it some stick.
The adjustable suspension has all the suppleness you'd want for highway driving, but find a twisting road and activate Sport+, and you wouldn't think this Lexus weighs just under two tons! The front-midship engine layout ensures all the heavy bits are in the middle of the two axles, reducing yaw and lowering the polar moment of the car. Body control is excellent, the chassis resisting squat, roll, and nose-diving. The massive brakes are more than a match for the LC500's mass and size, providing a very progressive action that allows you to really ride the brakes through a corner if need be (or just for the heck of it).
So yes, I'm practically in love with the LC500. But it isn't perfect. Fuel consumption isn't great as expected for something this big; I average 4.8km/L in combined city and highway driving. It can, with a good amount of concentration on the driver's part, achieve 10km/L on the highway, but it struggles to break 4km/L in urban conditions.
The frameless door windows allow a fair bit of wind noise in, and the 21in Bridgestone run-flat tires (245/40 in front, 275/35 in the back) can deliver a jittery ride on imperfect roads. Also, while the exterior looks very handsome, the center section behind the doors and ahead of the rear fenders looks like somebody had pinched it and forgot to stretch it back. The trunk is somewhat shallow, but it can still fit a golf bag (a Lexus requirement, apparently). While the multimedia system is great, it's confusing for first-timers, lacking the intuitive ease of Audi's MMI or even BMW's iDrive. And the Lexus track-pad is difficult to use.
The LC500 represents the very best of what Lexus stands for, with that crucial bit of drama that puts it on a par with many European sports coupes. The LFA supercar, which it is always compared to, took forever to break cover, such that performance goalposts had moved significantly in the period between its conceptualization and launch. Pundits and critics questioned its relevance: It's far costlier, yet also slower, than its competitors. Rarity alone wasn't enough to make it truly successful.
The LC500, on the other hand, doesn't try to compete head on with its counterparts. No, Lexus set out to build the most exciting GT coupe it can, imbibed with Lexus values of refinement, comfort, practicality, and unique design, and sprinkled with great driving dynamics. The result practically beggars disbelief: How could Lexus, purveyors of refined but almost unexciting vehicles, create a GT with so much sex appeal?
What's more, the carmaker is rumored to be working on a high-performance 600hp twin-turbo LC F. To think I've already run out of praises just for the LC500.
SPECS: Lexus LC500
Price: P8,888,888
Engine: 5-liter petrol V8
Power: 470hp @ 7,100rpm
Torque: 540Nm @ 4,800rpm
Transmission: 10-speed automatic
Layout: RWD
Seating: 2+2
Score: 19/20