Top-down motoring involves the sun in your face, the blue skies above and the wind blowing your hair. And you desperately grabbing it before it flies away. But maybe that's an unfair stereotype. Convertible buyers run the gamut from balding middle-aged men all the way to hairdressers and trophy wives. But Mini prides itself on catering to true enthusiasts. Or so they'd like to think. Truth be told, the Roadster is pricey for a Mini. At over three million big ones, you're not buying this to chase Toyota 86s on the racetrack. What would you buy it for, then? Read on, true believers...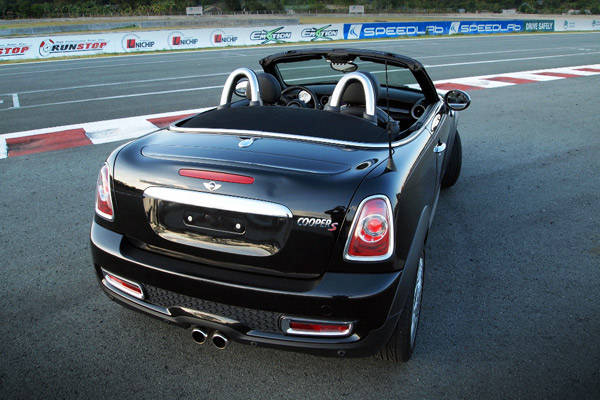 ADVERTISEMENT - CONTINUE READING BELOW ↓
STYLING
Would you buy it for the styling? While the Coupe variant's reverse baseball-cap profile looks rude, the Roadster piles on the nostalgia. The chrome-trimmed open cabin, tubular roll-hoops and brightwork-adorned body make it look like something Jimmy Dean would drive. It's all conceit. The original Mini never came in Roadster form. Now I kind of wish it did.
The Roadster is wide, low and purposeful, and it sits oh-so-perfectly on those 17-inch slotted banana-type alloy wheels framed by blacked-out fender flares. Topping it off is the automatic rear spoiler built into the decklid--utterly useless, but adorably cute.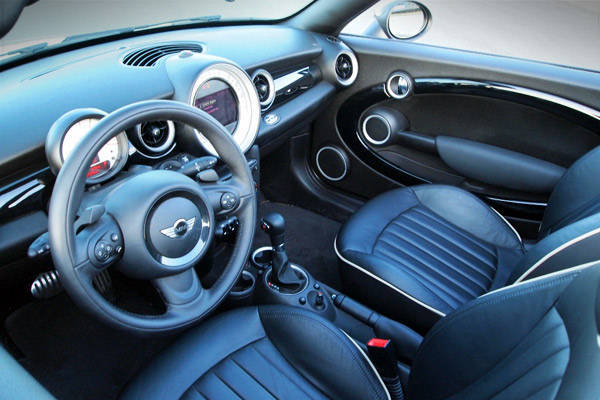 ADVERTISEMENT - CONTINUE READING BELOW ↓
Recommended Videos
INTERIOR
Like the exterior, the interior is traditional Mini fare. Great if you like it. Not-so-great if you don't. Despite having driven many Minis over the past years, I still found myself fumbling for quirkily placed controls. On the plus side, the pleated leather seats are comfortable and supportive, and the driving ergonomics are just about perfect. The soft-top is basic as can be, with exposed plastic ribbing inside the cabin. It keeps outside noise out, but only just. Though this is nominally a two-seater, there's space behind the seats for a few duffel bags and a helmet. That part's important.
ADVERTISEMENT - CONTINUE READING BELOW ↓
ENGINE PERFORMANCE
The Mini's direct-injection turbocharged 1.6 is a gem of an engine. It's tractable and pulls hard across the rev range. Flip off the traction control, and even with an automatic transmission and gummy 215/45 R17 Goodyear Eagle F1 tires, the Roadster will lay black stripes off the line. A twin-scroll turbine virtually eliminates turbo lag, and the six-speed transmission is quite responsive. While I expect you'd get decent economy in Normal mode, we spent the entire time in Sport mode, just to hear the snarling and crackling of the exhaust off-throttle. Juvenile, yes, but I never get tired of it.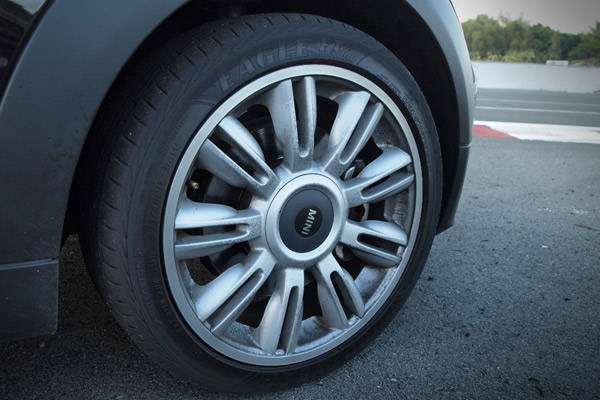 ADVERTISEMENT - CONTINUE READING BELOW ↓
RIDE AND HANDLING
Though it isn't as light or stiff as the Coupe, the view over the Roadster's curvy hood and the open-air aural assault of wind, tires and exhaust elevate the experience from stereo to Dolby 5.1. Mini's trademark tactile steering and telepathic handling are largely untarnished by the loss of structural rigidity, thanks to beefy stiffening braces behind the seats. The ride is also surprisingly absorbent and composed. There's a smidgen too much on-throttle understeer, but thankfully little torque steer in the dry. The Mini is sharp and sublimely adjustable, yet ultimately safe. Don't like safe? Grab an aftermarket camber kit; it's cheap.
EXTRA FEATURES
While loaded with ABS-EBD, TCS, DSC, LSD and ETC, the Roadster's real party trick is that folding soft-top, which tucks away quite neatly behind the seats. Avoid the harsh run-flats and the ultra-stiff John Cooper Works model unless you want to experience "scuttle-shake" firsthand. The Mini Visual Boost infotainment pack is largely wasted here. It obscures the charmingly goofy speedometer and is pointless on a car best driven topless. And you can realistically drive the Roadster topless at speed without losing your hairpiece. Of course, if you're as tall as Jeremy Clarkson, that helmet will come in handy.
ADVERTISEMENT - CONTINUE READING BELOW ↓
THE VERDICT
So, it drives awful nice. That's a given. Would you buy it for the drive? If we're looking strictly at small sports cars, one can argue a better smile-per-mile equation for the Mazda MX-5 and the 86, which have a wider handling repertoire and are much cheaper. But the Roadster is quicker through traffic and down winding roads than either of these two. I expect a lot of people will object to that statement, but there it is.
More than the speed, though, it's the sense of occasion that makes the Roadster special. That's something you can't put a price tag on. Rarely is a fast car so cute, and rarely is a cute car so fast, but the Mini does a neat trick of being both. It's expensive, yes, but I've heard fresh air is good for your scalp.
SPECS: MINI ROADSTER COOPER S
Engine: 1.6-liter direct-injection turbocharged gasoline
ADVERTISEMENT - CONTINUE READING BELOW ↓
Transmission: 6-speed automatic
Power: 184hp @ 5,500rpm
Torque: 240Nm @ 1,600-5,000rpm
Drive layout: FWD
Seating: 2
Price: P3,150,000
Score: 19/20
Photos by Niky Tamayo