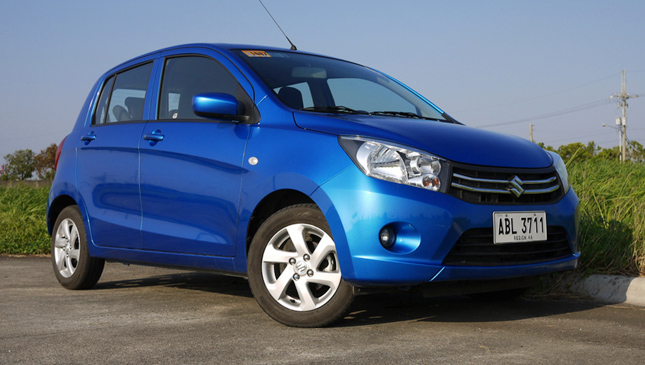 Suzuki's expertise in small cars is beyond reproach. But while the previous Celerio was a fuel-economy champion, the advent of maxi-sized minis from Mitsubishi and Toyota have left it handicapped in the sales race, due to its lack of space compared to these new ASEAN-market cars.
The new Celerio, however, fixes that deficit, and then some. Starting at just P507,000, this is one surprisingly well-equipped and spacious little car. But has it lost some of the charm of the old one?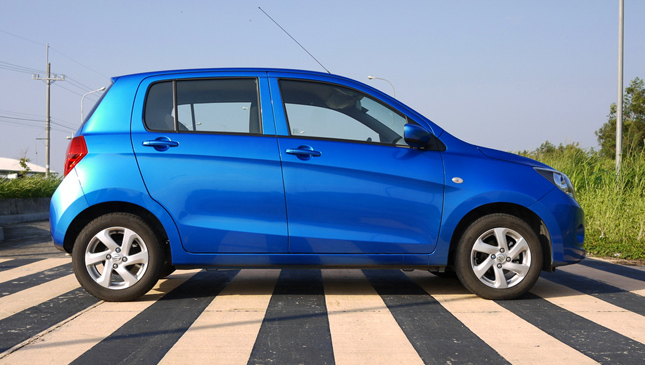 STYLING
The new Celerio isn't nearly as cute as the old car. But while 'Pinky' was all googly-eyed, 'Blinky' is now a more mature-looking vehicle, with sharp detailing and sporty multi-spoke alloy wheels. Like the Wigo, it looks a bit brick-like from the rear, but angled character lines lend some dynamism to the otherwise boxy profile, and a subtle lip-spoiler caps off the roof. A brash new grille adds some needed machismo. But as the tiny K10 motor doesn't require much cooling, there's a lot of blanked-off space behind those chrome bars.
Continue reading below ↓
Recommended Videos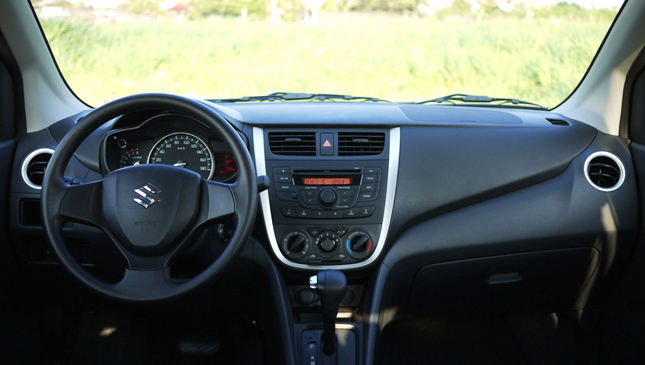 INTERIOR
There hasn't been a mini-car interior this generous since the first-generation Honda Jazz. Legroom is now similar to the Mirage and the Wigo, while the huge greenhouse and tall, well-bolstered seats make it feel much roomier up top. Interior quality is a big step up as well. A lower and more compact center console allows the front seats to move inboard, making for great knee and elbow room, though the cupholders now sit near the floor. The familiar Swift-style steering wheel and motorcycle-pod gauges are replaced by a flatter, more modern tiller and a conventional instrument cluster with a digital trip/eco-meter.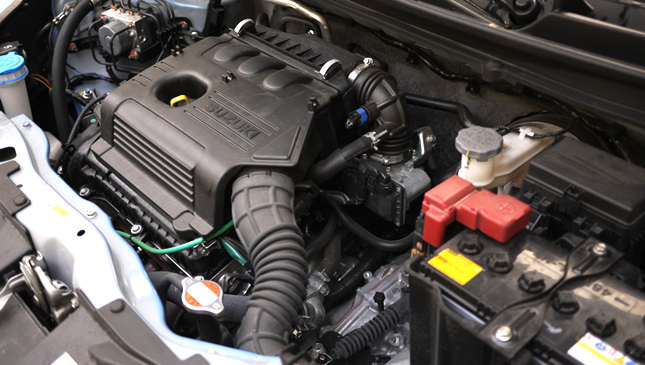 ENGINE PERFORMANCE
The gruff K10 is quieter here than in the Alto, although there's no mistaking that lopey three-cylinder idle. It's no powerhouse, but the new continuously variable transmission makes the most of what is there. Like most CVTs, it slurs a bit from a stop, but once rolling, acceleration is impressively zippy. Better yet, it allows for some amazing economy. During our time with the car, we saw around 10-12km/L in heavy traffic, 16-18km/L in mixed driving, 22-23km/L at 100kph, and 28km/L at 80kph.
I even managed 30.5km/L on NLEX in the middle of a howling typhoon. And I have the gas receipts to prove it. Despite the tiny 35L tank, a 1,000km range is a distinct possibility.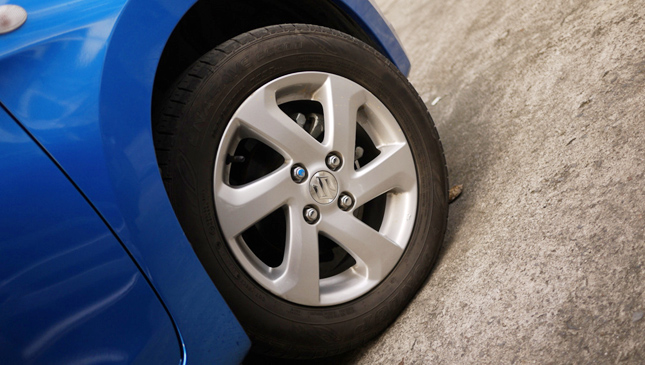 RIDE AND HANDLING
Huge glass makes dealing with traffic and tight parking spaces a painless affair. The only real nit is a flat and somewhat distorted rear-view mirror. An aftermarket upgrade is a must here.
Tall 165/60 R14 tires, a limited suspension travel, and lots of body roll will discourage most drivers from pushing the Celerio too hard. A shame, as the chassis feels competent, and the steering is much better than the primary competitiors. The Celerio also doesn't seem affected much by crosswinds at speed. Sound insulation is decent, and the tires are commendably quiet over most surfaces.
EXTRA FEATURES
At just P542,000, the CVT Celerio gets cool A/C, dual airbags, ABS, keyless entry, a 2-DIN radio with four speakers, USB/AUX input, decent sound quality, power windows, body-colored trim, a rear spoiler and nifty fan-spoked alloy wheels. Isofix mounts are also standard. A full-size spare wheel sits under a trunk liner that sits a good three or four inches higher than the "true" floor. While the liner provides a flat shelf with the seats folded, removing it gives you a whole lot more boot space.
At P507,000, the manual variant gets all the same goodies, and is currently the cheapest Japanese car you can buy with ABS, side-impact protection and airbags.
THE VERDICT
If it isn't apparent to you yet at this point, the Celerio is a winner. The old car was a good one, but it was rather toylike compared to its competitors. This new one easily matches the big boys in terms of utility, while exceeding them in terms of quality and economy. It takes Suzuki from the sidelines of the maxi-mini fight and straight into the thick of the action. Whether it can seriously challenge for the segment sales crown is anyone's guess, but if you're looking for a small car in the P500,000 range, it would be a crime not to consider the Celerio.
SPECS: SUZUKI CELERIO 1.0 CVT
Engine: 1.0-liter gasoline
Transmission: CVT
Power: 67hp @ 6,000rpm
Torque: 90Nm @ 3,500rpm
Drive layout: FWD
Seating: 5
Price: P542,000
Score: 18/20
Photos by Niky Tamayo
UPDATE as of May 7, 2018: When we last shared the post-revised excise tax prices of the Suzuki lineup in February, the prices of the Alto, Celerio, Ciaz, Swift, and Ertiga were still unchanged from last year. Here now are the adjusted prices. Overlooked and underrated? You be the judge. But let's count a few reasons this tasteful Japanese brand remains worthy of consideration. Almost every major carmaker in the country has come out with a new set of price tags because of the Tax Reform for Acceleration and Inclusion (TRAIN) law. And from what we've seen, the doomsday scenarios have not come true yet.

Suzuki Celerio