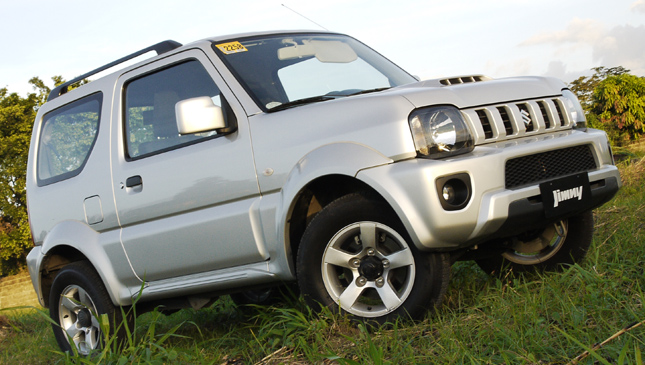 There was some hubbub a while back over the Isuzu Crosswind getting yet another in a seemingly endless string of facelifts. But however ancient the diesel utility may seem, there's another car on sale that's even older.
Introduced globally in 1998 as a cheap and simple off-roader, the Suzuki Jimny has soldiered on mechanically unchanged since its local introduction in 2001. It's a cult hit, and secondhand ones are almost ridiculously expensive. A brand-new one, however, is quite cheap for what is one of the most capable four-wheel-drive SUVs on sale today.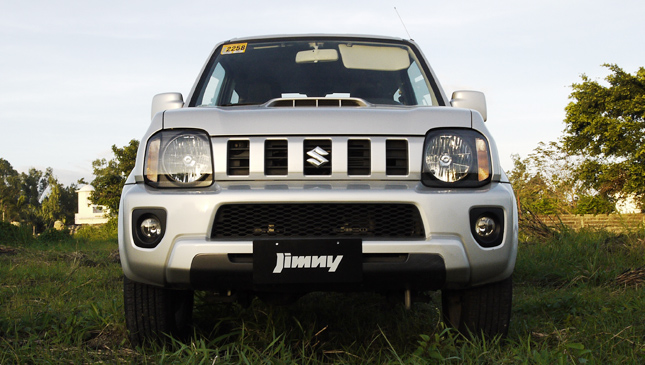 ADVERTISEMENT - CONTINUE READING BELOW ↓
STYLING
During its last facelift, the Jimny traded some of its cheap and cheerful Jeep vibe for a squared-off bonnet and a hood scoop. The rest still remains much as it has been since the start: ultra-short overhangs, petite dimensions and beefy flared arches offsetting the upright and narrow body. While utilitarian, the styling is timeless. Our JLX test unit gets body-color side cladding and 15-inch five-spoke alloy wheels, while the lower-end JX model gets more rugged-looking black plastic paneling and steel wheels.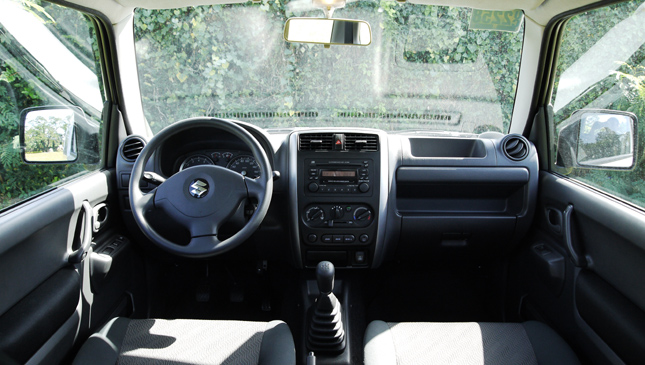 ADVERTISEMENT - CONTINUE READING BELOW ↓
Recommended Videos
INTERIOR
The Jimny's interior has changed very little over the past decade, this latest iteration carrying the same dashboard and controls as the 2005 update that introduced push-button 4WD. The Swift-sourced steering wheel is nice to hold, but the lack of adjustment and the upright seating position make for so-so ergonomics. There's room for four regular-size adults, or two large ones and a weekend's worth of baggage. There's a plurality of cubbyholes and covered bins in the cabin, but only two cupholders. No, I didn't check to see how many soda cans would fit, but I assume the answer is "some."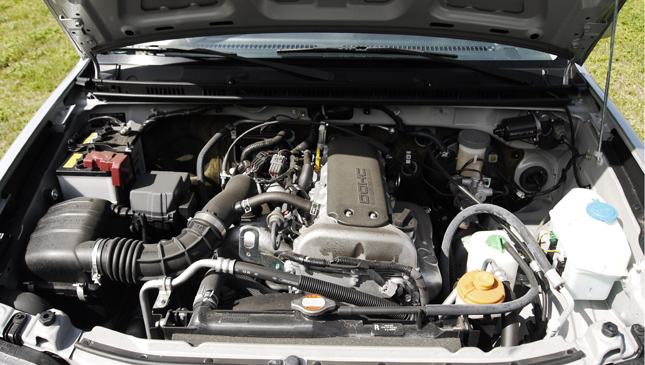 ADVERTISEMENT - CONTINUE READING BELOW ↓
ENGINE PERFORMANCE
The Jimny's 1.3-liter motor revs freely and delivers punchy performance at low speeds, thanks to short gearing. At higher speeds, however, it tends to struggle against brick-like aerodynamics and a heavy drivetrain. The Jimny theoretically tops out at 140kph given enough road, but it's most comfortable cruising at 80kph at a somewhat buzzy 3,000rpm.
Heavy-duty dual live axles create a lot of driveline friction and result in relatively poor fuel economy for the size of the engine. Don't expect much better than 6-7km/L in traffic, or 12-14km/L on the highway. Reaching 16km/L is possible at a push, if you don't mind turning the A/C off.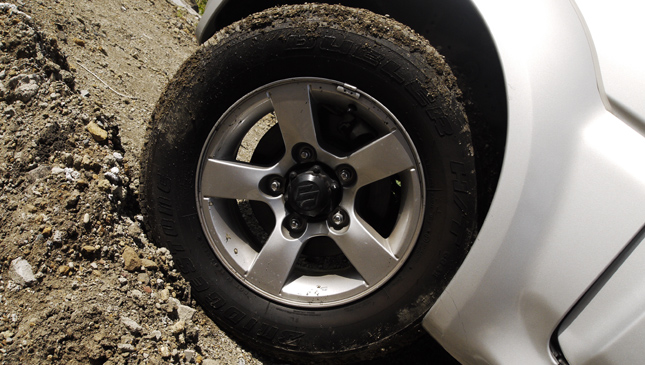 ADVERTISEMENT - CONTINUE READING BELOW ↓
RIDE AND HANDLING
The Jimny's long-stroke suspension takes the edge off most road imperfections, but thanks to the crude live axle suspension, bigger bumps and washboard surfaces on the highway upset it easily. The steering is rather heavy and numb, and the non-ABS brakes are mushy.
But all these sins are forgiven the moment you take the Jimny off-road. Good visibility, light weight, incredible traction and a great suspension make it perhaps the easiest learning tool for amateur mud-pluggers. Granted, the narrow footprint makes tipping over on difficult obstacles a possibility, but this is true of most small off-roaders anyway.
Its light weight is possibly the Jimny's best feature. This keeps it from getting bogged down on loose surfaces, and allows you to climb embankments that might crumble under a heavier SUV. Few off-roaders tread as lightly as this one.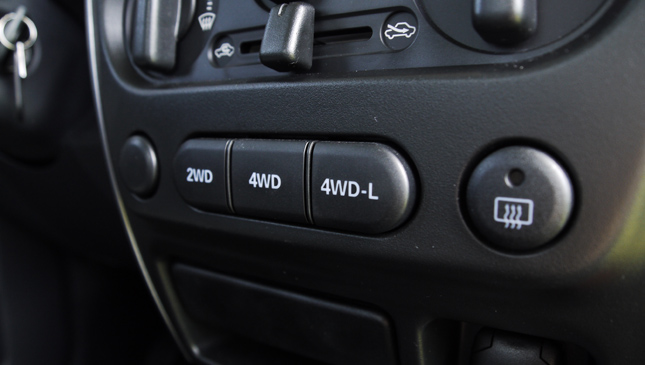 ADVERTISEMENT - CONTINUE READING BELOW ↓
EXTRA FEATURES
The Jimny gets a radio, keyless entry and fog lamps--and that's pretty much it. The stereo is a two-DIN radio/CD unit that was state-of-the-art when the Jimny was launched back in 2001. There are Isofix anchors in the back, but it's a tight fit for a child seat back there, and not much will fit in the trunk. Those with an active lifestyle will need a bike rack or an overhead roof rack if they're looking at taking the Jimny out camping. Hardcore off-roaders will be pleased to learn how cheap a snorkel, a winch and a lift kit can be for this tiny terror.
THE VERDICT
So, the Jimny is not a very large or very practical SUV. Yet there are few cars that engage your sense of whimsy and adventure so vicariously. There are few dealer-sold vehicles that are better for tackling rocks, mud or sand, and those that are better cost three to four times as much. Perhaps the only better bang-for-the-buck out there is a secondhand Jimny, but as decade-old units cost more than half as much as a brand-new one, there's plenty of incentive to go new.
ADVERTISEMENT - CONTINUE READING BELOW ↓
Granted, the Jimny is a toy. But it's a toy you can drive every day without issue. And you won't even mind if it gets a little dirty every now and then.
SPECS: SUZUKI JIMNY JLX 4x4 1.3 MT
Engine: 1.3-liter four-cylinder gasoline
Transmission: 5-speed manual
Power: 81hp @ 6,000rpm
Torque: 110Nm @ 4,400rpm
Drive layout: 4WD
Seating: 4
Price: P790,000
Score: 18/20
Photos by Niky Tamayo
UPDATE as of May 7, 2018: When we last shared the post-revised excise tax prices of the Suzuki lineup in February, the prices of the Alto, Celerio, Ciaz, Swift, and Ertiga were still unchanged from last year. Here now are the adjusted prices. Also of note is the Jimny, with both its JLX automatic and manual variants seeing a relatively minor price jump. The tiny Japanese off-roader is now P20,000 more expensive than before. Almost every major carmaker in the country has come out with a new set of price tags because of the Tax Reform for Acceleration and Inclusion (TRAIN) law. And from what we've seen, the doomsday scenarios have not come true yet.
ADVERTISEMENT - CONTINUE READING BELOW ↓
Suzuki Jimny