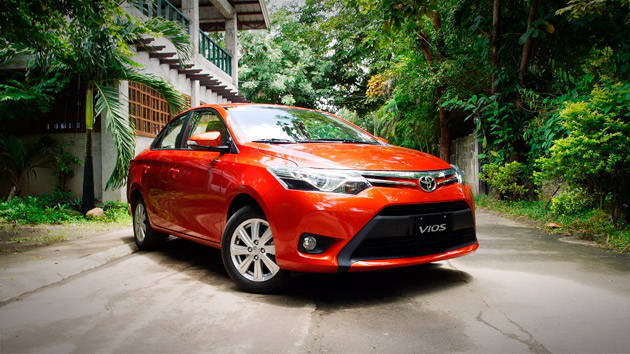 It's unusual that Toyota decided to introduce its new styling direction on its smallest sedan first, before going up to the Corolla and then the Camry. Usually, styling changes start from the top going down. But this is a very important car for Toyota. It's their volume seller in this market, and let's face it, nobody's going to stop buying Camry executive sedans just because the Vios is flashier. But the question is: Is this new car just a styling exercise, or is there still a heart of beige hiding underneath all that glossy orange paint?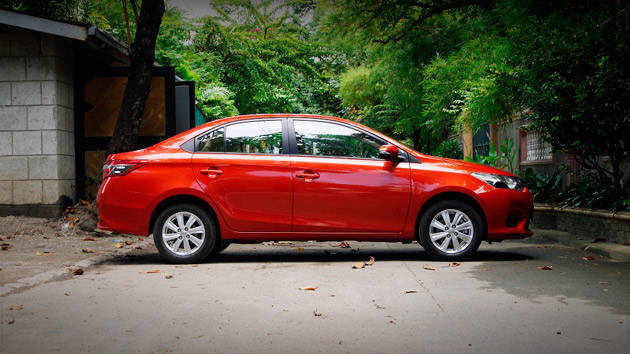 ADVERTISEMENT - CONTINUE READING BELOW ↓
STYLING
The formerly stubby Vios has been stretched into a long and sleek sedan. Bold, aggressive lines show a confidence heretofore lacking in Toyota's designs. Strong dual shoulder lines give the body a neat, beveled look. I'm not a fan of the "goatee" up front, but it's not overbearing in person. I love the front-and-rear "blade" motif, which has chrome accent lines blending into the light clusters. Subtle bubbles on the roof designed to clear extra headroom are an unusual touch. Only the small, directional "aero" alloy wheels seem out of place. Sportier thin-spoked 16-inchers would suit the car better.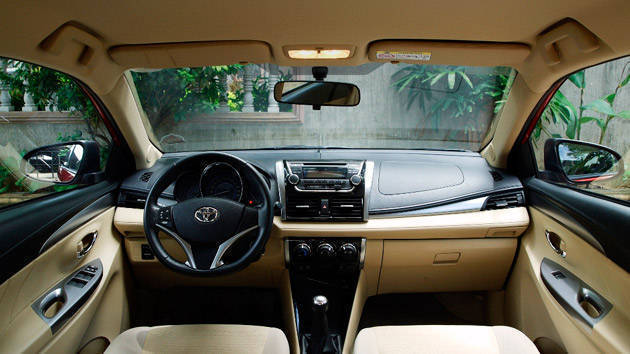 ADVERTISEMENT - CONTINUE READING BELOW ↓
Recommended Videos
INTERIOR
The cabin is an all-plastic black and beige affair with silver and chrome accents. It's lovely to look at, but the fake "stitched leather" look doesn't work well on the light-colored door panels. The cool vent cupholders remain, only now they slide out instead of flipping open. The central gauges have, thankfully, been replaced by a three-binnacle gauge sitting behind a sporty flat-bottomed steering wheel. The center console now sports a cool "floating" radio head unit instead. Redesigned seats pay huge dividends in terms of comfort and rear legroom, but there's a strange lack of interior cubby holes and storage.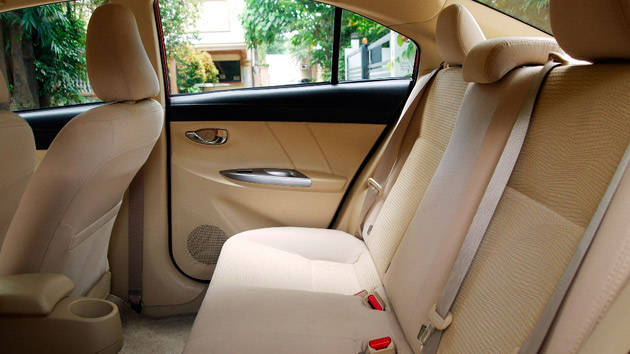 ADVERTISEMENT - CONTINUE READING BELOW ↓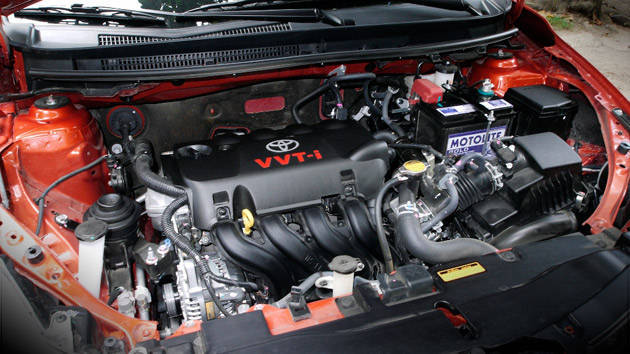 ENGINE PERFORMANCE
The Vios's punchy 1.5-liter motor acquits itself well in daily driving. The shifter is a bit notchy, and the clutch-biting point is vague, but you don't really need to shift all that much with the 1.5's flexible power band.
That venerable 1NZ-FE may be old, but it returns 18-20km/L on the highway at 80kph and 14km/L in mixed driving, without any special techniques. On the other hand, city traffic nets a disappointing 6-8km/L. Still, our test unit has a "green" engine with just 400km on the odometer. Economy should improve after the first 5,000km.
ADVERTISEMENT - CONTINUE READING BELOW ↓
RIDE AND HANDLING
You'd hope the Orange Metallic paint from the 86 would bring some handling mojo with it, but no such luck. A firmer suspension makes the Vios more competent than before, but the 185/60 R15 Yokohama tires are unimpressive, and the electric steering is darty and numb. Soft bushings also cause a bit of bobbling under braking.
ADVERTISEMENT - CONTINUE READING BELOW ↓
On the other hand, customers will appreciate that the new Vios doesn't bottom out as easily as the old car. They'll also like the improved sound insulation. The Vios is eerily quiet when you're not flogging it hard. Let's face it: Most customers won't.
EXTRA FEATURES
Customers won't be disappointed with the safety features, either. The Vios G variant gets ABS and EBD, dual airbags, five shoulder belts and even Isofix anchors. The manual A/C lacks a windshield vent option, but works well otherwise. The built-in stereo comes with steering-wheel controls and better sound than the old car, with a decent six-speaker setup. Strangely, the 1.3E gets most of these goodies, minus the side-mirror indicators, projector lamps, A-pillar speakers, and leather steering wheel and shift boot. And the all-black interior seems more tasteful and restrained than the 1.5's black-silver-beige livery.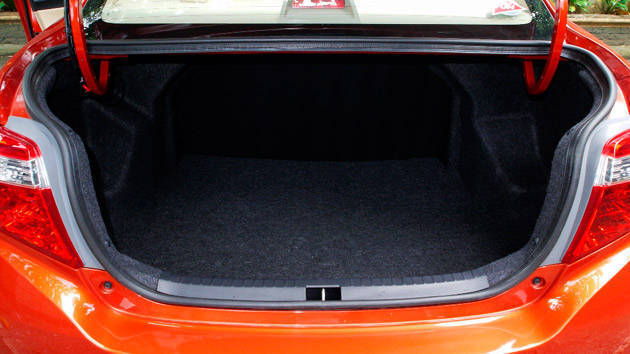 ADVERTISEMENT - CONTINUE READING BELOW ↓
THE VERDICT
We expect the Vios to sell like hotcakes. Yes, it still has a heart of beige, but the good looks, increased rear seat space and huge trunk are all enticing selling points. As ever, it isn't the enthusiast's choice. There are more exciting and better-loaded cars at this P800,000 price point.
Instead, the variant of choice for us family types is the P727,000 1.3E. It has the same safety kit, including the all-important child seat Isofix system. And from the outside, it looks completely identical to the 1.5G, which means nobody will mistake you for a taxi.
Not yet, anyway.
SPECS: TOYOTA VIOS 1.5 G MT
Engine: 1.5-liter variable-valve timing gasoline
Transmission: 5-speed manual
Power: 107hp @ 6,000rpm
Torque: 142Nm @ 4,200rpm
Drive layout: FWD
Seating: 5
Price: P812,000
Score: 16/20
Photos by Niky Tamayo