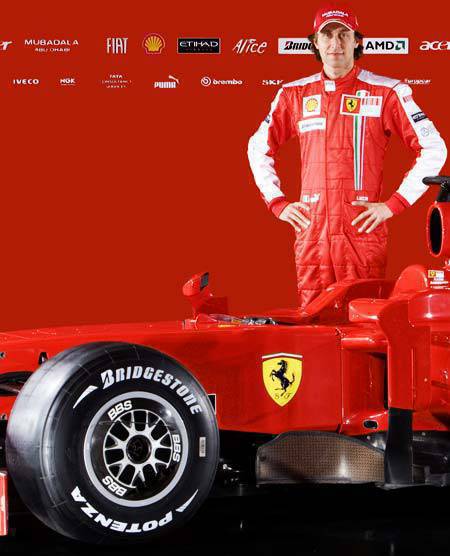 After Michael Schumacher announced he won't be racing for Ferrari, the Italian team had to make a quick decision on who would best take Felipe Massa's race seat until he has fully recovered.
Many had high hopes on Spanish test driver, Marc Gene, after his recent win at the 24 Hours of Le Man with F1 retirees. Instead, Ferrari chairman Luca di Montezemolo and team principal Stefano Domenicali decided to give Massa's seat to an Italian driver.
Just who is Luca Badoer?
TopGear.com.ph
lets you in on ten little known facts about the driver who will fill in for Ferrari starting next week's European Grand Prix.
1.
A full-blooded Italian.
Badoer is Italian through and through, and he has been spending his entire F1 career with Italian teams. He made his debut in 1993 with Scuderia Italia and scored a career-high seventh place finish at the San Marino Grand Prix. Unfortunately for him, the World Championship points then were awarded only to the top six finishers.
2.
Minardi's choice.
He was left without a race seat in 1994 following after the merger of Scuderia Italia and Minardi, but later joined the newly-renamed Minardi Scuderia Italia outfit in 1995.
3.
No third-time charm.
Forte Corse served as Badoer's his third Italian F1 team. Bad luck seemed to follow, however, as he failed to make the then-new 107-percent cut in qualifying for four different grand prix races. The team was also quickly running out of money and team principal Guido Forti called it quits after the British Grand Prix, leaving Badoer without a race seat for the rest of the 1996 season.
4.
Ferrari's longest-serving test driver.
Ferrari tapped Badoer for part-time tests in 1997. In terms of mileage, this means no other Italian driver comes close to Badoer when it comes to laps ran in a Ferrari F1 car.
5.
Missed chances.
In 1999, Minardi tapped Badoer once more to fill one of the team's race seats. The other race seat was given to future Ferrari co-test driver, Gene. Although Badoer was still Ferrari's test driver when Schumacher broke his leg in an F1 accident, the team chose to draft the unsigned Mika Salo to fill in. What must hurt for Badoer, though, is that he could've broken the duck's back as Salo scored a second place finish in his second race as Schumacher's substitute.
6.
Heart-broken.
During the wet 1999 European Grand Prix, Badoer was running in fourth place when his gearbox failed with just 13 laps to go. It gave everyone a glimpse of a very human Luca Badoer as he, still in full race regalia, unashamedly cried beside his stricken car on the side of the track.
7.
F1 car developer.
Following the heartbreaker of a season that 1999 was, Badoer joined Ferrari as a full-time test driver. Since then, he has been tasked to develop every one of Ferrari's F1 cars.
8.
The doughnut guy.
Using Ferrari's F2005, Badoer participated in the opening ceremonies of the 2006 Winter Olympics in Italy by performing several tire-screeching doughnuts on stage and creating a large cloud of tire smoke that completely covered the racecar. Like in any Olympic opening ceremony, this spectacle was seen by millions of viewers around the world.
9.
First Italian on a Ferrari F1 car since 1994.
Badoer will be the first Italian driver to drive for Ferrari since 1994 after Nicola Larini drove for the Italian marque in that season's Pacific and San Marino Grands Prix. Incidentally, Larini also served as a substitute for the then-injured Jean Alesi.
10.
Oldest man on the track.
On August 23, Badoer will officially become the oldest driver on the grid. At 38, he is older than Rubens Barrichello, this season's oldest F1 driver, by one year, four months and two days.
With 48 F1 races and without scoring a point to brag about, one can only hope Badoer finally gets a break. Keep posted for updates on
TopGear.com.ph
.
Continue reading below ↓
Recommended Videos