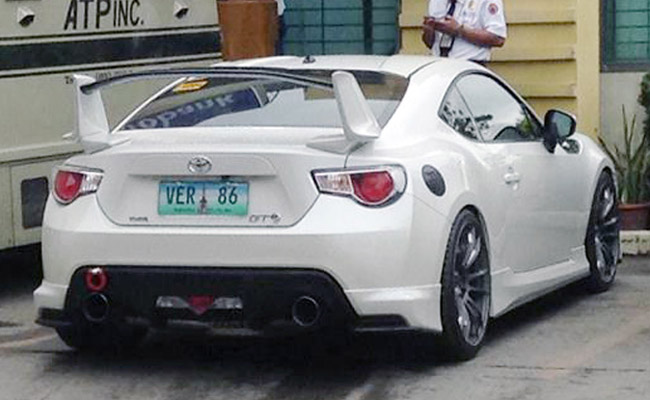 There are official, brand-endorsed rear wings, like the one you see attached to the Toyota 86 in the photo above. And then, of course, there are aftermarket ones--some awesome, some funny, others flat-out ridiculous. We get a lot of photos of these rear wings, and we'd like to share them with you through this compilation. Now, we're not making fun of these cars, although we admit that a few of them did make us chuckle. We respect their owners' right to do whatever they want to do with their rides. Their cars, their rules.
To each his own, in other words.
And this compilation thing is better, we think. If we post these photos individually on our Facebook page, they might get brutally ridiculed by our followers--and some might accuse us of cyber-bullying. But like we always say: Relax...it's all just harmless fun. Let's just appreciate each one of these cars and commend their owners for at least wanting to stand out in a sea of regular-looking cars.
Deal?
Okay. Below, then, are 16 photos that prove beyond reasonable doubt that Filipinos love giving their vehicles a personal touch.
Photos from Arjay Fronda (main), Edd Lance del Rosario, Jose Carlo Timoteo Pitogo, Skye Castro, Ronnie Paras Montemayor, Raul Martinez, Jose Angelo Tayco, Teejay Payumo Singian, Stan Janina Macaraeg-Gan, Amj Martinez, Carlo Enrico Medina, Neillester Ramelb, BJ Grasparil, Gil Quesada, John Ryan Millante, Julius Rimanzares, Kevin Monzon
Continue reading below ↓
Recommended Videos