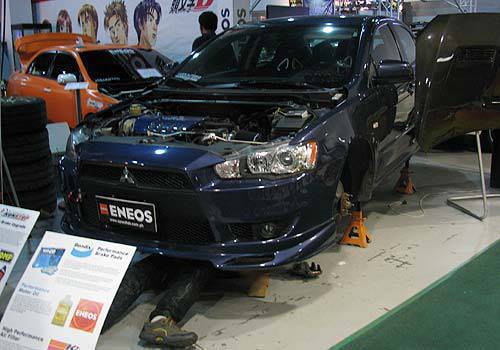 Speedlab's tradition at the Manila Auto Salon continues this year as with a new project car to be modified during the Zero To Hero Automotive Workshop in the show's four-day run.
Speedlab technical guru and Top Gear Philippines technical editor Ferman Lao lets us in on what's in store for the Mitsubishi Lancer EX, a work in progress at the 2010 Manila Auto Salon.
1. Turbocharging. This is one of the most cost-effective power increase modifications anyone can do to a normally-aspirated car with a very good peso-to-power-gained ratio. Almost any car can be turbocharged and, as far as aftermarket modifications go, it is at the pinnacle as far as "bolt on" mods go--potentially bumping up the power anywhere from 30 percent to 80 percent.
2. Electronic Control Module. For this year's Zero To Hero workshop, Speedlab has chosen to showcase drive-by-wire cars and debunk the misconception that they're not receptive to aftermarket mods. Using the right engine control module like UniChip, Speedlab can do the kind of modifications they're known for--properly tuning a 500hp Subaru Impreza WRX and a 320hp Subaru Forester on display in bright orange Eneos livery in their booth.
3. Brakes. A fast car is only as good as its brakes. For stopping duties, Speedlab has partnered with RunStop and Bendix to provide a cost-effective braking solution to the Zero To Hero car.
Continue reading below ↓
Recommended Videos
4. Suspensions. For the street-oriented enthusiast who occasionally does some track days over the weekend, Speedlab has Emotion coil-overs, which can also be seen on the Zero to Hero car.
5. Carbon fiber add-ons. After Speedlab is done boosting the car's power and improved its braking and handling, lightening it is the last order of the day. That means teaming up with ZWorks for carbon fiber products which will be used on the Zero To Hero car.
Make sure you visit the Speedlab booth to check on the progress of this year's Zero To Hero workshop and witness the shop's modification magic.