There's not a lot of local articles written about the new 2019 Mazda 6 2.5L SkyActiv Turbo sedan, so after spending about three weeks with this car, I wanted to share the top three good, bad, and surprising observations that I've learned driving this beautiful midsize sedan.
The Good
8-inch infotainment system with Android Auto and Apple CarPlay built-in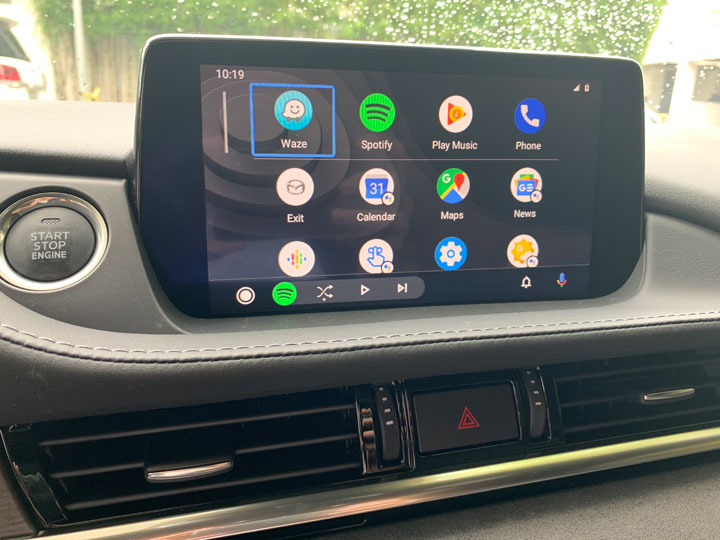 The Mazda 6 is one of only three vehicles in Mazda's current lineup that has Android Auto and Apple CarPlay included as part of the package, the other two being the 2019 CX-9 and the recently launched 2019 Mazda 3. This feature, called Smartphone mirroring by Mazda, has fast become a minimum required feature for daily Metro Manila driving, and the fact that it's built-in on the 6 saves you from the standard P19,600 (cost + VAT) add-on price to have it installed on earlier models of Mazda vehicles.
Continue reading below ↓
Recommended Videos
But to make things even better, the infotainment screen on the 6 is eight inches wide diagonally, one inch bigger than the standard seven-inch one normally found in other models (except again on the 2019 CX-9 which has the same 8-inch screen, and the new 2019 Mazda 3 which has an 8.8-inch screen). One inch might not sound like a lot, but in practice it's like going from a regular-sized phone to a Plus/Max-sized phone. That one inch creates a noticeable difference in terms of how less crowded the screen elements are, as well as in overall usability of the infotainment center. 
Super quiet and comfortable ride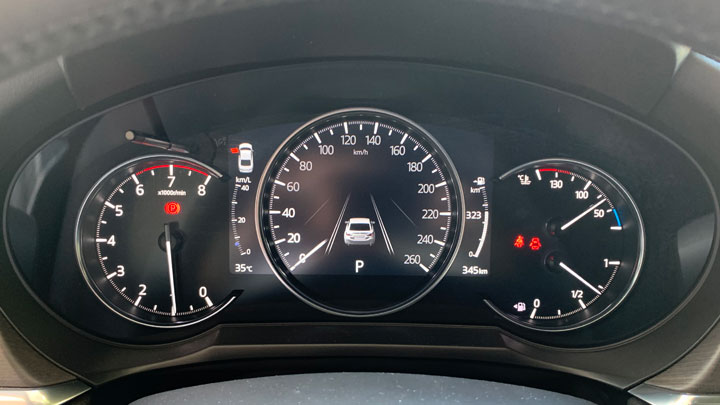 When I was in my teens, a common term my friends and I used to refer to the overall ride experience of a vehicle was "parang spaceship," which meant that the experience was so smooth that it felt like you were literally hovering over the road. Having driven a Lancer, a Civic, a Sportage, an Explorer, and an MX-5, I've never really had a daily driver that met the 'spaceship' criteria, until now. The Mazda 6's overall NVH levels are really something else. Over smooth roads, the hovering feel is definitely accomplished, with a very quiet ride and overall feeling of tranquility inside the cabin. With more challenging roads, you can appreciate how much the car minimizes and neutralizes the usual noise and discomfort that come from the potholes and unevenness of some of our roads.
Turbo vroom!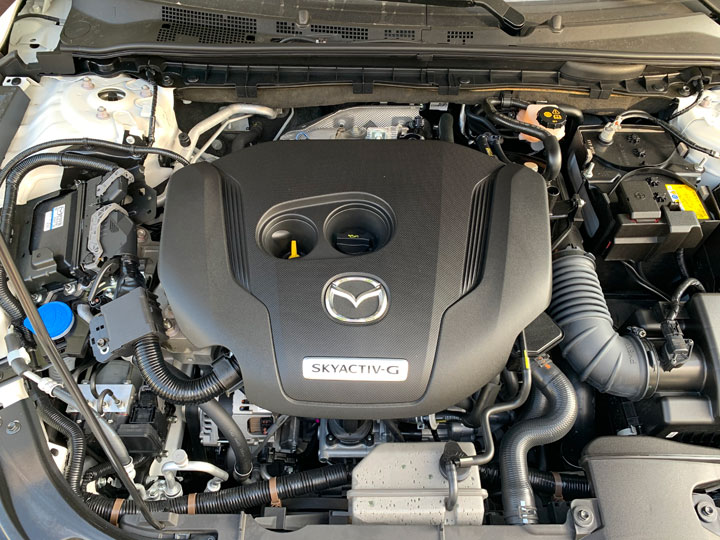 While doing personal research on the Mazda 6 vs CX-5 vs CX-9, a good friend and motoring aficionado told me that his only concern for the 6 was that it lacked power. I asked him, "you mean even the new one with a turbo?" He was pleasantly surprised that the 2019 models now have a turbo option and noted that this would change his overall assessment of the 6.
As a kid, the word 'turbo' was a magic word that automatically elicited thoughts of speed and power. As an adult, I can honestly say that that sentiment remains 100% true. The torque and acceleration of the 6 are so good that I've never had to switch on Sport mode (yet). Although acceleration isn't as instantaneous as an electric vehicle, the overall power of the 6 has never made me wish that it had more—and if that time eventually comes, I can always try Sport mode. I have no plans of going racing with this midsize sedan, but the 228hp turbocharged engine gives you that assurance that, if and when you need the power (e.g. when you are rushing to the hospital in an emergency), you definitely have it.
The Bad
No automatic power folding side mirrors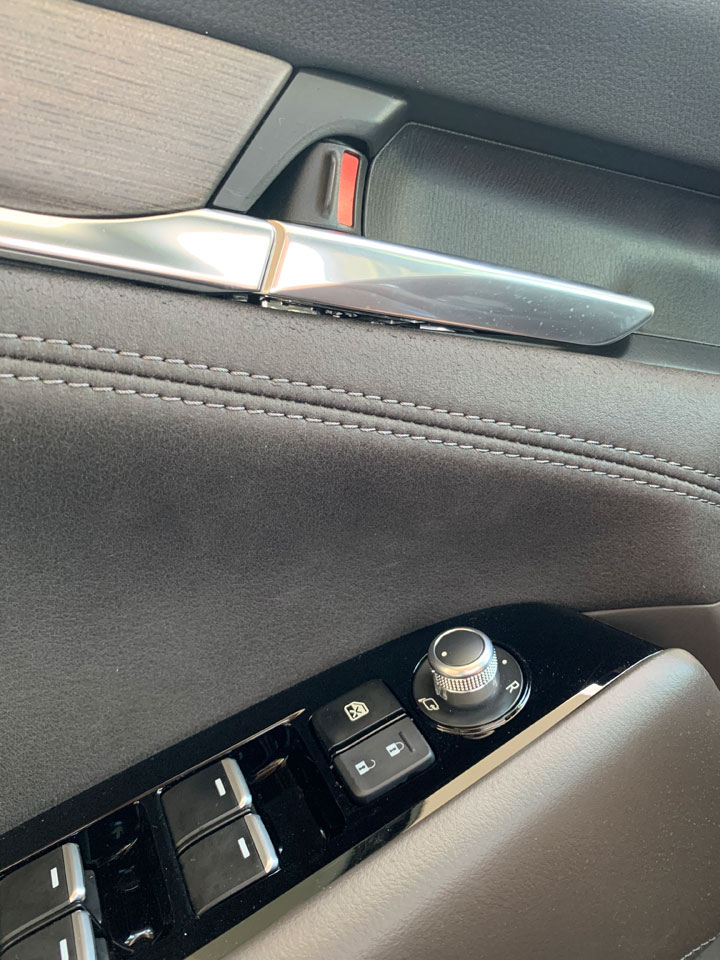 The 6 has power-folding side mirrors, only it isn't automatically synced with the power lock mechanism. To fold/unfold your side mirrors, you have to be inside the vehicle and manually turn a switch knob inside the car. Our 2017 base model Ford Explorer has automatic folding side mirrors when you lock/unlock the vehicle, so it's a bit weird not to get this feature for a premium, top-of-the-line model. To make things a bit worse, other markets have this feature built in based on video reviews I've seen.
Only one USB port for Android Auto/Apple CarPlay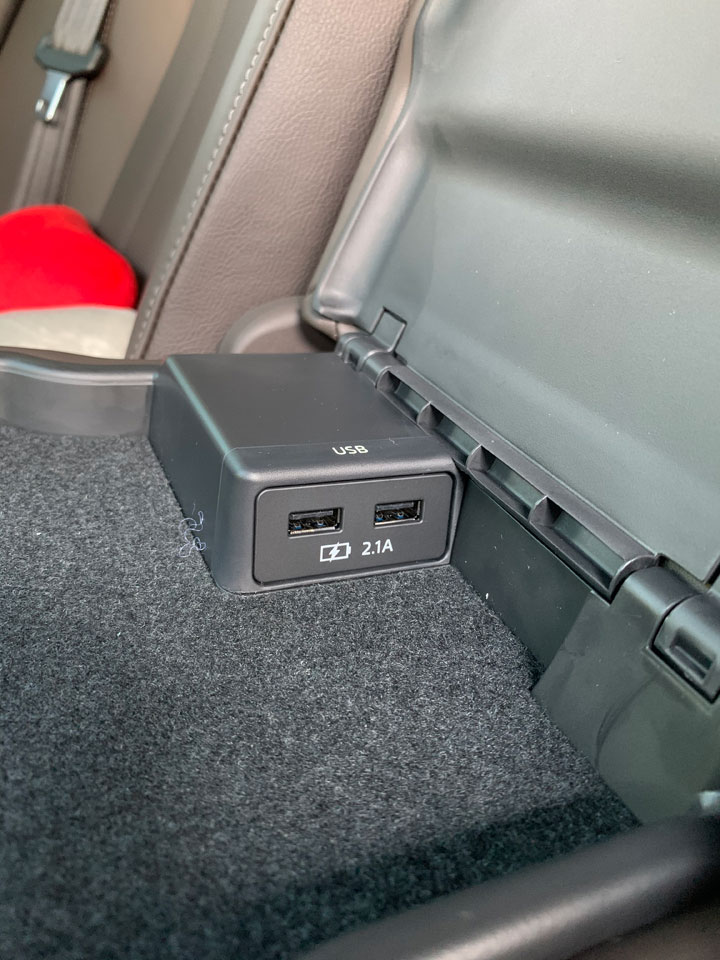 There are at least four USB charging ports inside the Mazda 6, and there may be even more that I haven't discovered yet. But if you want to plug in your phone for Android Auto or Apple CarPlay, there is only one USB port for that. Which means that if you're a passenger in the back, you can't use the two ports conveniently found at the rear's middle armrest, but instead have to plug in at the USB port under the center console to the right of the driver. Again, compared to the base model Ford Explorer, which has dual ports for this feature, the single-port approach for this kind of connectivity in the 6 means that switching between Android Auto to CarPlay (and vise versa) for families that have different smartphone types means that you have to unplug one cable then plug the other one, each and every time. 
Minor weird things like the DVD player and dual fuel gauge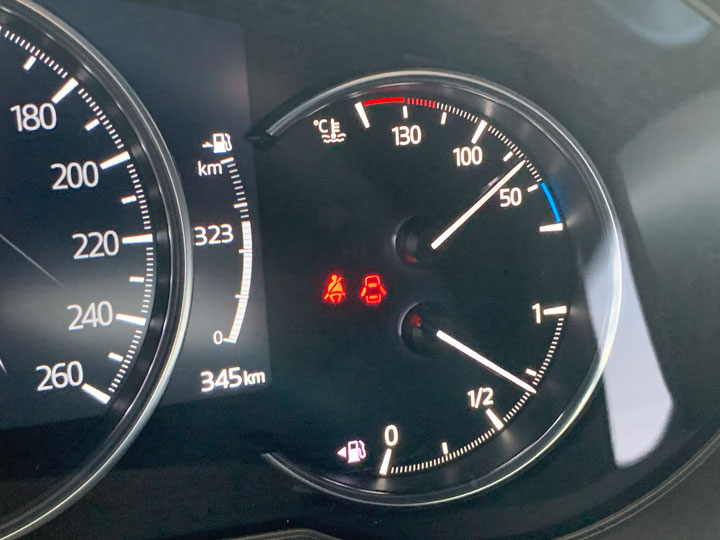 You know that the 2019 Mazda 3 is the first of the seventh-generation range because it no longer has a DVD player smack in the middle of the vehicle, as it has ditched this relatively unused feature entirely, The 2019 Mazda 6, though, still has this right in the middle of the front panels. Every time I see it, I wish they had just replaced it with a single smartphone USB port (see above) instead of having installed that Y2K hardware there, which will probably never be used in the lifetime of this car.
Additionally, there is not one, but two fuel gauges sitting right beside each other on the 6's driver console display. Aside from being an odd redundancy, both fuel levels often don't even match up, which overall makes one wonder what was the thinking behind this. 
The Surprises
All stock LED bulbs are premium white color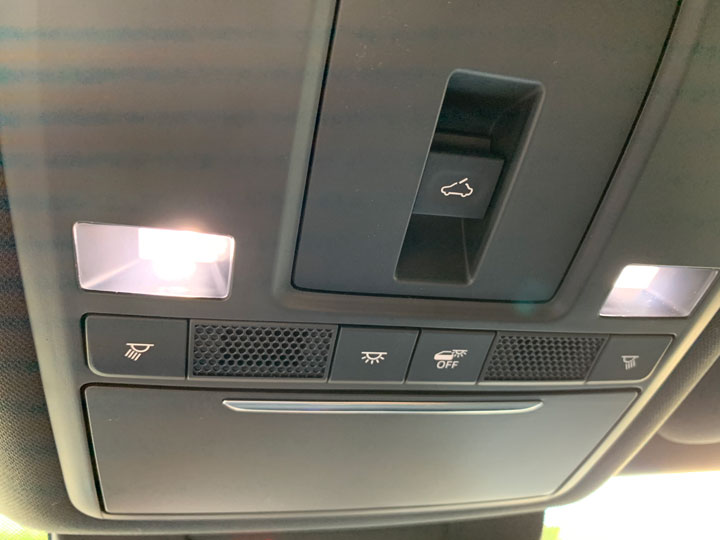 One of the first things I do with a new car is to replace all traditional bulbs with white LED ones. For the Ford Explorer, I had to replace a total of eight bulbs from the stock yellowish color bulbs to white LED ones, including rear plate number lights, side puddle lamps, and interior dome lights.
For my MX-5, it was just two (rear plate number lights). For the 6, I had to replace zero bulbs as all the LED bulbs inside and outside were already a nice shade of white LED. I liked the illumination in the ambient lighting, in the trunk, and even the rear plate number lights. I don't know the exact name of the shade, but I'd describe it as a 'sosyal warmish' shade of white LED. This small but important touch definitely made the car feel premium.
No iStop on the gas turbo sedan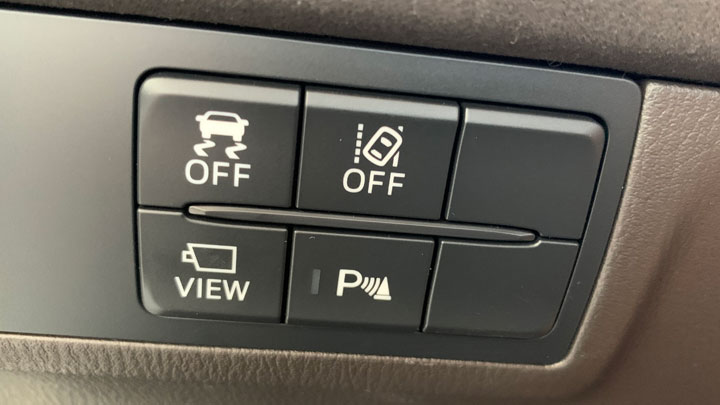 While doing research, I noticed a weird thing in the spec sheet of the Mazda 6. Both the gasoline wagon and the diesel turbo sedan versions had iStop, but the gasoline turbo sedan didn't. For those who don't know, iStop is a feature that automatically turns off your engine when you are stopped and idling (in traffic for example), which theoretically results in fuel savings.
Our MX-5 has this feature, and I manually have to turn it off each and every time because of a bad experience; while turning into a parking lot in Tagaytay in the middle of the main road, iStop kicked in and shut down the engine.
The Mazda 6 gas turbo sedan NOT having iStop is one of my favorite features of this vehicle, as it not only saves me from having to manually turn that off every time I start the car, it also promises to yield savings later on when I need to replace the car's battery—iStop-compatible batteries cost a premium compared to regular ones.
Auto hold and ventilated seats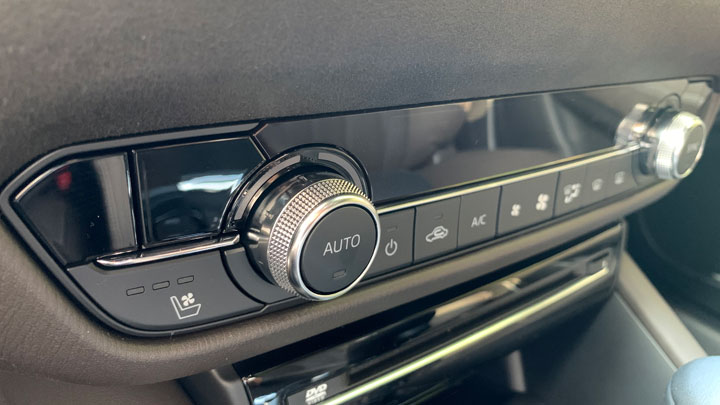 A feature I didn't know about nor expected to like is Auto Hold. When turned on, Auto Hold automatically puts your car on 'hold' (a la neutral + hand braked) when you are stuck in stop and go traffic. When engaged, it means you can let go of the brake pedal and the vehicle won't move forward. When you want to move forward, a light press on the gas pedal disengages the hold and you start moving forward again. In Metro Manila traffic, this small feature greatly reduces the stress of driving.
And finally, the ventilated seats feature of the Mazda 6 is a delight, as it cools both your legs and your back when turned on, much better than the traditional A/C on a hot day. Our Explorer has ventilated seats too, but only on the leg portion of the seat and not in the occupants' back. The MX5 only has….wait for it….heated seats.
The fact that the 6 has ventilated cooling seats only vs. the MX-5 that has heated seats only is a good indicator that the 6 was specc'ed with the warm driving environment of our region in mind. 
In closing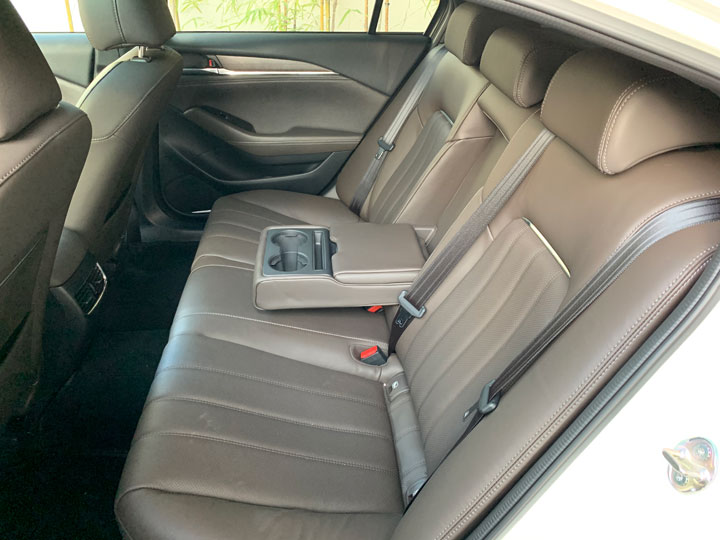 The Mazda 6 is a beautiful premium sedan that surprises and delights every time you drive it. It has as much power a car in this class would ever need, and enough technology to provide entertainment and assistance. Yes it has its small imperfections, but overall, the experience of driving this car definitely exemplifies the Jinba Ittai philosophy and aspirations that Mazda believes in.