The Honda Civic is a favorite among local tuners and enthusiasts. We have encountered many project cars through the years. Here are three stand-outs and the stories behind them.
Fiorel Samillano's Honda Civic (FD)
Driving with very low ride height in Metro Manila can be a daunting experience. Scraping the bottom of the car is a possibility, and the risk of damaging an expensive bodykit will make any enthusiast worry. with a ride like this, sections of the metro should be made off-limits as well, depending on how big the potholes are in that part of town. Humps will become an ordeal, and so will driveways that cut into the curb. yet despite these hassles, there is still a good number of 'slammed' enthusiasts in the city, and they get our respect for their dedication in riding so close to the pavement.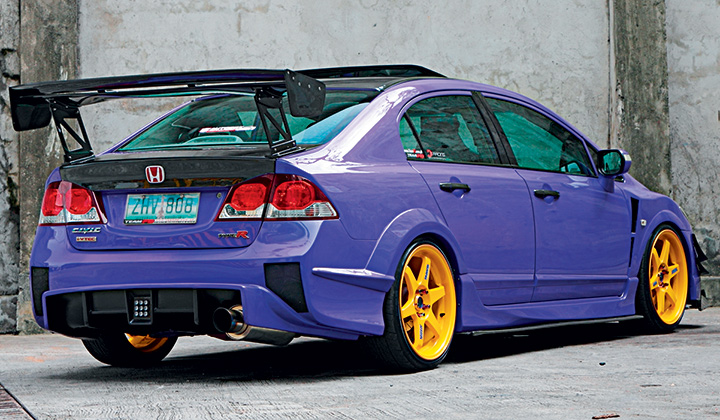 Continue reading below ↓
Recommended Videos
This flashy 2007 'FD' honda Civic is an exception to the low-and-slow rule, however. it is outfitted with air suspension, and can thus park just as hard as the lowest cars out there. But when the driver feels the urge to just let the car rip, he can easily do so. What's the point in letting the turbocharged 1.8-liter engine go to waste? This is the type of freedom that air suspension provides Fiorel Samillano, whose modification showcase immediately got our attention. Fiorel is no stranger to car shows. In fact, you can call him a bit of a veteran since he can't even remember the number of crowds that he has wowed with his Civic.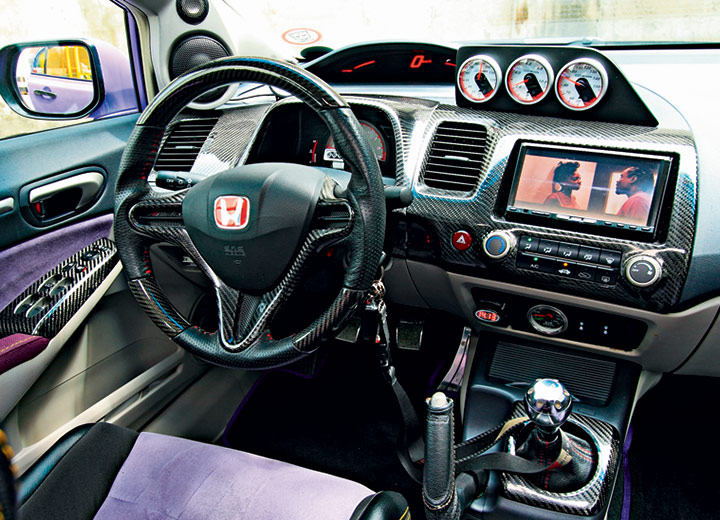 This same car was once painted a Ferrari-red color and fitted with an RR concept bodykit. But when Fiorel began to notice that a lot of other Civic owners were going for the same look, theme and paint job, he decided to go all out with something different. with the assistance of randy Lao of Autobot Paint and Bodyworks, Fiorel's vision of making a unique show-stopping Civic became a reality. He sourced all the parts, and Randy put the car together. While this might sound simple enough, there is plenty of work that goes into making sure a bodykit fits properly. "It was a challenge," says Randy. He also tells us that this Honda is the only one that's mounted with this type of JDM bodykit here. Work on this Civic began one month before the 2011 Manila Auto Salon. For something that was put together in such a short time, the car is indeed looker.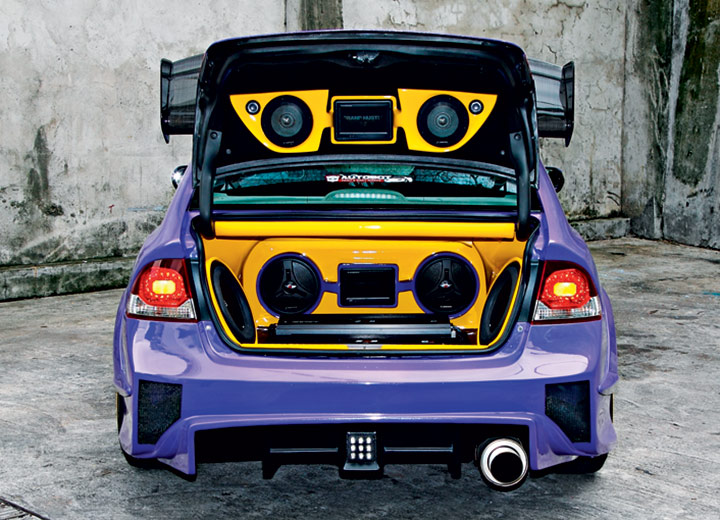 Making way for the motor and reservoir tank of the air-ride suspension (which can be set via remote control) at the rear are two bucket seats. the trunk space was already taken up by the pro-level sound system. It helped that Randy knows his way around the -generation Honda compact sedan because he does most of the work for the team car club. Fiorel is also the president of the aforementioned group, so his car has to be special. Fiorel works as an executive in a chemical manufacturing company. He shares that it is a stressful job, so he really puts as much time as he can into his hobby. "Pag nakikita ko ito, nawawala ang pagod," he sighs. Does his wife mind? "Wala nang magagawa 'yung wife ko," he laughs. "talagang hilig ko eh." (Paulo Rafael Subido, TGP Dec. 2012)

Rich Ngo's Honda Civic (FD)
Q: Your vehicle is obviously influenced by the Civic Type R. What is it about the Honda icon that you like so much?
A: I like its clean lines. Everything—from the bumper to the side skirts to the rear wing—accentuates the Civic FD's body. It's aggressive, but not too racy.
Q: Did you plan the look when you purchased the car, or was it a gradual process? How long did the project take?
A: When I first saw the Civic Type R, I immediately fell in love with it. So, even before I bought my Civic FD, I was already asking around about aftermarket items. I made sure I could at least make my ride look the part. It took me a whole year, and a good amount of help from my Honda Club Philippines friends, to build. But it's worth it.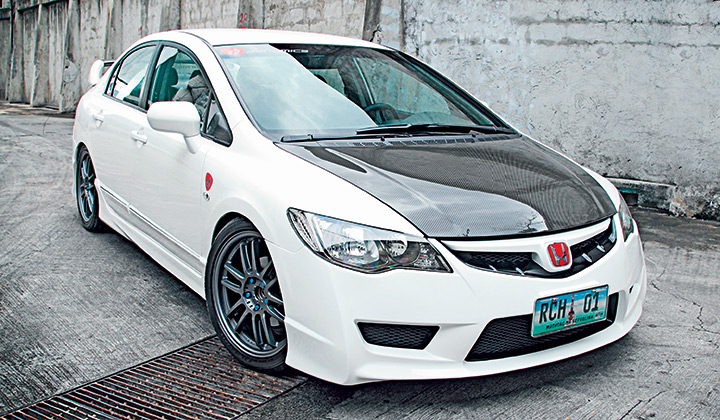 Q: Your influence leans toward JDM. Why is that?
A: Honda is Japanese. I believe any Honda in its truest form has to be JDM. The biggest aftermarket support for the Civic has always been from Japan. I love the sleek Japanese designs. When it comes to both form and function, you can't go wrong with the Japanese.
Q: Your Civic has a subtle bodykit as opposed to one that screams for attention. How did you attain that look?
A: A few things. First, the drop. The lower your car to the ground, the better. The only way I got my car this low without sacrificing ride comfort is through Dynamics Performance Engineering. Second, the rims. I believe that your rims define your car. I chose Rays Engineering 57 Ultimate in gunmetal. Rims in this color gave the much-needed contrast to help achieve the look I wanted. And finally, the carbon-fiber hood. When you modify a white car, this type of hood is a must!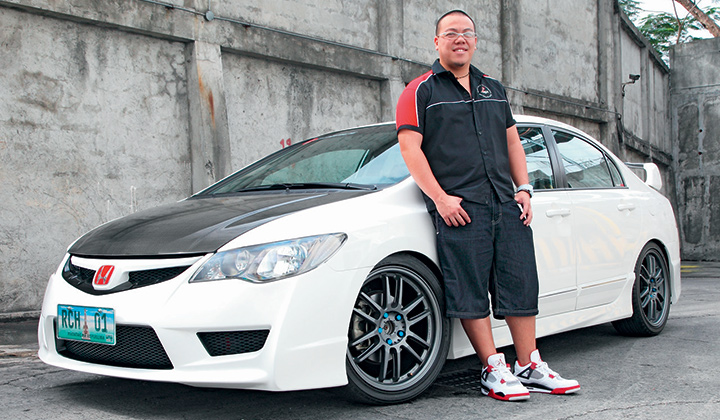 Q: Do you still have any plans for modifying the engine?
A: Just a K&N Typhoon intake in the near future. I have no plans of racing my car. It's my daily driver and I'd like to keep it as simple as possible for both reliability and ease of maintenance.
Q: Some people say that the performance of the newer Civics is muted compared to that of the older ones. Do you have the same sentiment?
A: Admittedly, the newer Civics are slower in a straight line than the previous ones, but that doesn't mean they aren't as fun to drive. In fact, the latest models are even more rigid than the earlier generations, and with the right parts, they could still be faster all around.
Q: This is already your second Civic. What makes this car so special to you?
A: Civics are very economical cars. They're reliable and easy to maintain, but they're not boring. And, if ever you decide to modify this car, you won't ever run out of options because the aftermarket support is just overwhelming. (Jason Dela Cruz, TGP Feb. 2013)
Alain Robin Uy's Honda Civic SIR

Why did you choose the Honda Civic SiR to be your car?
I chose this model because it was the most powerful 1.6-liter car Honda sold in our market back then, and it still has a lot of aftermarket parts available compared to other cars sold locally. This car is my dream ride.
Q: How does this car—which is more than 10 years old—compare to newer ones?
A: In my opinion, newer models are more focused on ride comfort and good fuel economy, while the SiR was built more for performance.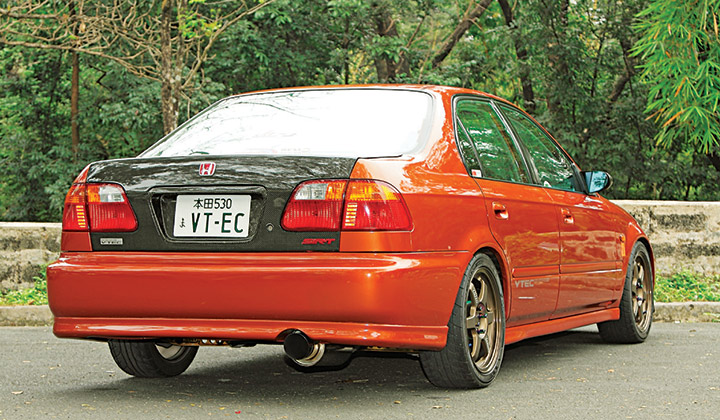 Q: How did you get into car modification, and what is your modification approach?
A: My dad—also a dentist like me and an owner of fast cars—influenced me to start liking cars when I was young, but the majority of the influence came from the Honda Club of the Philippines (HCP). I spent hours browsing our tech-talk forums. My car was built slowly over a period of four years; I started modifying it after I joined my first HCP Subic track day in 2006. Since then, I've been hooked. I wanted a car that can be used almost every day but can also withstand track abuse on weekends, and still look good enough for car shows. I chose a JDM theme and my car was tuned to run on the circuit.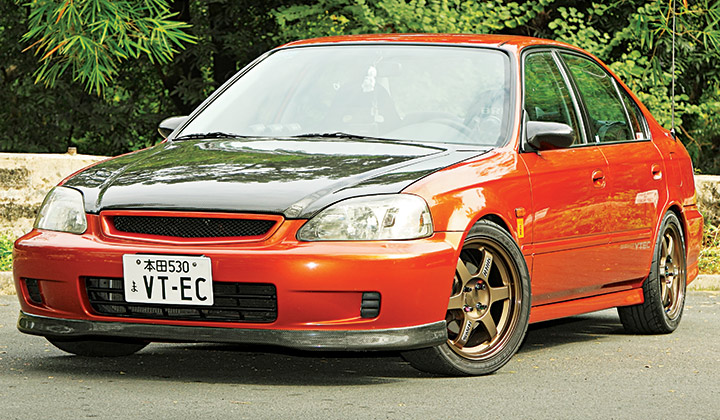 Q: From a tech standpoint, what's your favorite stock feature of your SiR, and what's your favorite modification?
A: My favorite stock feature is the engine because of its factory power rating. Meanwhile, my favorite modifications are the programmable engine-management system, which brought out the full power potential of my car, and also the Cusco Zero2E with Econ suspension setup, which adjusts for ride height and stiffness.
Q: Is there any advice you can share when it comes to fixing up a car to make it go fast?
A: Go step by step in modifying a car. Do your research and ask around before modifying. Find a good tuner and shop that will help you achieve what you want. Be patient. (Sharleen Banzon, TGP March 2011)