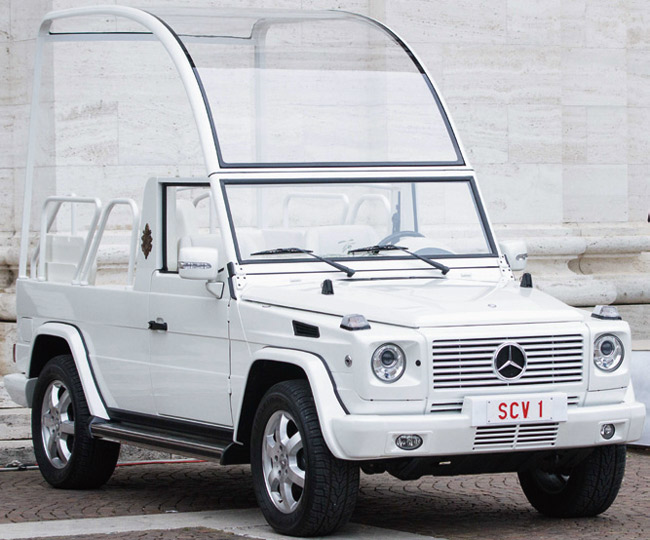 Yesterday marked the 78th birthday of Pope Francis, the reigning pope of the Roman Catholic Church. Born Jorge Mario Bergoglio, the Pontiff has been known for his humility. This humility is also reflected in his choice of smaller cars as his ride.
To celebrate his birthday and to prepare you for his Philippine visit next month, here are some facts we bet you didn't know about Pope Francis, his modest cars and the Popemobile:
* According to Our Pope magazine, the Pontiff's official ride to events is a blue 2008 Ford Focus, driven by a chauffeur.
* For trips around Rome, Pope Francis's car of choice is his 1984 Renault 4, which was a gift from an Italian priest.
* The Pontiff's Ford Focus has a registration plate of SCV 00919.
* Popemobiles are specially designed vehicles for the Pontiff. Some are open-topped vehicles, which Pope Francis prefers, while some have bulletproof glass. The latter was developed after the first attempt to kill Pope John Paul II took place in 1981.
* Before the era of Popemobiles, the Catholic pope's mode of transport for public appearances was the sedia gestatoria (gestatorial chair). Popes would sit on this chair, which would then be carried by 12 men on their shoulders.
Continue reading below ↓
Recommended Videos
If you'd like to read more about Pope Francis, the Popemobile and the itinerary of his Philippine visit in January, grab a copy of Our Pope magazine (published by Summit Media). It's available at newsstands for only P175.