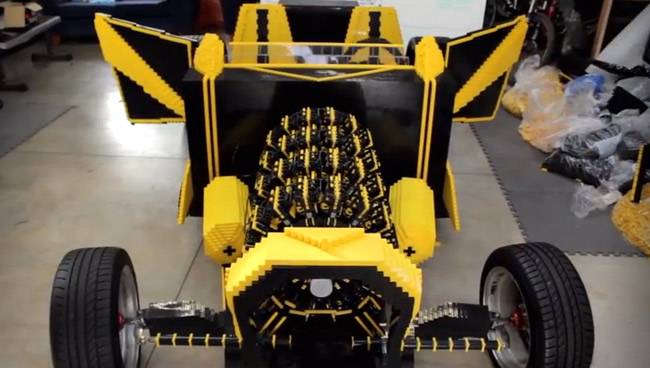 A lot of us grew up playing with Lego. As kids, we built cars, planes and various other things that might or might not have looked like what they were supposed to look like. But we were able to express our creative side through the construction toy. We've seen people take this to the next level by creating life-size Lego cars, but none of them can be driven.
Enter 20-year-old Raul Oaida, a young Romanian inventor who previously created a miniature Lego space shuttle that almost reached space with Melbourne-based entrepreneur Steve Sammartino, who helped fund that project. The two teamed up again for this much bigger project they dubbed "Super Awesome Micro Project."
Steve sent out this tweet to raise funds for the project:
"Anyone interested in investing $500-$1,000 in a project which is awesome & a world first, tweet me. Need about 20 participants...#startup"
He then later shared with Mashable a preview of his pitch for the potential investors who were interested to find out more about the project:
"In 2008, at the height of the global financial crisis, the three CEOs of the Detroit car companies hopped on private jets to fly to Washington and beg Congress for money. They did this because they didn't understand what the future looks like. Come with me and build a full-size car that runs on air, from toy pieces, with strangers on the Internet--and you'll be part of the future."
Continue reading below ↓
Recommended Videos
Within a few weeks, they were able to raise $20,000 (about P900,000). According to Steve, the entire project costs over $60,000 (P2,700,000). It was now up to Raul to work his magic and turn this dream into a reality.
This life-size Lego roadster is made up of over 500,000 Lego pieces. It's powered by compressed air stored in two small tanks. The compressed air is fed into the pneumatic Lego engine, which has 256 Lego pistons. This roadster can travel up to around 25kph. That may not be considered fast, but the fact that this roadster is made of Lego, it truly is quite an awesome achievement.
Raul's other amazing creation is a jet engine that he mounted onto his bicycle. This goes to show that the child in every genius never dies.
Do you have any memorable Lego creations?
If you're viewing this on a mobile device and can't see the video, please click here.