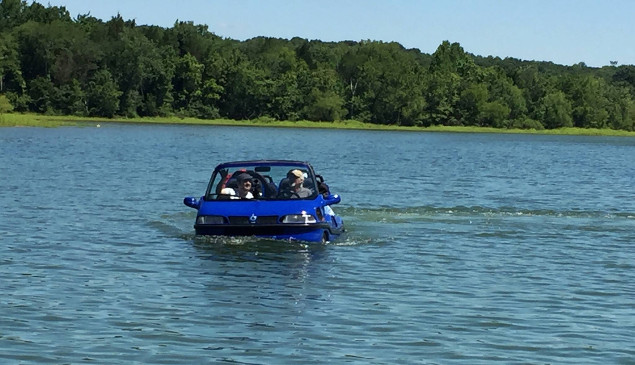 Pictured above is the Hobbycar B612 on a good day. Taken in August 2016, the photo marks the very first time that Lane Motor Museum tested the water-treading capabilities of its amphibious vehicle, which was designed by François Wardavoir and unveiled at the Paris Motor Show in 1992.
Unfortunately, the Hobbycar's latest voyage wasn't all smooth-sailing—the quirky little thing instead made news a few days ago by "touring the bottom of Percy Priest Lake" in Tennessee, as Lane Motor Museum stated on its Facebook page. The mishap took place on August 12. The good news is that no one got hurt, and the museum's other amphibious vehicle, a 1964 Amphicar, was deployed to ferry the Hobbycar's riders back to shore.
Continue reading below ↓
Recommended Videos
According to its dedicated page on the museum's website, the French-built Hobbycar B612 has a Citroen-sourced hydropneumatic suspension, and is propelled by a mid-mounted 1.9-liter Peugeot diesel engine that powers both the four-wheel-drive system and two 150kg-thrust hydrojets. It is steered on land through the steering wheel and controlled in water using a joystick. One of just 52 examples ever built, the capsized unit was valued at roughly $25,000 (P1.3 million) before its deep dive into murky waters.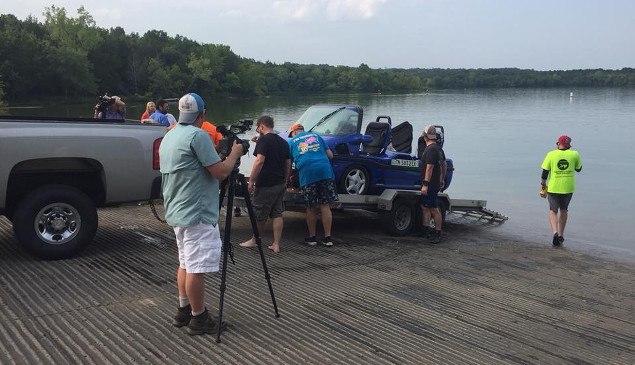 Lane Motor Museum successfully recovered the Hobbycar on August 15, after determining its exact location and depth using sonar equipment, then using flotation devices to pull it out of the water. "It's a lot cleaner-looking than I thought it [would be], and most of the bits and pieces seem to be on it," said Rex Bennett, the museum's education director, in an interview with Nashville Public Radio. "The gauges are full of water, and of course, the seats are kind of ruined right now. The internals and mechanicals, that's the big question. And of course, we want to find out what failed."
Here's hoping we see the Hobbycar back in action soon. In the meantime, here's a throwback clip of its successful maiden voyage: