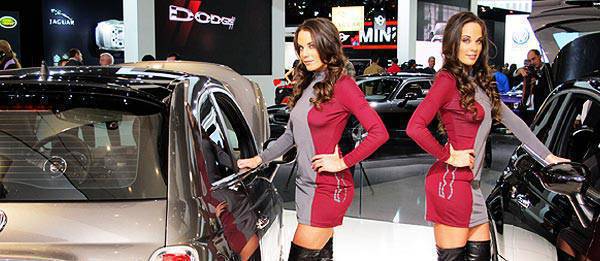 A car show without curvaceous women standing by the automobiles on display, is like an empty, stodgy showroom that nobody wants to enter. I'm not being sexist; I'm just making a personal observation as to what excites the predominantly male crowd at such a machismo-stoking event.
This year's North American International Auto Show in Detroit isn't lacking in stunning ladies. Interestingly, I discovered what I presume to be an ongoing trend among carmakers who participate in these car shows: Instead of hiring expensive models to lighten up their display areas, many of them simply ask their most pleasant-looking female employees to perform the task.
Continue reading below ↓
Recommended Videos
This has a couple of advantages to it. Aside from the obvious cost-cutting benefit, it also guarantees the carmakers that the women sashaying around their cars actually know the vehicles they are endorsing to the show's visitors. And if some dirty old man approaches them under the pretext of inquiring about the cars, at least they know what to say and can thus thwart amorous advances.
At the Detroit auto show, I noticed that most European carmakers--like Audi, Mercedes-Benz and Fiat--preferred professional models in enhancing their cars' aesthetic value. The rest merely had members of their own workforces put on some makeup and master the art of incessant smiling. And then a few asked their own pretty staffers to man the booth, but prohibited the latter from allowing themselves to be photographed. Precisely why I don't have pictures of women from Subaru and Mini, for instance.
It's easy to distinguish the hired models from the company employees. Mostly, you can tell by the thickness of the makeup and the gaudiness of the outfit. See if you can make the distinction by checking out all 16 photographs.