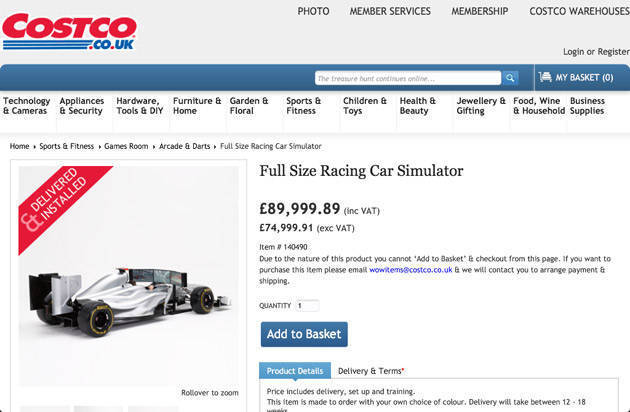 Behold the things you can buy on the Internet. So you can't just click "Add to Basket" and proceed to checkout with this, but yeah, Costco UK does have a full-size "F1 Style Show Car with simulation equipment" listed on its online catalog. And if you can afford its £89,999.89 (P5.76 million) asking price, the item will supposedly be shipped to you as with any other online purchase.
Imagine the field day the Customs people will have then.
This beauty, manufactured by FMCG International, has three screens, a force-feedback F1-replica tiller, AP Racing or Brembo brake calipers (don't ask why), Pirelli show tires, and carbon fiber galore. But while certainly impressive and expensive, it still has nothing on the simulators in which F1 teams have been investing a great deal of money since the in-season testing ban was implemented a few years ago.
The unit for the Shell Professional Simulator Experience, for instance, costs 350,000 euros (P19 million) and has bits taken from actual Ferrari race cars--and it's not even a full-on factory-spec simulator. The systems that F1 teams utilize for driver practice and parts assessment are much more complicated, with multi-axis rigs and hundreds of adjustable parameters. No doubt these are seeing a lot of use during this three-week break between the Chinese and Spanish GPs.
During the Singapore GP last year, we were fortunate to meet former McLaren, Red Bull and Ferrari employee Anton Stipanovich, the founder and head of All In Sports. His Modena-based company provides simulators to Ferrari and handles the simulation component of the Ferrari Driver Academy training program. Check out his interesting answers to our questions.
Can anybody just order a simulator from your company?
Our official Ferrari F1 simulator is exclusive to Ferrari owners, sponsors and partners. We have other simulators that we sell to persons outside Ferrari, but they are much bigger and more complicated to operate, and are mainly for vehicle development or professional racing drivers.
Simulator training plays a key role in young driver development these days, because of the testing ban. What is the extent of your involvement in the Ferrari Driver Academy?
The FDA uses an All In Sports simulator that is within our facility and dedicated to its program. We manage the simulator and provide a service using our physics models and tracks as per its requirement. Our simulator is also used by a large number of other teams for drivers to do preparation for their racing, and this allows me to propose to the FDA the drivers who I think are talented.
Say a driver tries out a track that's completely new to him on the sim. When he drives that track in real life, how close is he expected to get to his best sim lap on the initial runs?
Very close, but it really depends on the grip level of the track on the day. Some tracks are very predictable in terms of the way they build up grip over the course of an event, and on the major tracks, we have a lot of experience so we can predict accurate grip levels. Simulators have many uses, and only a small percentage is proportioned to track familiarization. Teams will have their own unique techniques and styles of training their drivers, very much like professional football coaches. These are closely guarded secrets and we never disclose these.
Sergio Perez is a product of the FDA, and has now been snapped up by McLaren.
I know that Sergio is an enormous talent, and he can, without any doubt, be a future world champion. It can be said that teams will not only select drivers due to their skill, but also for strategic reasons.
Here's a delicate question: Fernando Alonso has one of your simulators at home, while his teammate Felipe Massa doesn't. Is this a team decision, or does Felipe simply prefer not to take home his work, so to speak?
I can't comment on this.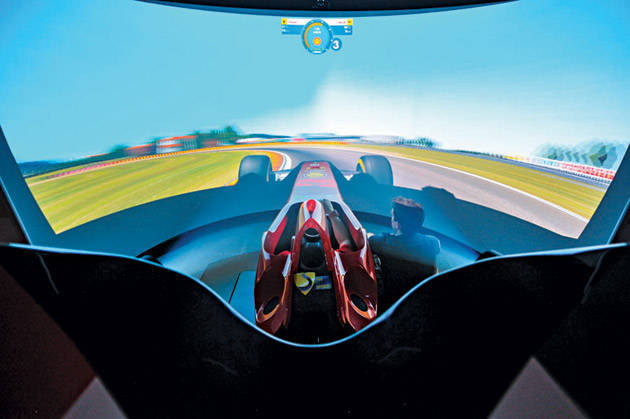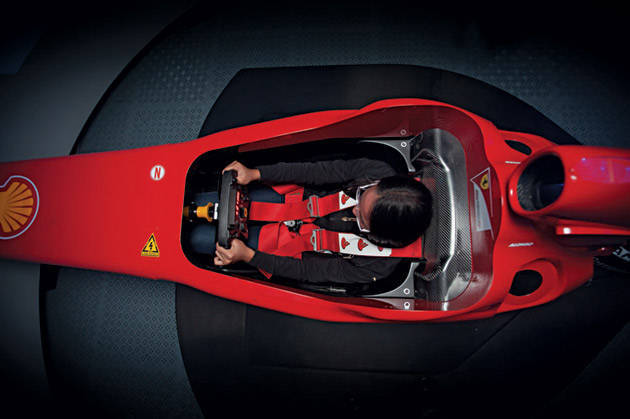 Top photo from the Costco UK website
Shell Professional Simulator Experience photos by Mikko David