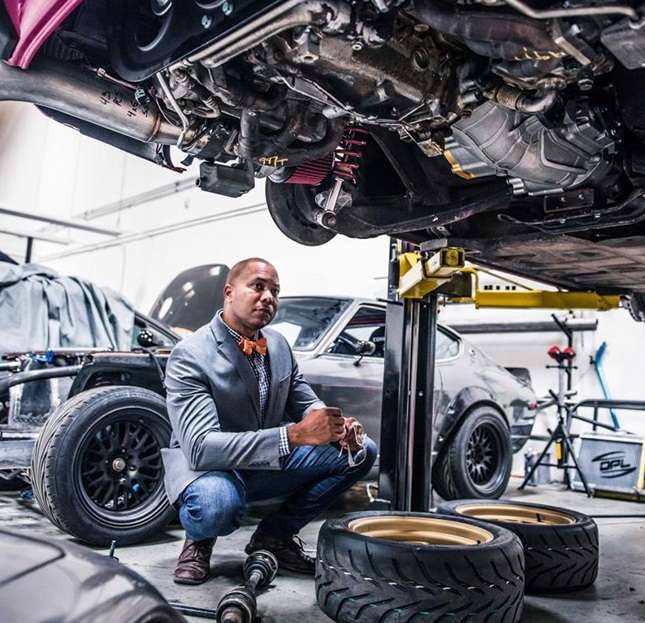 Fixing my gaze onto his little orange bow doesn't help. This is very real. This is happening. I think my brain is actually going to explode.
That's what it feels like when I enter the third hour of dense conversation with Bisi Ezerioha. Listening to Bisimoto Engineering's inimitable and engaging founder reel off chemical structures, scientific formulae and data as if he were a fleshy operating system, while applying them to his toy box of physics-bending Frankencars, has been some kind of academic waterboarding.
Continue reading below ↓
Recommended Videos
To Honda fans, Bisi is known for bending physics. To drag racing nuts, he's "that" crazy obsessive alchemist of naturally aspirated power. He's recently polarized the Porsche community, too. Plus, given your mom the ability to do front-wheel-drive burnouts in a 1,000hp people carrier.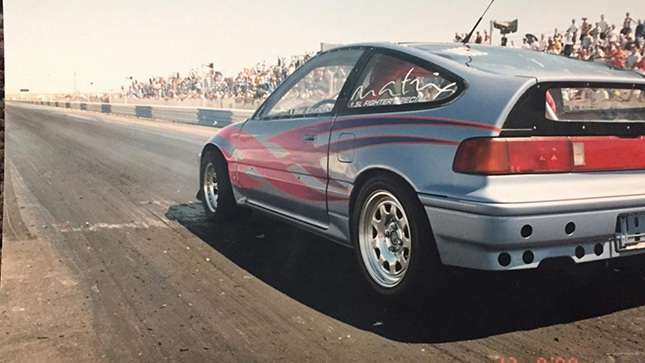 It all started in Nigeria back in the early '70s when a young Bisi uttered his first word—"car." Being the first child of six growing up in a household of scientists (his mother a biochemist, father a geologist), he was quickly weaned off baby milk and onto a diet of the periodic table and books. He attended university—aged just 15—to study chemical engineering, but it was when he emigrated to the USA at 16 to continue his studies that things got interesting.
Needing a cheap, reliable runaround, he bought a Honda CR-X. When its exhaust punctured, amplifying the little Honda single-cam engine's addictively zingful rasp, he decided to modify it, and with his scientific background this wasn't going to be a shoddy job.
"Technical things come to me quite easily," he says. "And I love figuring things out and making them better. So I applied that to my passion for cars."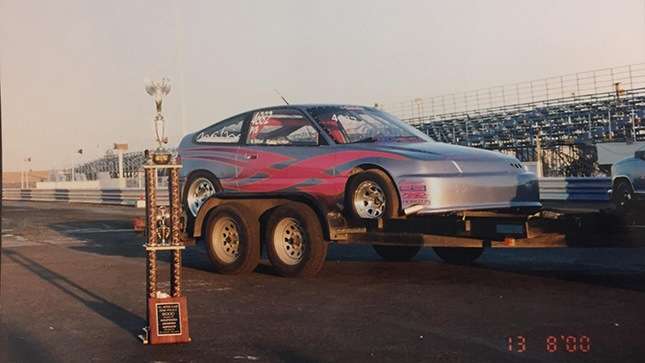 He became obsessed with the single-cam engine: breaking it down, finding its limits, where it could be improved and applying changes to see the results. It became a four-wheeled science experiment. At its peak, his 1.6-liter CR-X made 238hp. Back then, with that engine and no forced induction, the figure was dubbed witchcraft.
Not having access to a drag strip, he fell into the early '90s Compton street-racing scene. "They were the times of my life," he says. Profitable, too. With some races carrying a purse of $10,000, it was good money for a student. He started making a name for himself.
By now, Bisi was well and truly bitten by the go-faster bug. He entered the pharmaceutical industry to make enough cash to finance a semi-professional drag racing career. Clearly, he needed a new ride.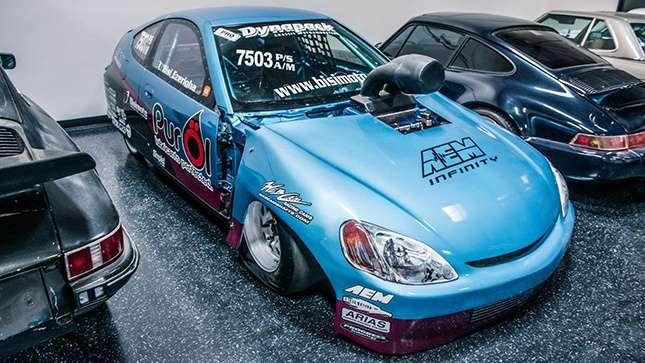 Not one to go for the easiest option, he bought a first-gen Honda Insight. Yep, that largely neglected humdrum hybrid was set to be a drag car. "I saw it on the road and thought, 'That's a race car!" Bisi says. As you can imagine, he'd done the sums. "It has a drag coefficient of 0.25—a godsend! Do you know how much that saves? Even though it weighs slightly more than my CR-X, I gained two-tenths and five miles per hour per quarter-mile with the same engine."
But being an engine fanatic, he also had plans for what should go under the hood—settling for an uninspiring lump out of a 1991 Accord, an engine with no recognition and that no one cared about. But Bisi belligerently wanted to show that hard facts can overrule fads. Plus, as a scientist, he knew that the key to making power was in the cylinder head.
With 480hp, it was the most powerful naturally aspirated SOHC Honda engine in the world. And the Insight was the first naturally aspirated Honda to break the 241kph barrier in the quarter mile, as well as become the first to do so in only nine seconds while running petrol.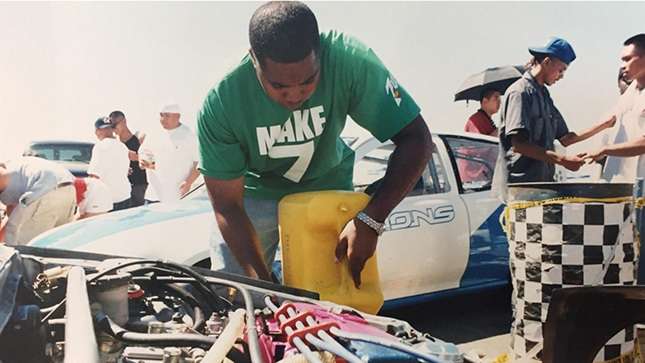 Not wanting to pay the extortionate mark-up for race fuel, Bisi also made his own high-octane moonshine. This pissed people off. So to retaliate, he altered the chemical balance of the fuel to make his exhaust smell like fruit punch or grape (he tried chocolate—"it smelt nasty").
The Insight elevated him to godlike status in the scene. It kept smashing records. Bringing plenty of trophies—and attention—his way. Notably from other racers who wanted him to manufacture bits for them. So, in 2006, he set up Bisimoto Engineering in Ontario, California.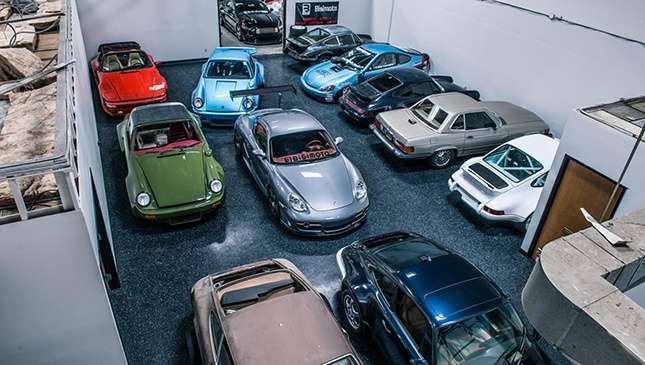 That's the laboratory that I find myself in, a 15,000-square-foot industrial unit that acts as a torture chamber and test facility for Bisi's skewed imagination. It has everything he needs, an engine room, dyno, fabrication center and wears the tidiness of a toddler's playroom.
Since his retirement from racing, Bisi has gone big into turbocharging. He's now very well known for building cars with four-figure power outputs whilst retaining drivability and performance. He's also really into Porsches—currently owning over a dozen—all scattered in various states of tune and completion.
They include two slantnoses (both dirt-cheap Craigslist specials—one real, the other fake and liberated from a drug dealer in Inglewood), a twin-turbocharged 500hp Cayman and a pink psycho sleeper SC that looks fairly stock but hides a 996 GT2's engine and a Cup car sequential gearbox under its skin.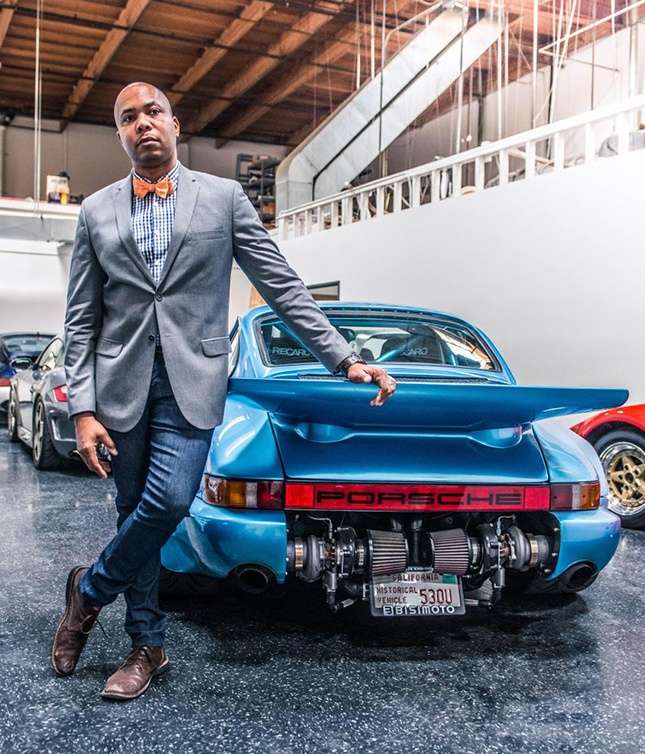 But the 911 that Bisi used to prove his scientific tuning philosophy was transferable is his electric blue 930 Turbo. It's hard to miss, primarily because its twin top-knot turbos hang under the exposed bumper like a pair of shiny gonads.
Using the revered 930 body—a notoriously spiky car nicknamed the "Widowmaker"—as a base, Bisi wanted to add more power to an already white-knuckle car. In order to throw a curveball at the Porschephiles, he used the unreliable bastard engine from the 996 (the largely unloved amorphous shaped 911 with fried-egg lights). His mission statement was to prove he could do a better job at reliability than the Germans while also getting over 1,000hp from it.
"People saw the worst Porsche engine ever; I saw an opportunity," he says.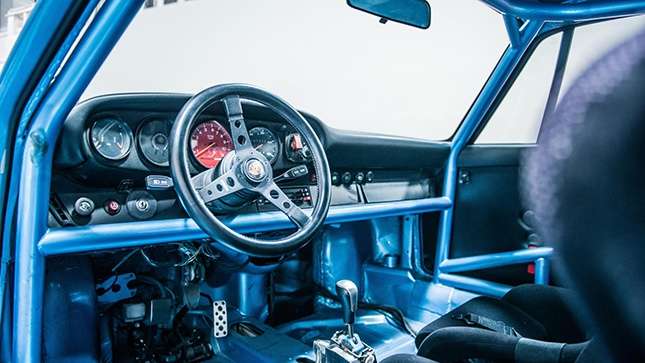 He lugged an expired one into his engine room, broke it down, examined the mechanical catastrophe, pondered, re-engineered and then reassembled it with his own parts. Oh, then stuck two whopping-great 65mm turbos on it for good measure.
He fed it to his dyno, and his dyno didn't like what he made. "It shut down at 1,120hp," he says. "I was beyond excited." But instead of finding a beefier dyno to stick it on, Bisi hopped into the driver's seat and tried some field testing. On a side street by his facility, he built the boost and dropped the clutch. The car had so much power and traction the car wheelied down the street.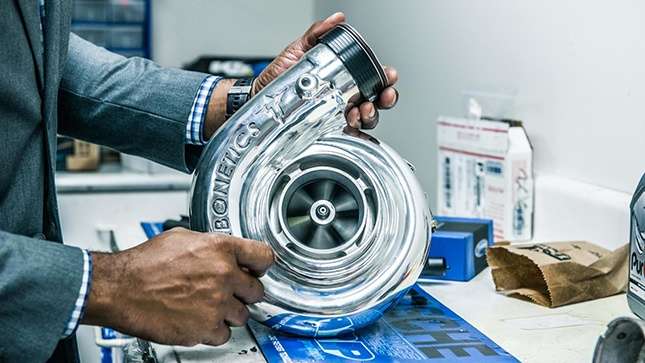 Suitably terrified, Bisi returned to his shop and castrated the turbos immediately…then fitted slightly smaller ones. It currently has 860hp at 16psi, which in Bisi's crazy world is, apparently, "perfect."
This reputation for mad figures and changing perceptions has led Bisi's main work to be commissioned manufacturer builds for SEMA—the tuning industries' annual Mecca in Las Vegas.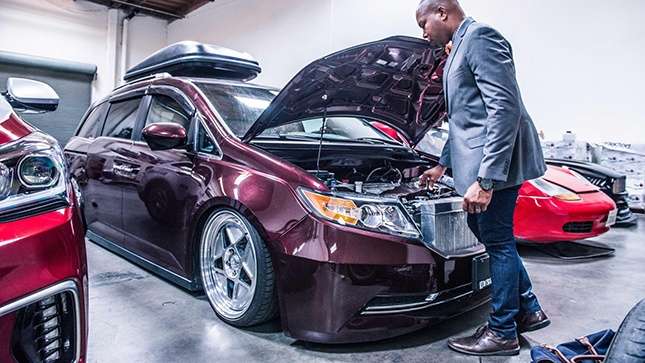 Companies like Honda, Hyundai and Ford give him a mundane car, a load of cash and say "do your worst." As you can imagine, this is a red rag to a bull. His previous works include a Honda Odyssey minivan with over 1,000hp going through the front wheels, a rear-wheel-drive, manual gearbox Santa Fe with over 1,000hp and an EcoBoost Ford Mustang with, you guessed it, over 1,000hp.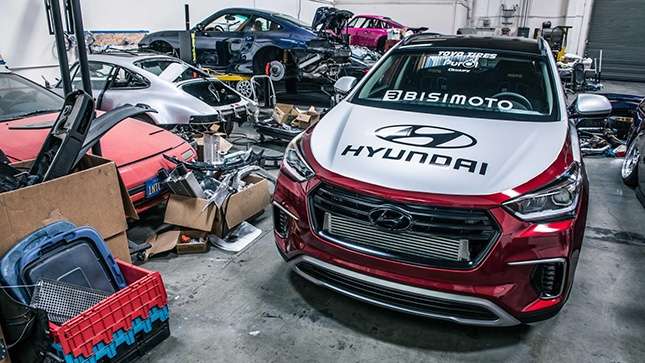 But where does it go from here? "I like setting very lofty goals and achieving them," he says, spooling up with excitement. "I really want to sink my teeth into combining super hybrid technology with high-horsepower petrol engines—something I'm going to explore hopefully next year."
What that basically means is a McLaren P1's torque-fill (using an electric motor's instant torque to fill in the big turbos lag) on steroids. It has potential to be crazy. Do I doubt that he can make it work? Well, given his faultless record so far, I wouldn't want to bet against it. But I may need a Bisimoto upgrade for my brain before I can get my head around it.
NOTE: This article first appeared on TopGear.com. Minor edits have been made.