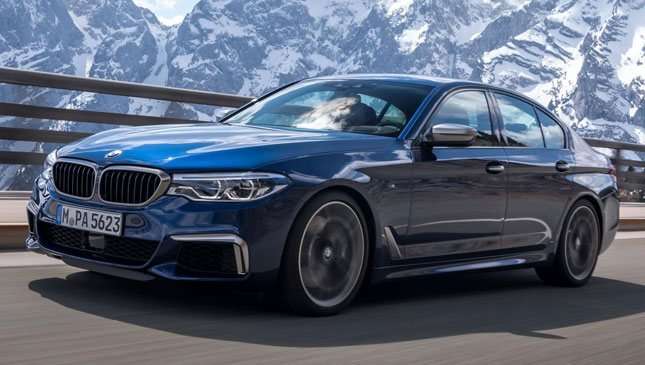 This is another one of those nearly M cars, isn't it?
It is indeed: the M Performance treatment, which has turned out none too bad for the M140i, M240i and M760Li, forged into the shape of the new BMW 5-Series. Meet the new BMW M550i xDrive.
The new 5-Series is an excellent car. Best executive sedan in the class bar none, and here it offers a 462hp, 649Nm, 4.4-liter V8. With two turbochargers, no less.
Isn't that the engine that lives in the current M5?
Well spotted. Though the power figures are way down on what the outgoing M5—and new model—will give you, this is indeed a V8 sharing much with the quintessential super sedan's engine. Here, it offers maximum torque at a barely-there 1,800rpm. That's dealt with by an eight-speed automatic instead of an M-honed dual-clutch gearbox, and delivered to the road via all four wheels.
Continue reading below ↓
Recommended Videos
So it's an AWD mini-M5…or a dead-on Audi S6 rival.
You've got it. One rung below the flagship, and a bit less angry for it. BMW couldn't let Mercedes release the E43 AMG unopposed, right?
But it'll have been held back from its full potential, won't it?
Hmm. What if I told you the M550i will obliterate a current M5 in a straight line, despite being almost 100hp down?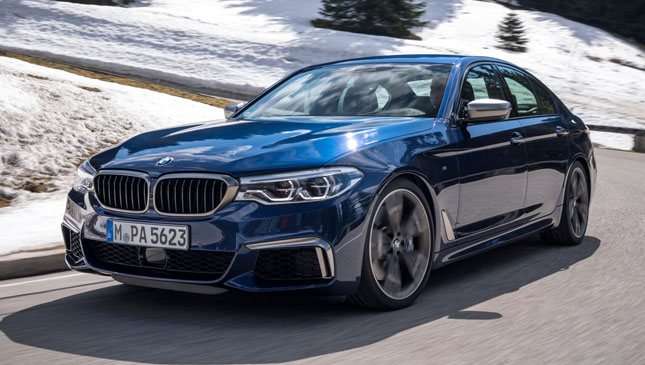 I'm listening.
It's thanks to all-wheel drive, as you've probably guessed. BMW claims the M550i can do 0-100ph in 4.0 seconds. Having felt it leap unfussed from standstill then surge effortlessly into triple-digit velocities, I'd say that's conservative. Bet it'd dip into the threes on a good run, getting to 100kph almost half a second ahead of the M5.
Yes, that's the old M5, and yes, a way quicker, all-wheel drive M5 is waiting in the wings. But for now, this is the fastest Five you can buy, and it'll dispatch a Jaguar F-Type SVR or Porsche 911 Carrera for kicks, while looking almost identical to a 520d. Q-cars are just one of motoring's greatest pleasures.
Will my unsuspecting victims hear me coming?
Let's just say plenty has been left on the table for the M5. Thumb the starter button and there's the briefest of V8 rumble before the revs quickly settle into a professional hum. You set off. You go very fast. But the note is always restrained. It's not faked, not strained, but there are no crackles on the overrun, only the merest whump on the upshift.
You'll quickly forget the engine is turbocharged, because it revs freely to 7,000rpm and BMW's chosen an incredibly sharp throttle map that might even be too staccato for the M550i's own good. But this is a V8 without the histrionics. It ought to jump ship into the M3: it'd improve that car's personality tenfold overnight.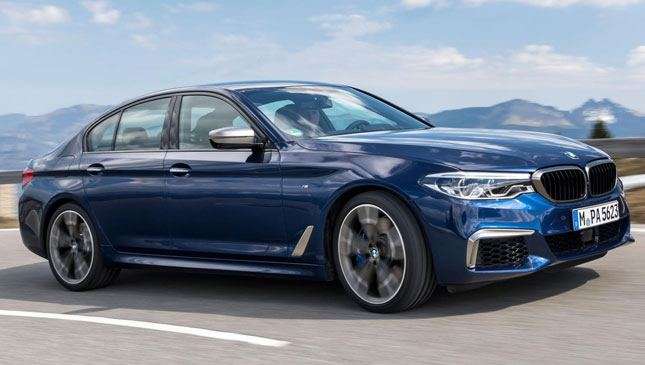 What about corners? Is it allowed to do those as well as a proper M car?
Caveat time: we had to drive an M550i fitted with winter tires, because the Germans were wary of some intermittent snowstorms around Munich. In the event, it was 17 degrees on the day and the car suffered for its squidgy, squealing rubber. Imagine competing in school sports wearing rain boots. You're always going to be at a rubbery disadvantage…
That said, there's enough evidence here that this is a tidy handling car. It steers faithfully and accurately, with so much less weight than the old Five (BMW's Active Steering, which changes the rack speed as you speed up, has come on quite substantially—take note, Audi), and with no corruption from sending considerable amounts of power to the front wheels. It is a rear-biased four-wheel drive system though, and you can sense that, which is great. If understeer builds, lift off momentarily to settle the car then plant the gas. The M550i neutralizes its balance by pushing power to the rear, then leaps out of corners.
Just remember to lift back off before speed becomes license and liberty-threatening. God, it is rapid point-to-point, with quicker accelerator response, sharper turn-in, and a more rounded character than a Mercedes-AMG E43. That's merely a big comfy Merc barge with a naughty engine incongruously mounted up front, for me. But the Five feels more honed, with a bit more M Division blood in its veins than the E43 has AMG in its system.
Go really fast—oh so easy in the Five-Fifty—and there's pronounced body roll even when you firm up the adaptive dampers, but this is an everyday road car, and the pliant, luxuriant ride is a fine pay-off. No-one's taking one of these on track. The M5 still has room to evolve, to get more hardcore, to create its own weapons-grade USPs.
Anything else?
I ought to have told you this earlier instead of building your hopes up, but sorry, this one's not for you. BMW says the USA, Germany, Canada and Russia will be big markets for the M550i, with snowy climates and a need for teleportation playing well to the all-wheel-drive, 460hp repertoire.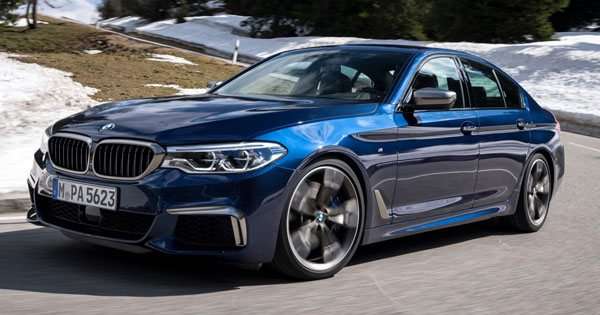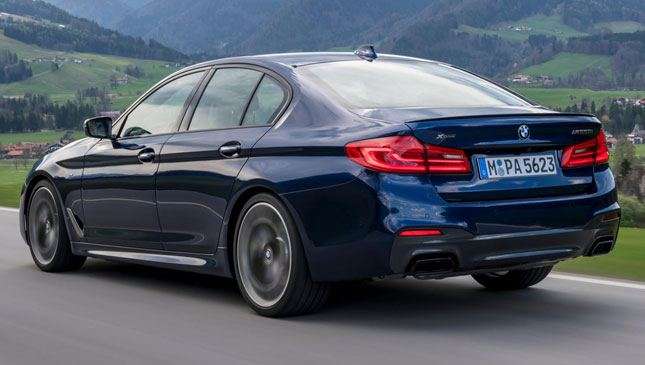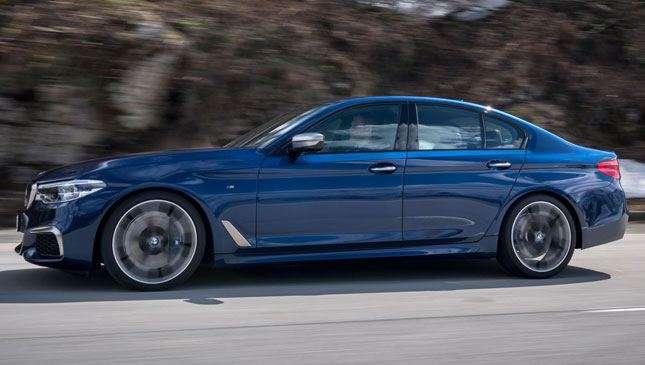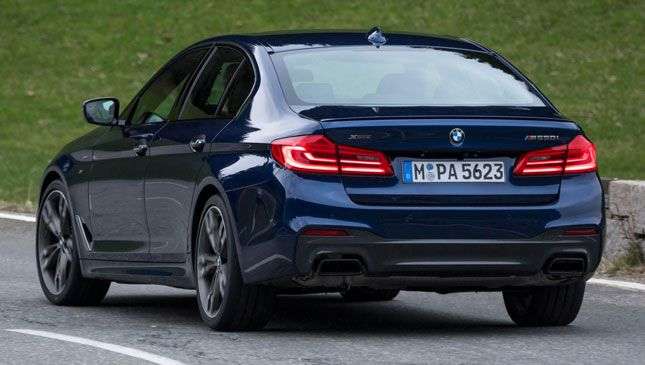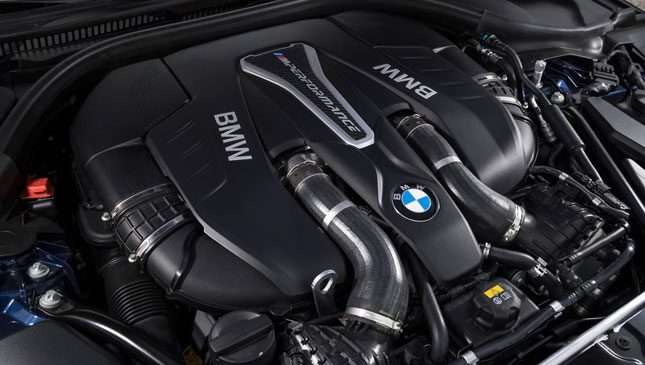 NOTE: This article first appeared on TopGear.com. Minor edits have been made.