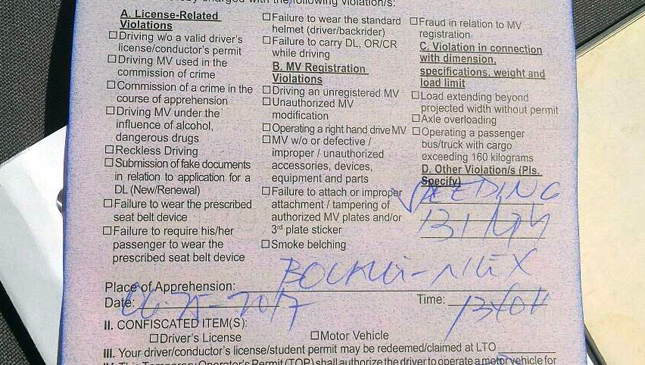 We've all considered putting the pedal to the floor at one time or another, especially when the asphalt underneath is nice and smooth, and the road up ahead is clear. Our expressways are in very good condition as well, so the temptation is always there. Some folks break the speed limit intentionally, while others aren't even aware of how fast they are going. Sometimes the scenery is just so nice, or they are cocooned in a plush automobile and just plain forget how good modern cars are nowadays. Here are two stories of close friends who were caught for speeding, as told to Top Gear PH.
Continue reading below ↓
Recommended Videos
"I ended up speeding on my way back to Manila from San Fernando because I was trying to keep up with a pair of big bikes. When I arrived at the Bocaue toll plaza, I was flagged down before I reached the toll booth. The officer told me that I had a speeding violation. I asked if I could just settle the fine right then and there. He said no. I then asked why I was the only one who got caught, and not the two motorbike riders who were even faster than me. "Ikaw lang and tinamaan ng laser, eh," was the patrol officers reply. I gave up my license, and was told to go the LTO main office in East Avenue after four days (because a holiday was coming up). I arrived at LTO early and was the first in line. I paid P1,077 and got my license back." - Joe R.
"We were driving on SCTEX on our way to Bataan for the weekend. When I arrived at the Dinalupihan exit, I was stopped by an enforcer. He was wearing a body cam and everything. He explained to me how fast I was going, and in what area exactly. He was very professional, actually, and I couldn't argue with him because his report was super detailed. He told me when and where I could claim my license and pay the fine (LTO East Avenue). I paid roughly P1,000 and change, and was told if I was caught again the fine will be bigger and I would need to undergo a seminar."- Junior B.

Here's some friendly advice from us:
1)
Pay attention

Road signs with the minimum and maximum limits are posted for all to see.
2) Don't try to bribe the officer
The reason why all the tickets are forwarded to the LTO main office is so that money doesn't exchange hands on the expressway. This is a good safeguard against corruption on both ends.
3) Don't give excuses
The traffic enforces have heard it all. Our favorite one has to be: "Mabilis ang kotse ko, eh." Please note that these scenarios happened on the expressways and not within Metro Manila. Here's a link to our story about the updated speed limits in the Philippines.
We also called Nida San Buenaventura of LTO Pasig and she reminded us that different areas within Metro Manila have varying speed limits. Also, the fines meted out by the MMDA are different from the LTO. Wait, what?
The LTO fines for overspeeding are as follows:
1st offense: P2,000
2nd offense: P3,000
3rd Offense: P10,000
Here are some important notes: "The driver's license shall be suspended for a period of three (3) months after the second offense and six (6) for the third offense. The license will be revoked after the third offense. A non-professional driver with a revoked license shall be disqualified from getting a new one for a period of two (2) years"
Here are the MMDA fines for overspeeding:
Overspeeding in Macapagal Avenue (a location known for illegal drag races): P2,000
Overspeeding with physical apprehension: P1,200
We know what you are thinking. Even we agree that this is a bit confusing. Just to be on the safe side, be aware of the speed limits and don't break them. If you need to scratch that itch for speed, head to the racetrack or join a sanctioned motorsports event.