We recently shared a ride-through video of the Cebu Cordova Link Expressway (CCLEX) featuring a small-displacement scooter in the Yamaha Mio Gear. We're sure a lot of you are curious about what's it like going across the expressway on a bike as small as this.
If you yourself are looking to ride through CCLEX anytime soon—whether you live in the province of Cebu or you're a tourist wanting to try it out—there are a few things to keep in mind. We'll go through them quickly here.
OTHER STORIES YOU MIGHT HAVE MISSED:
Report: Senator to oppose bills requiring rider club membership, banning lane-splitting
NCR mayors show unity in continued implementation of no-contact apprehension program
What types of motorcycles are allowed?
All motorcycles that have an engine displacement of no less than 125cc are allowed to enter CCLEX. Doesn't matter if it's a manual, a scooter, or a vintage bike. Weight won't be a factor, either, as authorities will only look at the bike's displacement.
ADVERTISEMENT - CONTINUE READING BELOW ↓
What's the speed limit for small bikes on CCLEX?
The expressway is designed for vehicles to run at speeds as fast as 80kph, but tollway operator Cebu Cordova Link Expressway Corporation (CCLEC) has set a 60kph limit on the causeway and a 40kph limit on the main bridge and curves. This limit is the same for both cars and motorcycles.
Is there a dedicated lane for small motorcycles?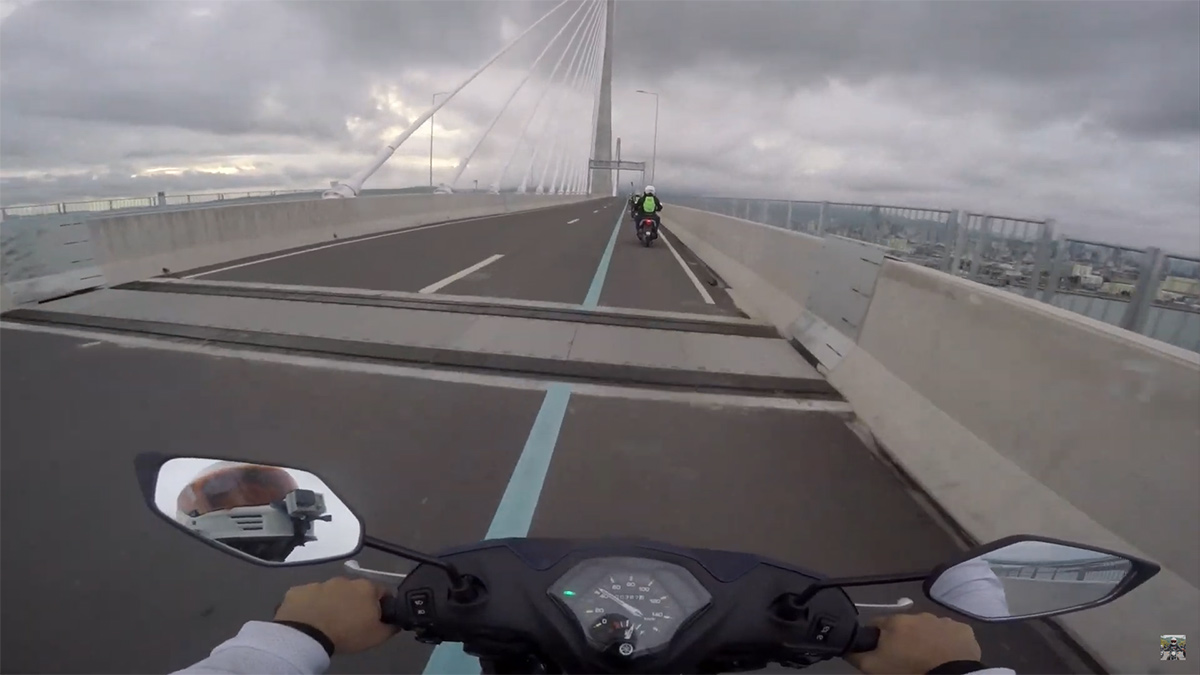 ADVERTISEMENT - CONTINUE READING BELOW ↓
Recommended Videos
Yes, there's a designated motorcycle lane located on the right side in both directions of the CCLEX. This lane is marked blue. Overtaking is strictly prohibited, so take note, lest you end up getting a ticket from the Land Transportation Office-deputized traffic enforcers.
What are the other restrictions?
Wearing flip-flops, sandals, and slippers is prohibited, so make sure you are wearing proper riding gear. Motorcycles carrying loads that block side mirrors and cover the tail- and signal lights are also not allowed on the expressway.
How much are the toll fees for 125cc to 399cc motorcycles?
Small motorcycles are classified as Class 1M vehicles and are entitled to discounted toll fees. Whereas bikes with engine displacements of 400cc and up will be charged P90, small-bike riders will only have to pay P60. Motorcycles have a dedicated toll lane.
Is backriding allowed?
Yes, but only one backrider or pillion rider can ride on the motorcycle. Children are also allowed to backride, provided they are wearing helmets and can comfortably reach the standard peg.
ADVERTISEMENT - CONTINUE READING BELOW ↓
Are small motorbikes allowed to get RFIDs?
Yes. There's a dedicated RFID that CCLEC uses. You can watch out for announcements through the official CCLEX Facebook page regarding RFID installations for small-displacement motorcycles or check the CCLEX website for more information. Once they get their RFIDs, riders may also use the MPT DriveHub mobile app to monitor their account and reload as needed.