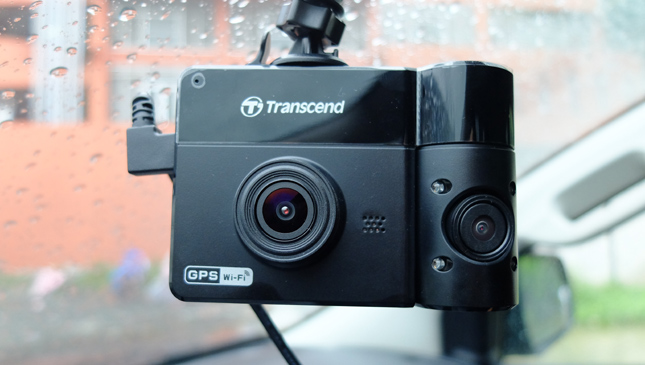 With the amount of new dashcam review units that are constantly making their way to our office, it's becoming difficult to find models that truly stand out. But this one, the Transcend DrivePro 550, genuinely manages to impress with its two-camera setup.
The first camera is your standard, front-facing lens with a 160-degree viewing angle, recording in 1,080p full HD and an F/2.2 aperture. The rear--with its ability to do a 180 and record what's going on inside the cabin--is what really grabbed our attention. It records in 30fps 720p, F/2.8, and has a 110-degree viewing angle.
Continue reading below ↓
Recommended Videos
If we're being honest, the quality of the main camera isn't exactly spectacular, but it gets the job done. Plate numbers are easily read within a few feet of the vehicle, but farther than that and you're going to have to squint a bit. Nighttime footage fails to impress though, as numbers are difficult to decipher unless you're in serious traffic.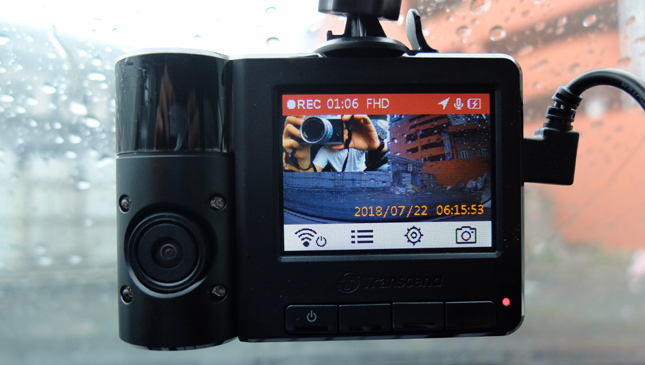 On to the rear-facing camera. It doesn't provide the best quality by any means, but plate numbers can still be read during the day and its ability to face just about anywhere on the driver's side makes it a great feature to have. It will record angles which would otherwise be left unnoticed by standard cameras, including the cabin and its occupants.
This could prove to be a great feature for Grab drivers wary of taking on passengers late at night, as it can clearly capture faces in the back seat even in uncooperative lighting conditions (outdoor night footage though leaves much to be desired). As to whether equipping a ride-hailing vehicle with a dashcam like this is a breach of privacy, according to our legal columnist, the driver must inform the passengers that they are being recorded.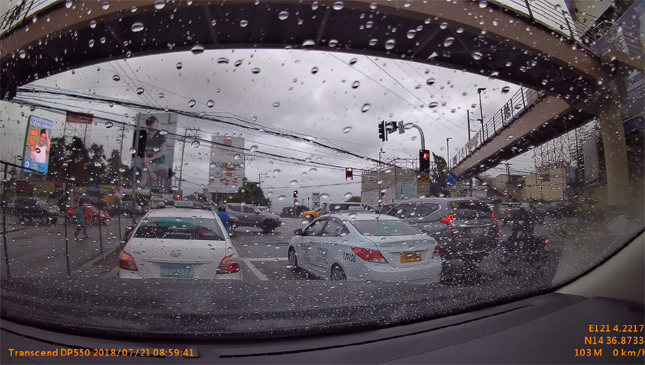 Another one of our favorite bits about this unit is that footage shows the speed you're currently traveling at. It's also GPS capable, and there's an app which allows you to live stream your drives online. This is really more of a novelty if you ask us, though.
One thing we don't like about this model is the size. It takes up the entire palm of a full-grown adult, so it's pretty big. We can definitely see this being a distraction inside cars with smaller windshields.
The 2.4-inch LCD screen displays both footage from the front- and rear-facing camera, and provides decent quality video. It comes with a standard dashcam suction mount, a power cable you plug into a standard car charging socket, as well as a handy 32gb Transcend micro SD card.
The DrivePro 550 carries a price tag of P9,499. We think it's a bit expensive considering that its video quality, while passable, isn't that great. But if you think you could use that rear-facing camera, or if you constantly ferry passengers throughout Metro Manila, it might be worth it.