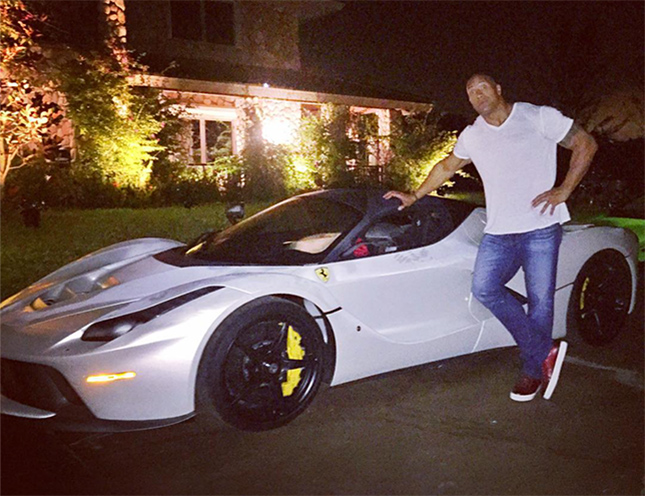 We all know that Dwayne Johnson is a pretty big dude. The former wrestling superstar and now Hollywood action star stands at a towering 6'5" tall and weighs 260lb. Also, he's an insane gym nut and it shows: The 43-year-old packs enough muscle to put a chiseled Greek god to shame.
Unfortunately, being a massive hulking behemoth isn't very convenient at times. Johnson recently posted a photo of himself next to one of his co-stars--a 950hp matte-white LaFerrari--in the second season of Ballers. So what exactly is so unfortunate about being able to hang around such a beautiful ride at work? Well, he literally doesn't fit inside.
Below is the caption that went along with the photo he uploaded to Instagram (in italics):
"She was a fast machine, she kept her motor clean--she was the best damn woman that I ever seen..." 950 horsepower. Less than 25 made (matte white) in the world. Selling on the streets for $3-5 million. The great benefit of producing and starring in HBO's Ballers is that I can admire, touch and play with this Ferrari which is one of the most beautifully engineered and sought after exotic cars in the world. The drawback...? Daddy don't fit in it.
So remember guys, there are drawbacks to being a towering pile of muscle--just not that many. Well, you can't have it all. At least we mortals can rest easy knowing we can fit ourselves into a supercar. Though how we'll make enough money to afford one is another issue altogether.
Continue reading below ↓
Recommended Videos