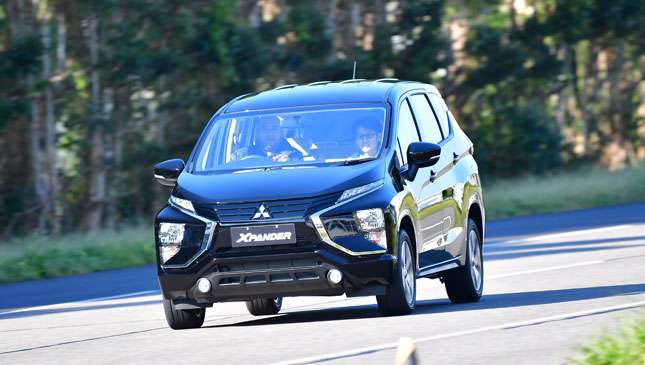 2018 is going to be an important year for Mitsubishi Motors Philippines Corporation. Next year it will launch the Mitsubishi Xpander MPV in our market, a seven-seater model introduced in Indonesia this year. Mitsubishi says it's not a replacement for the outgoing Adventure, but that's sort of the void the Xpander will be filling. 
Is the Xpander any good? Based on our first drive in the Japanese carmaker's Okazaki compound, oh yes.
From the moment I sat inside, I already noticed the very good driving position. My knee rested snugly against the center console, something I like to do to brace myself for long drives. It made operating the three pedals and shift knob an easy process despite the right-hand-drive configuration. Yes, this being Japan I was on the opposite side of the cockpit. 
Continue reading below ↓
Recommended Videos
This made me a little apprehensive because I haven't driven a manual RHD car in 10 years. But the Xpander's clutch was so forgiving and responsive at the same time. It was easy to find the biting point of the clutch, and the leather-wrapped ball-shaped shift knob was a joy to grip.
That driving exercise is one example of why we like Mitsubishi so much. It didn't treat us with kid gloves and set up a sissy driving course. We did slaloms, lane changes, and high-speed runs on a banked oval. You would think this kind of setup would reveal the flaws of a tall vehicle like the Xpander. Instead, the driving course highlighted what this new model can do. 
Body roll was there but kept to a minimum on the slalom. I was still getting a feel for the car in the beginning, but there was a very short learning curve. In second gear, it was easy to weave in and out of cones. Same thing with the lane changes. The stability of the Xpander is commendable. 
On the high-speed runs I had to ask my Japanese companion if there was a turbo in front, but it's only a naturally aspirated 1.5-liter engine. I was surprised at how quickly I was able to reach 120kph—even touching 140kph at times. Again, the Xpander felt stable and planted. 
And that transmission! Shifting was such fun. The Xpander is one of those vehicles you look forward to driving because you feel so involved. 
As an MPV I have no complaints about the cabin. Mitsubishi reps say size-wise it's the biggest in its class—but this is in the subcompact MPV segment where the Toyota Avanza dwells. So it's bigger than Toyota's small MPV, but smaller than the Innova. I peeked at the third row and it looked rather small, but that's par for the course in this category. Adults not my size should fit and be fine for short drives. 
We only had a brief time with the new Xpander, but it was a drive full of promise. This model is slated to arrive in our market in the first quarter of 2018. Based on what we've experienced, Mitsubishi looks like it has another winner in its hands.