The Jazz, just like any other Honda (save for the 7th-gen ES Civic), has that same purity of feel and steering. It feels like your hands themselves are pulling on the wheels to turn left or right. And thanks to the JDM-spec suspension setting, it rides brilliantly well, the best compromise between comfort and sport, compliance and confidence.
The brakes are equally superb, stopping the alien-looking Jazz easily thanks to fantastic minimal weight transfer to resist chassis pitch. And a very low polar moment aids in quick left-right directional changes, not to mention pinpoint accuracy when carving through traffic and in long, sweeping curves. The Jazz is still head and shoulders above the rest.
The low-mounted fuel tank aids in narrowing down the center of gravity, further assisting handling, and the slippery shape cuts down drag and wind noise, so cruising at 120kph is a breeze. Inside, the seating position is excellent and there's ample room inside for overweight, six-foot-tall males who would otherwise intrude on each other's privacy in most other cars. The controls have that high-quality, satisfying clack, rounded out by big analog gauges with brightly printed and legibly marked figures illuminated with amber backlighting. They look new, techy and a bit edgy, but at the same time soft in feel.
Continue reading below ↓
Recommended Videos
The interior plastics seem to have been improved upon from the earlier pre-face-lifted Jazz, being more resistant to scratches and scuff marks. The seat fabrics are now a more durable dark gray/black fabric rather reminiscent of denim, a nice touch for the young upscale crowd the Jazz is attracting.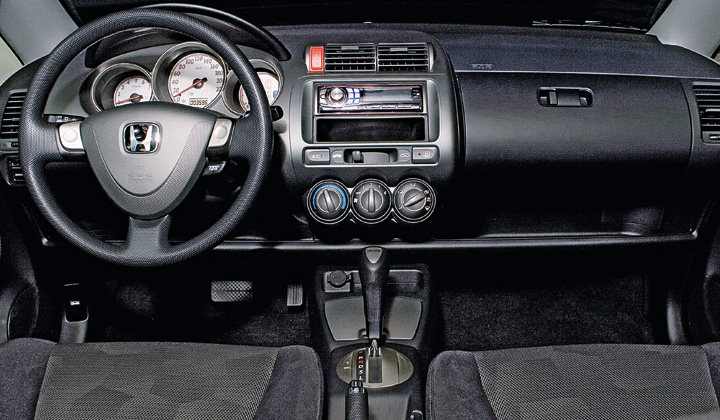 Thanks to Honda's proprietary U.L.T. (Utility, Long or Tall) seating, the seats fold flat to the floor, allowing you to carry large and bulky cargo. There are numerous cubbyholes to store your gadgets, CDs, and other paraphernalia, plus four cup holders for even super-sized sodas. The dimpled steering wheel houses the seven-speed sequential shift controls for the CVT and an airbag that will leave a big H logo on your forehead should you lose the plot completely. Four-wheel disc brakes with ABS- EBD assistance aims to counter that possibility should you completely throw caution to the wind. Under braking on rough roads, however, the Jazz tends to get unsettled a bit and the ABS-EBD triggers annoyingly. But that's all nitpicking.
The added grunt from the 1.5-liter VTEC lump, jacked up to 110hp from the 1.3's 82hp, is significant enough to propel the Jazz quickly to 100kph, and has the power to pull the Jazz out of tight spots, as well as get it into said tight spots in the first place. There's enough shove from the engine, aided by the CVT, to play with faster cars and have fun on undulating mountain roads and passes. Add better tires to the same wheels and you'll catapult the Jazz's performance another two notches higher.
The Jazz exhibits delicacy, accuracy, precision and uncommon grace among its classmates. New for 2006/07 is a revised bumper that looks meaner and quasi-aftermarket in appearance, with a huge and aggressive mesh-wire covered opening. There's a new radiator grille and LED-type tail lamps rounding out the changes, along with a new CD/ MP3/tuner one-din radio inside with an optional MP3 player connection available, sold separately. Subtly aggressive outside, somber yet cool-like- an-understated-Boss-suit inside.
Out on the open road, the Jazz exhibits true poise and confidence on even the roughest of surfaces. Take a fast curve and it dances gracefully. The trick is to steer gently, slowly turning in the wheel to load up the tires then adding more lock as quickly as needed. It grips far beyond what you would think is possible, and you can always feel the suspension and tires load and unload. Even an idiot with a modicum of understanding on the physics involved in car-handling can be a hero around a tight and twisty mountain pass. The Jazz is forgiving, but it demands precision, coordination, and soft, slow and gentle control inputs to bring the very best out of it. Ham-fisted drivers should look elsewhere, or more specifically, look to the Swift in this case. Ultimately, the Jazz is fast and fun as well as practical and versatile. Let's not even begin to talk about fuel-efficiency because it is otherworldly. Just like the overall driving experience.
Steering wheel
It can be set higher, easier on long drives and more ergonomically correct. The dimpled surface is fun to grip, especially if you get sweaty palms while driving hard or over long distances. Switches for the seven-speed mode of the CVT are well-positioned.
Instrument cluster
It's bright and easy to read. The big typeface allows you to monitor speed and revs easily so you can run more fuel-efficiently. Or have a little fun keeping the VTEC in aggressive cam profile mode—your choice, of course.
Cubby holes
The sheer amount of storage space is fantastic. You have space for everything: wallet, CDs, MP3 player, digicam, the kitchen sink, etc. You'll probably load it up with junk and trash, though.
Seats
The soft, ergonomically designed seats are guaranteed to remain comfortable and supportive even after driving for eight hours straight. Whether shorty or six-plus- feet, rail-thin or extra-extra- large, you'll find your driving home here.
Materials
The plastics that make up the dash, door cards, etc., have been updated in this current model. They're much more resistant to scratching and fading, a definite plus.
Verdict
The Honda Jazz is a winner simply because of its increased practicality, versatility and, not surprisingly, fuel-efficiency, which is quickly becoming legendary. Add to that Honda's reputation of making its cars tough pieces of kit, and the Jazz's case is almost purely rational, purely logical. Yet it drives as well as its prized reputation. No wonder it's quickly becoming a very common sight on the road.
Its rival the Suzuki Swift is somewhat of a moral victor in that it has a very lovable styling with mean rally skills. It looks meaner, more aggressive, and it drives like a dream the more aggressive you get behind the wheel. But it is quite expensive for what you get, considering it'll be just a second/toy car for most. The seats don't fold flat to the floor. There's very limited rear hatch cargo space with the seats up.
Suzuki's dealership network is being revitalized and expanding, but there still aren't as many as one would like. And Suzuki has unfairly suffered a bad rep from its soft-roaders and mini-SUVs that were deemed not mainstream enough. Hopefully, the Swift will put Suzuki on the high street ASAP. If you need practicality, go with the Jazz. If it's looks you're after, the Swift is your pick. In terms of driving, if you care for sublime feel and handling, the Jazz will reward you. If you feel like a hooligan every time you get behind the wheel, only the Swift will tickle your nerves the right way. (Botchi Santos)
Note: This story first appeared in Top Gear PH's December 2006 Issue. Minor edits have been made.