More than being an affordable car to buy, run and maintain, the Toyota Wigo will help power the economy forward. You see, so many people want to get motorized, but they are wary of buying an econocar that isn't a Toyota. Now that the Japanese carmaker has finally released its A-segment fighter, expect two things: Toyota's sales will probably top 100,000 units in 2014 (my fearless prediction—such is my confidence in this car and the brand), and the A-segment will be another feather in Toyota's cap. That means over 26,000 Wigo units will be sold in 2014.
Built in Indonesia, this model is a rebadged Daihatsu, and you can see that in the design cues like the triangular chrome accents on the foglights. Cynics will snicker at that fact, but believe me, I have yet to drive an A-segment car that feels as solidly screwed together as this. It's perhaps the smallest car I've ever driven on public roads, at 3,600mm long, 1,620mm wide and 1,520mm tall. Length aside, it has the dimensions of a sports car, which is a funny coincidence because 'Wigo' means 'fast' in Sanskrit.
Yet despite the small footprint, interior space is excellent. Dinzo and I are able to sit in front, and there's equally decent space out back, thanks to the flat floor. The steering column has a fixed position and the seats have a fixed height, but thankfully, the steering wheel is high up enough for my 5'10" frame and my size 11EE shoes. I just wish the steering wheel could be extended so I could sit further back as well. That would improve front-to-rear weight distribution given that my weight is an eighth of the Wigo's curb weight.
Continue reading below ↓
Recommended Videos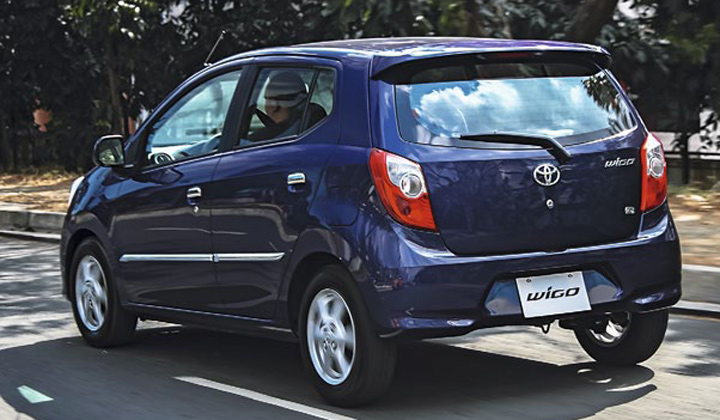 This G variant gets a GPS-ready infotainment system with a double- DIN LCD monitor, whereas the E trim gets a single-DIN radio and CD player. There's also ample safety equipment: dual airbags for all variants and ABS for the range-topper, which comes with 13-inch rotors (12 inches for the lower spec) and drum brakes. The suspension uses independent MacPherson struts in front and a torsion-beam twist axle at the rear. The G wears 14-inch alloys with 175/65 tires, while the E boasts 13- inch steelies with 155/80 rubber.
Puttering about town, the Wigo reveals a very un-Toyota like character: It's surprisingly quick and peppy on its feet, an attribute its segment rivals from Kia, Hyundai and Mitsubishi sorely lack. Even with a modest four-speed automatic attached to an equally modest 1.0-liter three-pot with 64hp and 85Nm of torque, it accelerates with lots of gusto and confidence, often surprising people in bigger, faster cars. It's really not what you drive but how you drive that matters in the end.
The Wigo is more than able to keep up with the general traffic flow, and the brakes are equally excellent, stopping the 800kg featherweight on a dime. The all-electric power steering provides very good feel, thanks to the diminutive front tires that give decent feedback for a car in this segment and price range. At a steady 80-100kph highway run, the engine has an offbeat buzz that can be tiring (our ears are more attuned to the sound of a four-cylinder mill), and the less-balanced three-cylinder configuration sends more NVH to the cabin. Fortunately, the little Toyota feels capable even at these breakneck (for a city car) speeds, in spite of the suspension's tendency to seesaw over low-frequency road irregularities. That's really no fault of the Wigo, though; it's more a function of our less-than-ideal road surfaces coupled with the car's short wheelbase.
Fuel consumption is an almost-impossible 15km/L in purely city driving. The returns don't improve significantly on the highway, perhaps due to the test unit's tight, newish engine. The bad stuff ? Aside from the golf-cart-like (albeit on steroids) engine sound, you also hear and feel every single bump on the road as if your ears and tongue were stuck to it. What's more, every time a bigger car (read: just about everything else on the road) overtakes you, it feels rather nerve-wracking. The wake of air a truck pushes out on the highway shakes the Wigo noticeably, enough to startle even experienced drivers.
Surprisingly quick, surprisingly roomy and surprisingly well-built even for a Toyota in this class, the Wigo might as well be renamed 'Winner' as the Japanese carmaker is set to increase its dominance in the market with it. Other contenders possess one, two or three of the Wigo's traits (small exterior, roomy interior, solid build quality, peppy engine, surprisingly good driving dynamics, excellent feel and feedback, high-quality cabin), but not all of them. And if you can't read enough well between the lines, yes, it's that good. (Botchi Santos)
Note: This article first appeared in Top Gear PH's May 2014 issue. Minor edits have been made.