Improving something that is tried and tested is very tricky. In the case of the new Everest 4x4 3.0L, Ford stayed with the same formula but updated it with some really surprising driving qualities. With today's intelligent-buying public, a mere 'facelift' just won't cut it anymore.
I never talk about a new vehicle's looks. At the end of the day, beauty is in the eye of the beholder, so let's just jump into the driver's seat and hit the road—off and on the road, that is. Hey, while we are at it, let's hit the water, too, shall we?
The new 3.0-liter Duratorq diesel engine, the same powerplant on the Ranger, has so much torque that getting the car moving feels like you are driving off in the Everest's bigger siblings— the Explorer and the Expedition. The engine, with nearly 160 horsepower, actually generates more torque than the previous Expedition's V8. An amazing fact, considering the price difference. The new Everest is very peppy and economical. It requires very little accelerator input to get it going. Acceleration is another pleasure. Its new five-speed automatic makes for smooth shifting and will memorize its regular driver's driving pattern.
Continue reading below ↓
Recommended Videos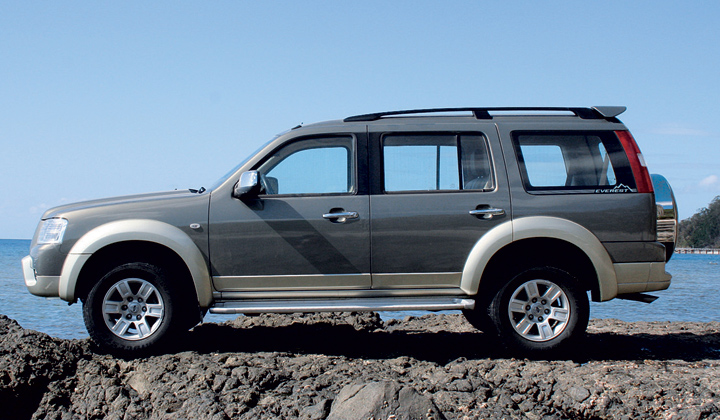 Its part-time 4x4 system is now made more user-friendly with a switch on the console box instead of a stick. Two-wheel to four-wheel-drive 'Hi' mode is now on the fly up to 80kph. Four-wheel-drive 'Hi' to four-wheel-drive 'Low' range is still a 'must-stop' and requires a flick of the four-wheel-drive low knob while in neutral. This goes for all true four-wheel-drive systems.
Another surprise is the tried and true solid rear axle on leaf springs and the independent double wishbone on torsion bar suspension and recirculating ball steering at the front. A less-informed would-be- buyer might say that it would ride and feel like its predecessor without driving it, but once he or she gets behind the wheel and on the road, the Everest takes a different persona of its own.
The rear leaf springs are now tuned for riding comfort and are made longer to be more pliant. Ride comfort gets better with more load, without sacrificing handling. Passengers in the rear won't be experiencing the bumps and jolts that the previous Everest was notorious for. The front torsion bar suspension is tuned to match the recirculating ball suspension to maximize handling qualities. It won't match a rack-and-pinion steering's precision but it comes real close—and with lots of durability to boot.
Another major improvement is the drivetrain upgraded for 2007. The transmission used is from the Explorer. Front and rear axles are made larger and more robust to manage the enormous amount of torque. If a smaller drivetrain was used, it would be torn to pieces. It also makes for excellent payload capacity, so much so that an armored bullet-resistant version was manufactured. Unfortunately, for our local politicos, it isn't available here.
Still not happy with the ride quality? Ford, through its dealer network, can make arrangements to improve the Everest's ride quality by upgrading it via its 'Severe Off- Road Suspension Package' that greatly improves ride and payload capacity. Ask your dealer for this option if you plan to actually take this truck off the road. That would do it justice if you did.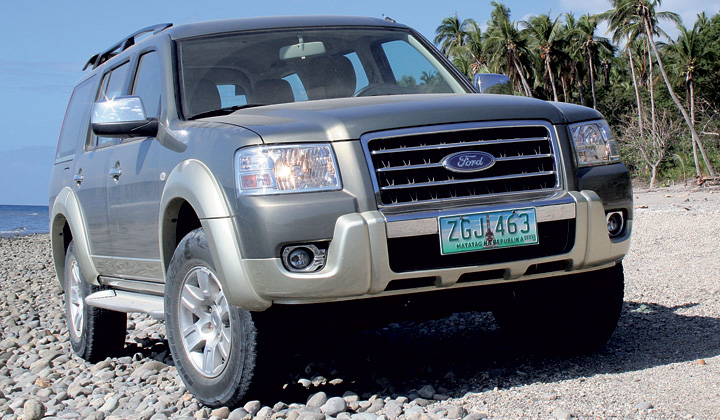 The Everest is an excellent and reliable choice as an alternative compared to the competition in its market segment, and it carries the 'Ford Built Tough' heritage, thanks to its numerous off-road public ride and drives. It is made 'everyday exciting' by being able to blast the doors of your average sedans on fast highway stretches and even
in overtaking, and still maintain its best in its segment off-road capability. It has a tight limited-slip rear differential and ample ground clearance. It even gets better once mounted with 235/85 R16 sized tires. Even without lifting the car, it improves the tire to body proportion and provides smoother acceleration—not that it isn't smooth to begin with. But it does improve it.
I never did like the idea of driving an SUV that the rest of the market drives around in. Thus, the 'Evee' is a smart alternative. Just don't look at it from the rear because you will see its forebear's rear appearance. But hey, with that much engine on the new model, it is what the rest of the motoring pack will be seeing. (Beeboy Bargas)
Note: This story first appeared in Top Gear PH's June 2007 issue.