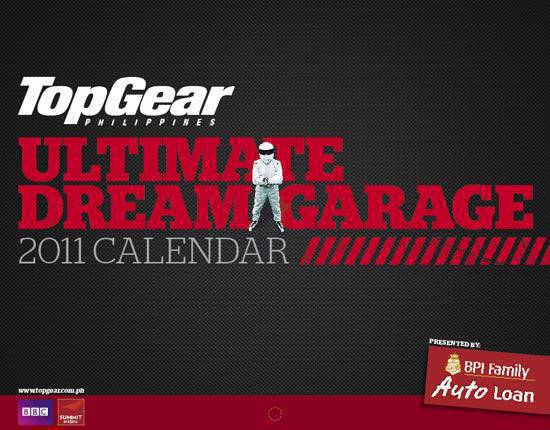 In keeping with tradition, Top Gear Philippines is giving away a free calendar to its valued readers--and we're doing so a month early! In the past, we used to bundle the free calendar with our January/February issue. For the 2011 calendar, we're distributing it together with our December 2010 issue, just to make your Christmas a little merrier.
So, what sort of cool things can you expect from the free calendar?
Well, the calendar features our "Ultimate Dream Garage." As such, it showcases such exclusive cars as the Lamborghini Sesto Elemento, the Jaguar C-X75, the Lexus CT200h, the Mini Countryman, the BMW 6-Series, the Mercedes-Benz CLS, the Audi A7 Sportback, the Porsche Cayman R, the Range Rover Evoque, the Maserati GranTurismo MC Stradale, the Lotus Esprit, and the Koenigsegg Agera.
Grab your copy of Top Gear Philippines' December issue now, and wow your officemates the next time they pass by your cubicle.
[gallery]672[gallery]