You may not have heard, but a motor show happened in Geneva this week. It was handily called the Geneva International Motor Show, and it was full of absolutely mad cars.
Sizeable leaps in tech meant we saw some properly nutjob machinery. And yet, it gets more nutjob. Step forward, the tuners of Geneva, a small enclave you can always rely on to push things just that teeny bit further.
There were wings! There were colors! There were huge alloy wheels!
Be honest. It's what you want to see, right?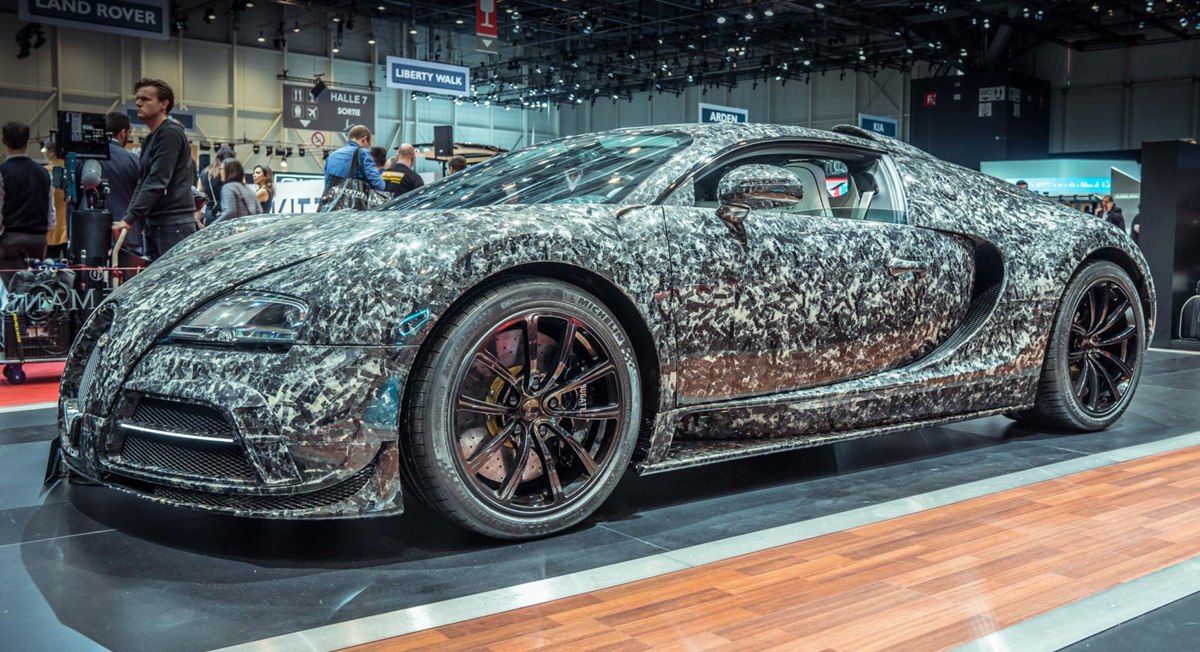 Mansory Bugatti Veyron Vivere
Geneva just wouldn't be the same without Mansory. Its stand is the Aladdin's cave of gaudiness. The thing that most caught our (and everybody else's) attention? Its new obsession with nouveau riche kitchen work surface carbon.
Continue reading below ↓
Recommended Videos
Mansory slathered the stuff over everything this year, including a whole Bugatti Veyron. They call the carbon weave 'Marble Collage.' You might call it something else. Let us know below.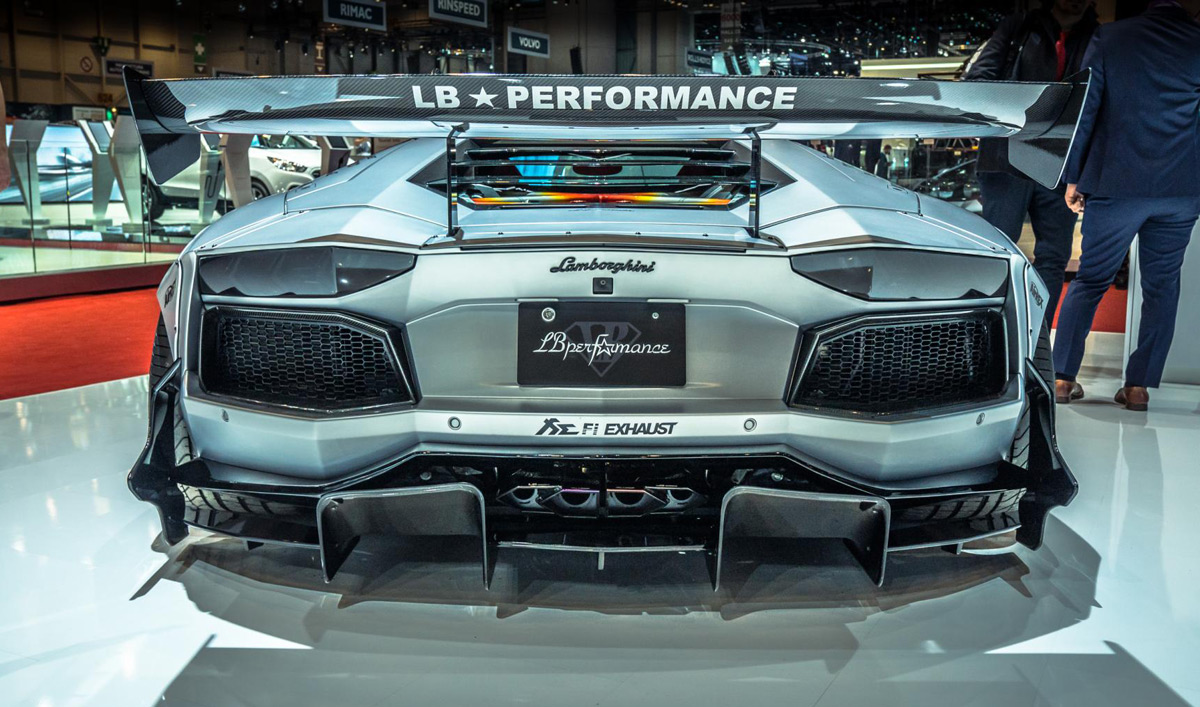 Liberty Walk Aventador
Not many humans would look at the 691hp, lozenge-shaped Lamborghini Aventador and conclude it needed a bit more visual bite. But then not many humans are Kato-san, the man behind Japanese tuning shop Liberty Walk. Here's his work, a 12-cylinder raging bull that's been cut, stretched, bashed, and riveted within an inch of its life.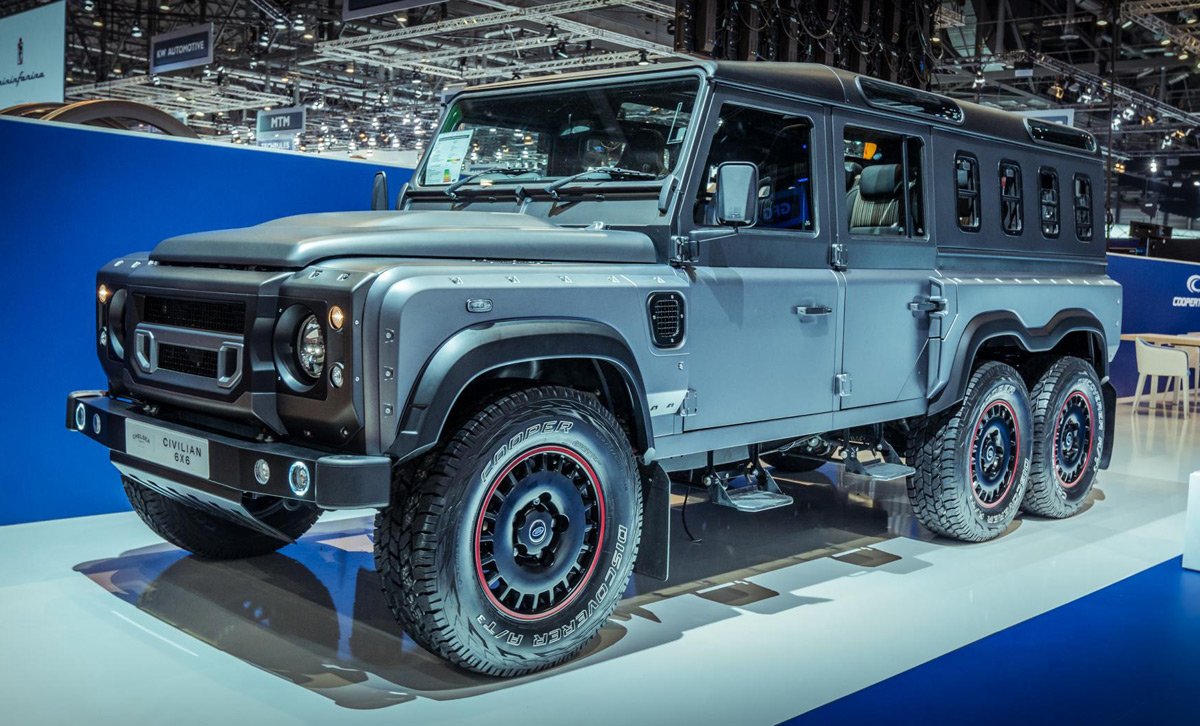 Kahn Flying Huntsman 6x6 Civilian Carrier
Live in the wilderness? Have an aversion to contraception? Kahn Design's Chelsea Truck Company has the perfect car for you and your offspring. Called the Flying Huntsman 6x6 Civilian Carrier, it's a standard 110 that's been given an extra axle, two more wheels, and room for nine people.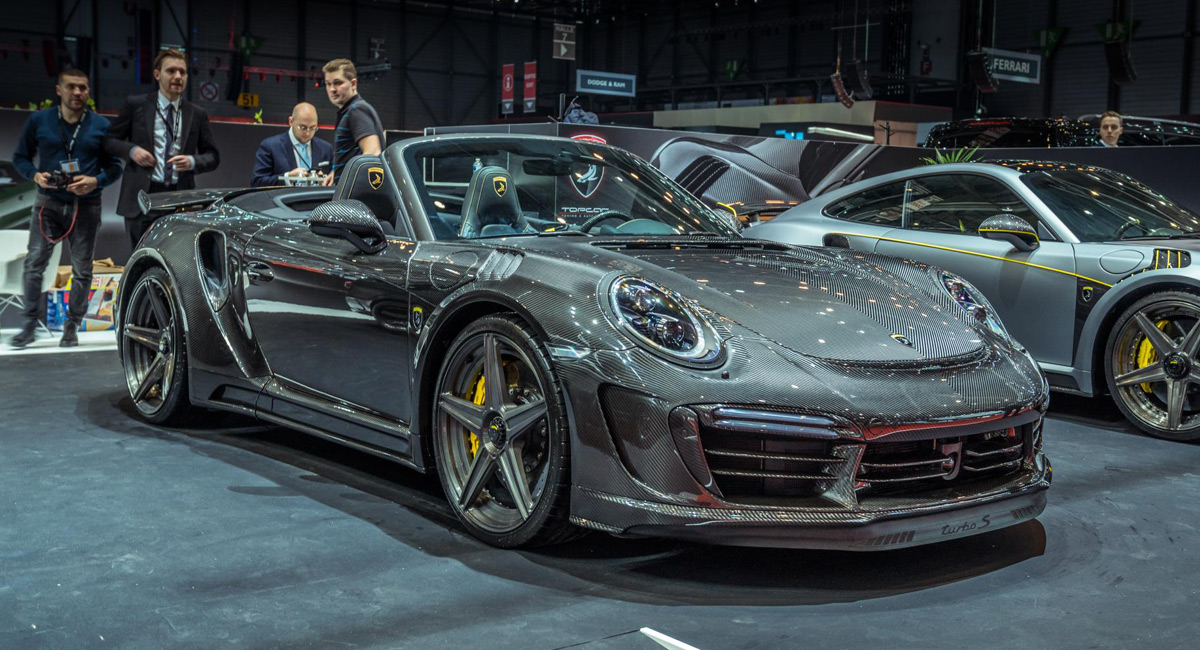 Top Car Stinger
Clearly, the Porsche 911 Turbo S Cab doesn't have enough carbon. At least for Geneva, anyhow. Top Car built a completely re-cladded carbon 911 Turbo S Cab. The kit consists of 24 carbon composite body panels, which we're told are bonded to using high-tech materials and, we quote, "know-how skills."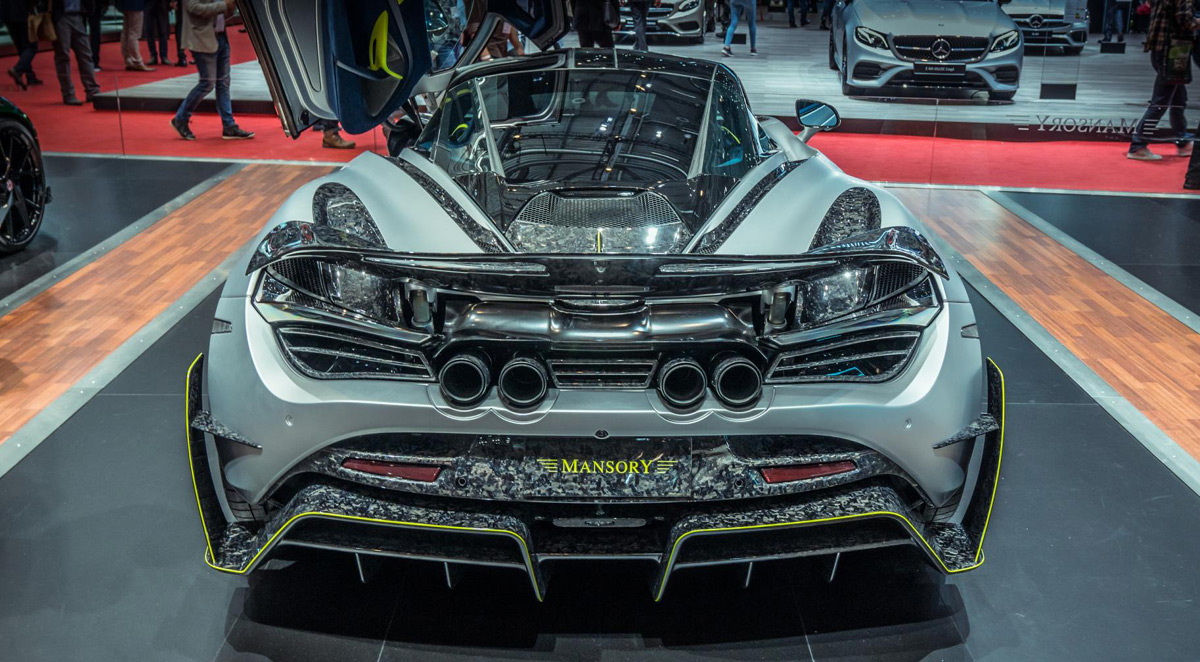 Mansory McLaren 720S
McLaren's 720S is a modern wonder of the Supercar World. It effortlessly straddles a line of everyday usability and ballistic performance. Mansory thought it could add a little bit more. By adding another 45hp thanks to an ECU flash and a new, freer-flowing exhaust. But it's also got a bit busy with the looks by lowering the suspension, adding a new front bumper, side skirts and rear aerodynamic profile.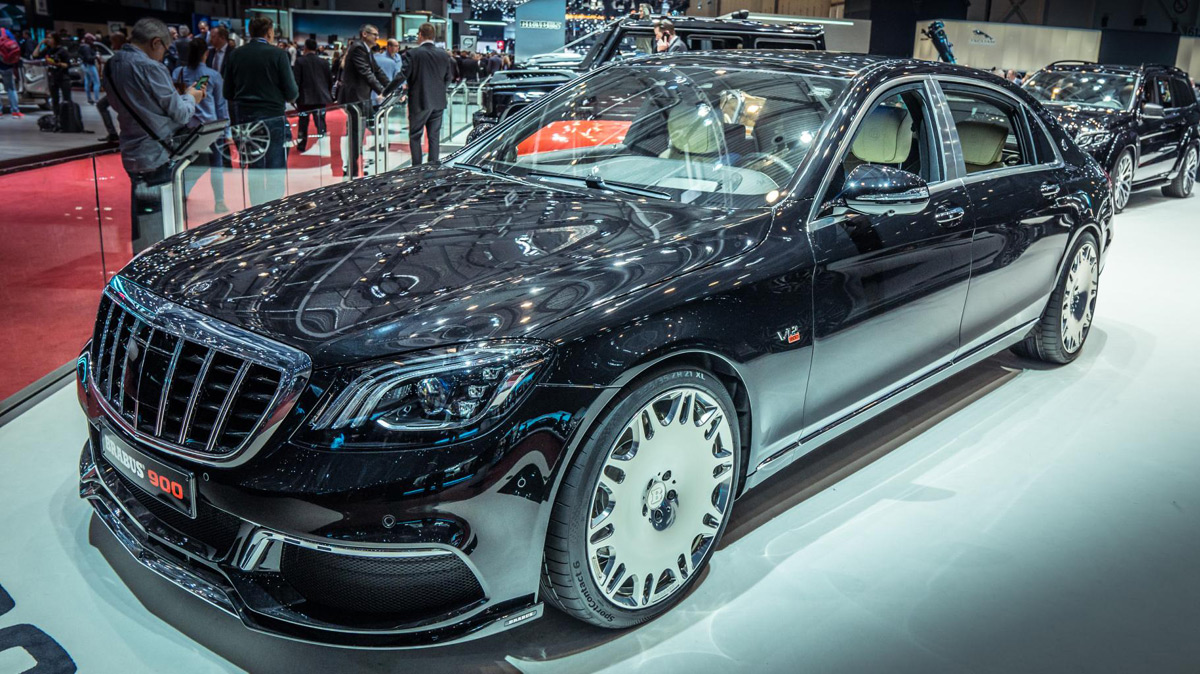 Brabus Rocket 900
If you're a serious businessman who needs to get to meetings fast, we've got the perfect car for you: the Brabus Rocket 900.
The '900' denotes the number of horses that power-hungry German tuner Brabus has managed to anvil from the S65's freshly-bored 6.3-liter V12 Biturbo.
A load of work has gone into this possible: larger pistons, bigger turbochargers, 80mm downpipes with modified exhaust manifolds, a new air intake system, custom Brabus billet crankshaft complete with a longer stroke and larger cylinder, as well as a new limited slip differential. An aero kit and fresh interior make it look the part.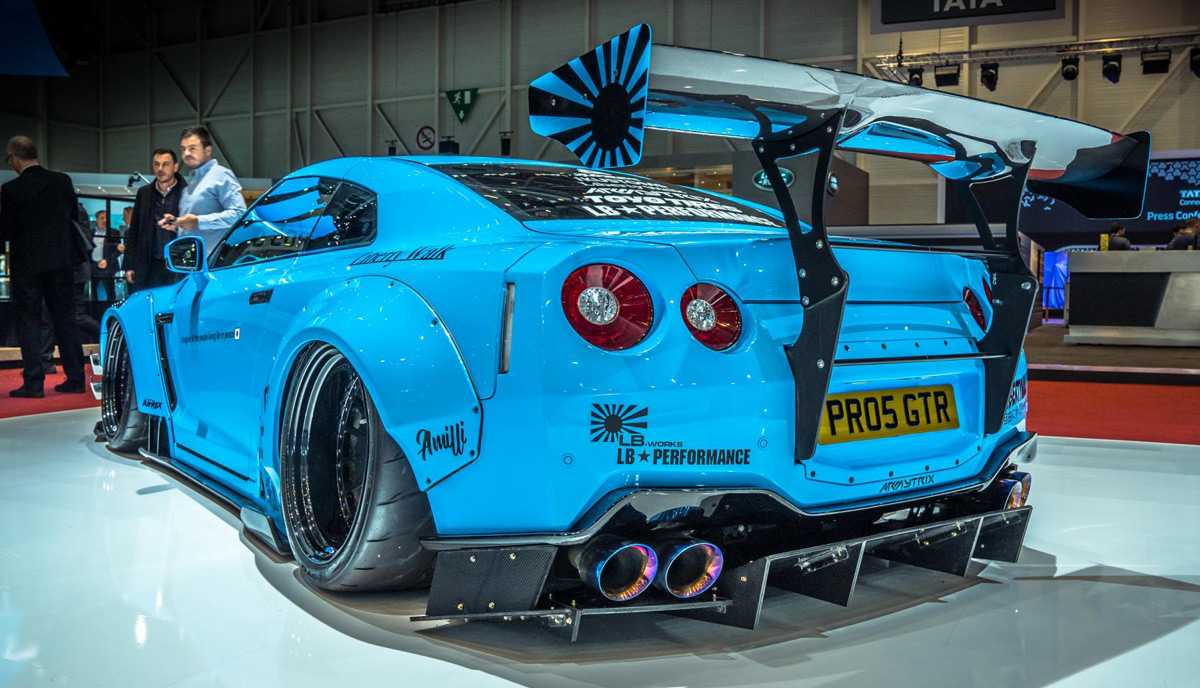 Liberty Walk GT-R
Liberty Walk might be one of the most polarizing tuners on the planet. It has become notorious for sawing the arches off a multitude of exotic supercars, only to then rivet supersized body kits and slammed suspension set-ups in place. For good or bad, you guys always have something to say about them. So, what do you think of this GT-R? You normally have a thing or two to say about GT-Rs.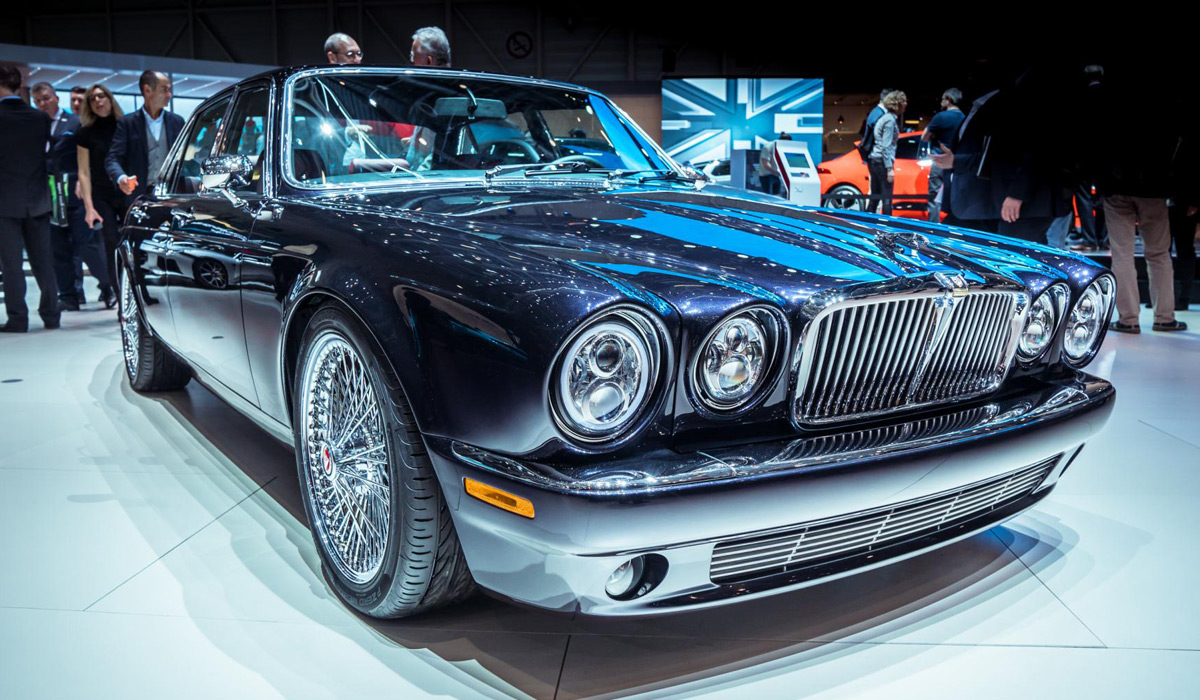 Jaguar 'Greatest Hits' XJ
This is what happens when Jaguar Classic and Iron Maiden drummer Nicko McBrain spend too much time down the pub drinking very dark, very brown beer.
Called the 'Greatest Hits,' it's Nicko's 1984 XJ6 Series 3 that's had some of the incredibly fashionable 'restomod' dust sprinkled all over it.
Over 3,500 hours of work have gone into it and it features unique metallic mauve paint, 18-inch wire wheels, and flared arches. Under the hood, a mildly tuned version of the 4.2-liter has been fully reconditioned and is running three E-Type spec SU carburetors. A custom exhaust system is finished with custom-machined quad tailpipes and the new uprated suspension comes complete with adjustable rear dampers.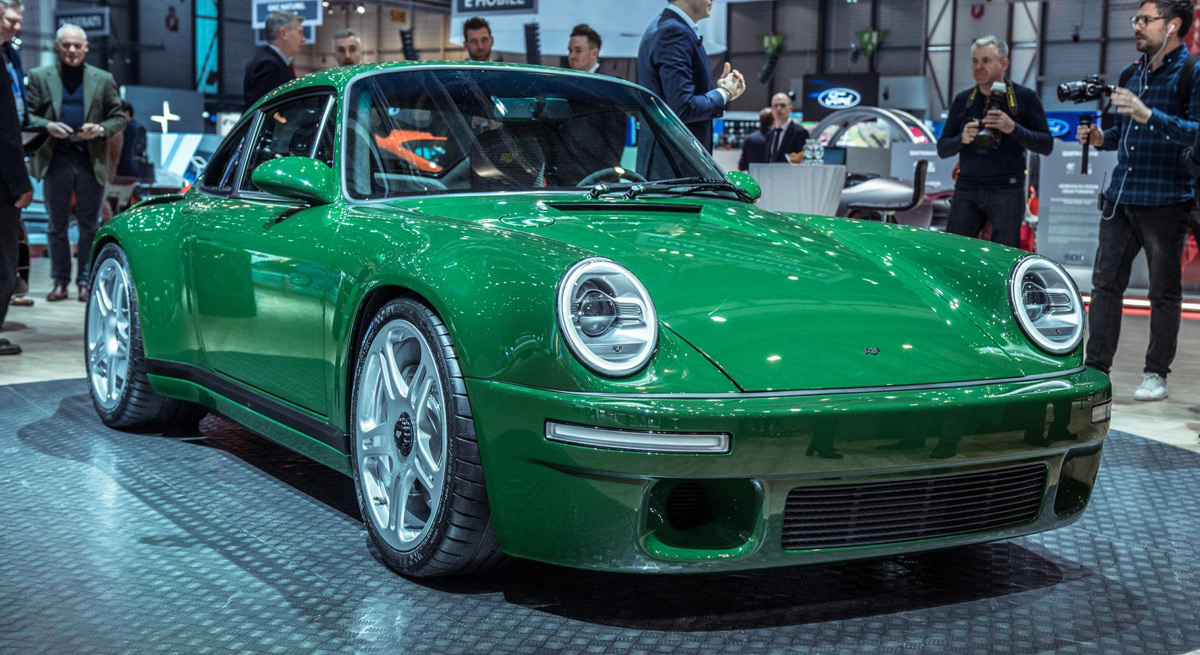 Ruf SCR
Last year, Ruf surprised us with a modern recreation of its infamous 'Yellowbird.' This year, it's done a thoroughly modern homage to its original SCR, which debuted 40 years ago.
Its vintage looks have been blended with contemporary tech and lovely 'Irish Green' paint. Making use of a carbon monocoque body, it tips the scales at just 1,325kg--some 150kg lighter than a Porsche GT3. It's mated to a 4.0-liter naturally aspirated flat-six with 503hp and a six-speed manual. Purists, you have permission to go and clean yourself up.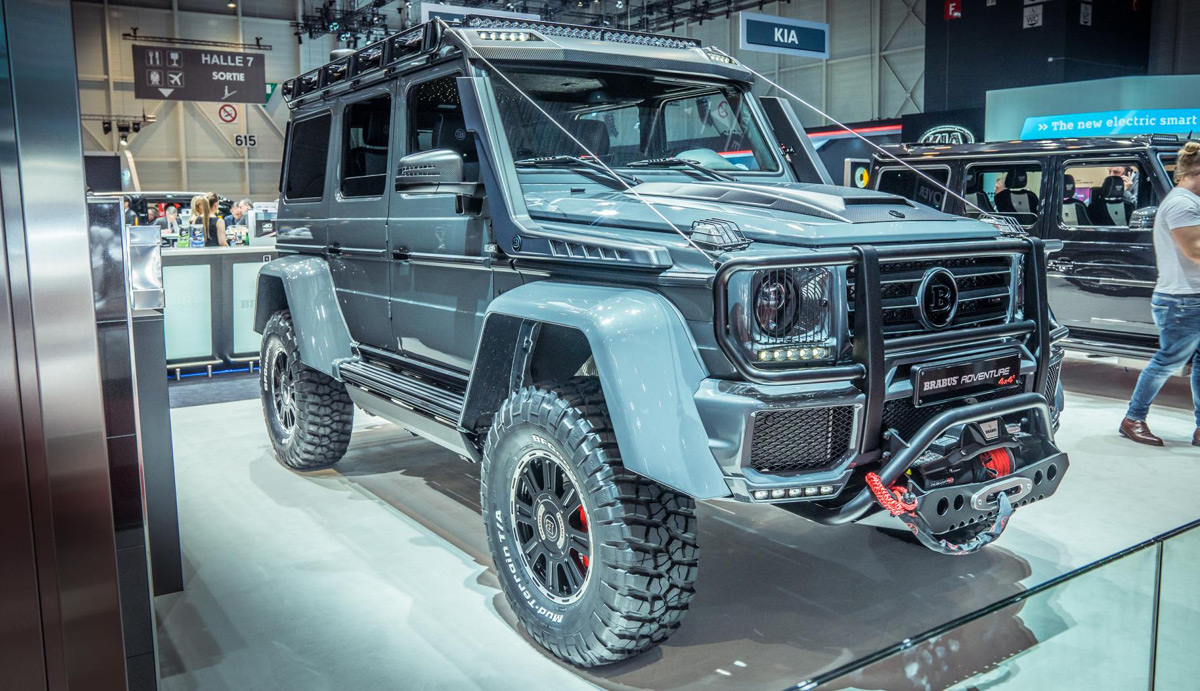 Brabus Adventure 4x4 Squared
There's a new G-Wagen in town. But, unfortunately, Brabus can't get its grubby hands on one yet. So they had a go at the last one. It tuned the monstrous G500 4x4 Squared, which if you need a reminder, puts the enormous tires and portal axles from the especially crazy Mercedes-Benz G63 6x6 beneath the regular, four-wheeled G-Wagen.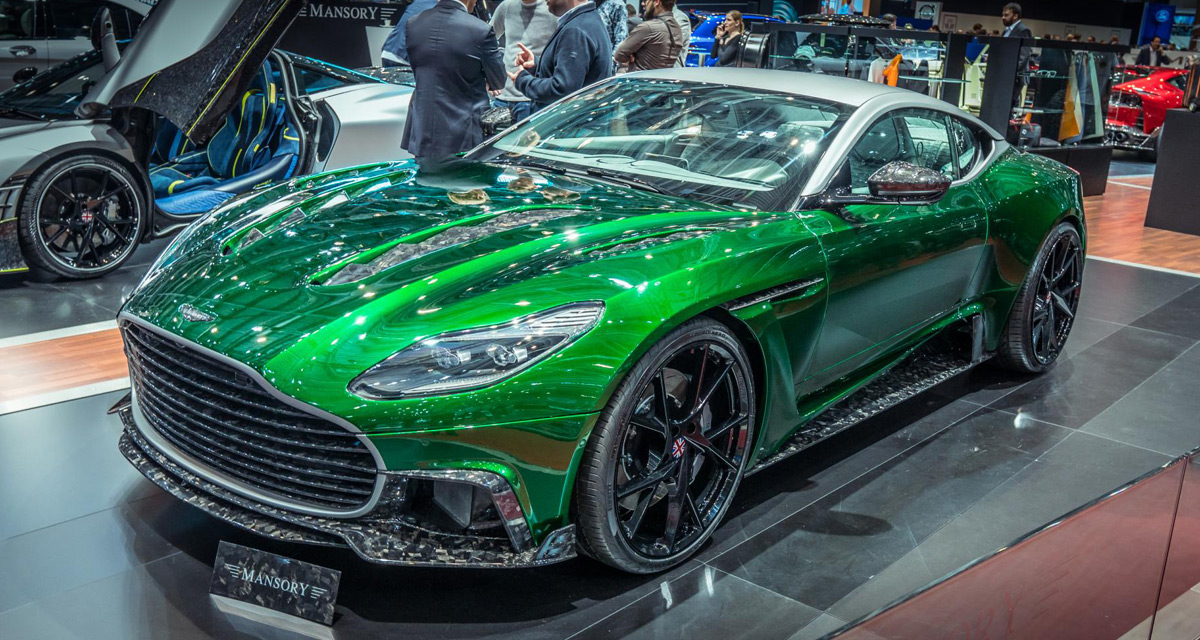 Mansory Cyrus
If you post your Aston Martin to Mansory, this is what you'll get in return. It's called the Cyrus. And, for Mansory, is rather subtle. There are larger air intakes to help cool the twin-turbo V12, having been wound up to 700hp, which is apparently good for a 3.6-second 0-100kph sprint and top speed of 330kph.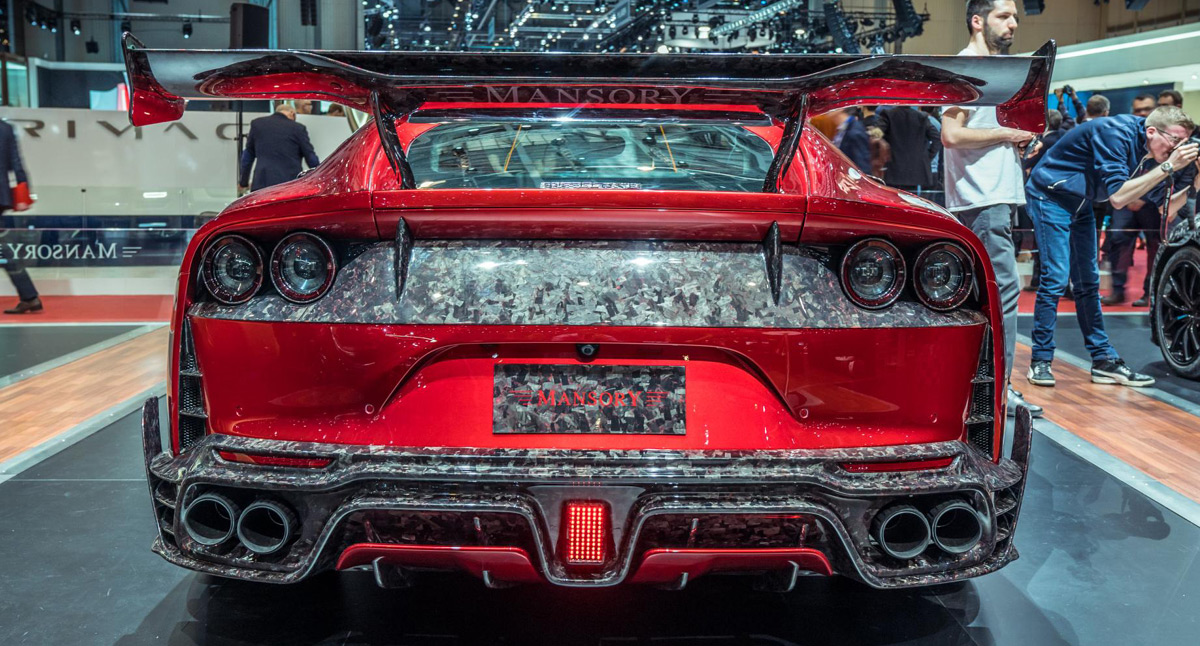 Mansory Stallone
The Mansory Stallone nameplate (which we're hoping is inspired by Sly) has been applied to all the tuner's front-engined V12 Ferraris since the 599 GTB. With the arrival of the new rabid 812 Superfast, it was obviously time to come up with a new one.
So it has. With that new marble carbon, Mansory has given the Ferrari a complete overhaul in the bodywork department. Make of that what you will. Then it's added a big spoiler--because Ferrari obviously didn't do enough work in its multi-million-pound F1 tunnel--and then given it 830hp. Because as you well know, the 812 was definitely down on power.
NOTE: This article first appeared on TopGear.com. Minor edits have been made.