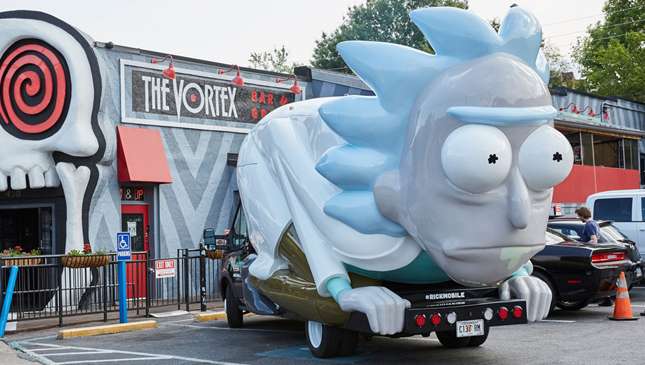 So, Rick and Morty just wrapped up its season three shenanigans yesterday. Chances are a handful of 20 or so-minute episodes of getting 'schwifty' was never going to cut it, so if you still haven't gotten your fix, here's a treat for you.
"Come see the world biggest Rick! That's actually a truck, but also a store!" the show's website exclaims. Adult Swim had a giant Rick Sanchez on wheels—dubbed the 'Rickmobile' (because duh)—built, and it's currently touring the US on a 'Don't Even Trip Road Trip' selling the show's merchandise at different stops, and freaking the pants off of unsuspecting motorists along the way.
Continue reading below ↓
Recommended Videos
Seriously. Can you imagine suddenly being overtaken by this thing on the highway?
The vehicle's been a hit on social media, where numerous fans have taken to Instagram and Facebook to share sightings with the hashtag #Rickmobile. Among the merchandise being sold are shirts, posters, and toys. What's more, you might even get up close and personal with some of the show's characters, whether they're accompanying the Rickmobile or just cosplayers dropping by.
We would love for the people at Adult Swim to keep this nonsense up until season four hits, but unfortunately the Rickmobile is making its final stop in Hoboken, New Jersey, later this week. If you happen to be in the US, this'll be your last chance to catch it. "And that's the way the news goes!"