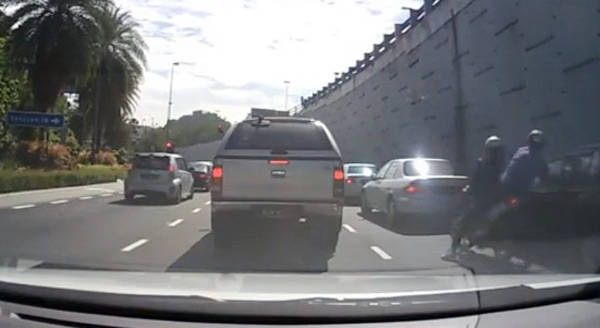 If you haven't heard of "basag-kotse," it's good that you're reading this. Basag-kotse is the criminal act of smashing a car's windshield or windows to unlawfully get valuables in the passenger cabin. We've all heard of unattended cars parked in isolated or dark places being victimized by glass-breaking thugs, but these gangsters are now so brazen that they hop onto motorbikes and shatter windows of cars sitting in traffic--yes, while the car's driver and passengers are inside.
Watch the video below--which, by the way, we found on the Facebook page of Pinoy Hot Line Riders Club--and learn how you can better protect yourself (and your car) next time you get stuck in traffic. As for us, there are two lessons we picked up from this 20-second video. First is that you should always be mindful of the people surrounding your car, and second is that you shouldn't dangle a thing of value while inside (like a mobile phone, for instance).
Be careful out there. You can't count on the authorities to protect you.
If you're viewing this on a mobile device and can't see the video, please click here.
Continue reading below ↓
Recommended Videos